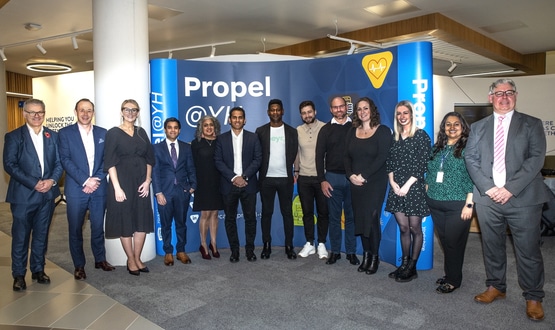 The Yorkshire and Humber Academic Health Sciences Network (AHSN) has showcased some of the innovators with whom senior NHS personalities have been working.
A group of NHS health leaders attended the event at Nexus, University of Leeds, to see for themselves how health innovation in the Yorkshire region has the potential to benefit the national population.
Yorkshire and Humber AHSN are adopting and disseminating new technologies, products and services to the region's healthcare and healthcare systems to support the NHS with its post-pandemic recovery.
Some of the innovations on display include new technology that allows patients to self-monitor their health conditions at home, and products and applications that allow non-urgent medical reviews and consultations to be done remotely.
Health leaders also learned about the tools being given to healthcare professionals to help manage the elective delay in cancer care by identifying high-risk patients earlier.
Matt Whitty, Director of Innovation at NHS England and NHS Improvement and one of the key personalities who visited Yorkshire and Humber AHSN, said: "We want to understand which models work most effectively for innovators, patients and NHS organizations.
"We've seen a wide range of innovators, from digital products that support women to meet their own health needs to AI solutions that show a real promise to support the previous diagnosis of cancer. All they have great potential, so we are very optimistic. "
Another great figure who attended the showcase was Director of Transformation NHS England and Improvement, Dr. Tim Ferris, who said it was an "extraordinary experience" to meet all the innovators.
Yorkshire and Humber AHSN have been working on these innovations as part of theirs Digital Health Acceleration Program, Propel @ YH, to support the NHS and its local integrated care systems (ICS) and address the challenges that have been exacerbated by the pandemic, such as health inequalities and the fight against the climate crisis by helping the NHS reduce its carbon footprint.
Richard Stubbs, CEO of Yorkshire & Humber AHSN, said: "It has been a great honor to welcome our NHS guests. We have shown how we are not only working to deliver innovations for first-class use that innovation is so crucial to some of the great challenges we face.
"It's all about election backwardness, health inequalities, equality and diversity within the NHS and environmental sustainability, and we've told a bigger story by showing how we're doing on the ground, with some fabulous innovators who have ways amazing to be able to transform the delivery of patient care. "