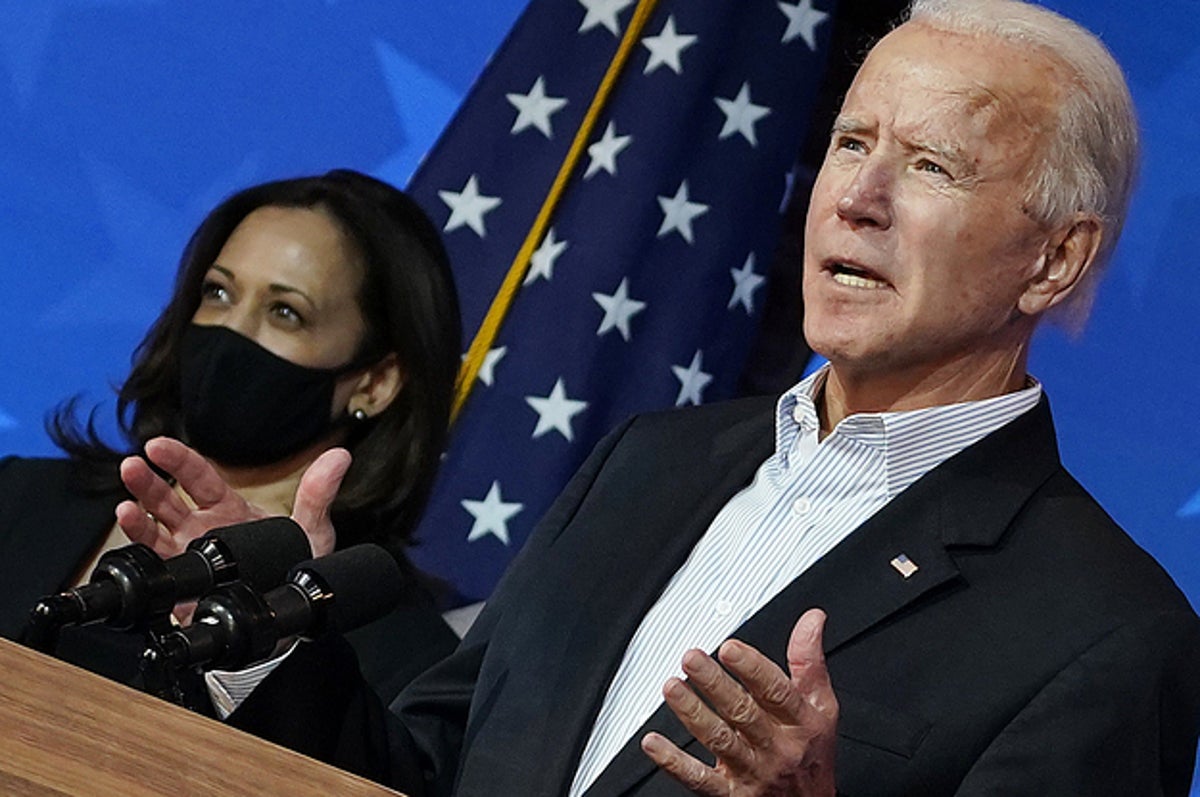 After four years of intense tensions between President Donald Trump and crucial international allies, world leaders responded to the news of Joe Biden's victory in the 2020 election on Saturday with praise and congratulations.
As vice president of the Obama administration, Biden had fostered relationships with world leaders and many called him a "true ally" of his nations and alliances in his statements.
Many also congratulated Kamala Harris for her historic rise to the vice president-elect.
Canadian Prime Minister Justin Trudeau
"We will continue to build on this foundation as we continue to keep our people safe and sound from the impacts of the global COVID-19 pandemic and work to advance peace and inclusion, economic prosperity and climate action around the world." , Trudeau dit in an expanded statement. "I look forward to working with President-elect Biden, Vice President-elect Harris, his administration and the United States Congress as we tackle the world's biggest challenges together."
German Chancellor Angela Merkel
"Congratulations! The American people have decided. Joe Biden will be the 46th President of the United States of America. I wholeheartedly wish him luck and success and I also congratulate Kamala Harris, his country's first female elected vice president." Merkel said in a statement in German. "I look forward to future collaborations with President Biden. Our transatlantic friendship is irreplaceable if we are to meet the greatest challenges of our times."
The Prime Minister of the United Kingdom, Boris Johnson
Prime Minister of India Narendra Modi

Prime Minister of Scotland Nicola Sturgeon
NATO Secretary General Jens Stoltenberg
"I look forward to working very closely with President-elect Biden, Vice-President-elect Kamala Harris and the new administration to further strengthen the link between North America and Europe." dit Stoltenberg, who has led the military alliance organization through Trump's criticisms and accusations that its members were taking advantage of the U.S.
Greek Prime Minister Kyriakos Mitsotakis
The President of Ukraine Volodymyr Zelensky
The Prime Minister of Jamaica, Andrew Holness
President of Kazakhstan Qasym-Jomart Toqayev
The Irish Prime Minister, Micheál Martin
Martin referred to Biden's Irish Catholic roots in his statement on Twitter, saying: "I also hope to receive him at home when circumstances allow."
French President Emmanuel Macron
Colombia President Iván Duc
"Congratulations @JoeBiden, the next president of the United States and @kamalaharris, the first female vice president of the United States, "tweeted Duque in Spanish." We wish you every success in your tenure. "
President of Argentina Alberto Fernández
"I congratulate the American people for the record turnout in the election, a clear expression of popular will," he tweeted.
Mayor of London Sadiq Khan
Mayor of Paris Anne Hidalgo
Australian Prime Minister Scott Morrison
President of Peru Martín Vizcarra
"We salute the massive turnout of the American people at the polls and congratulate them @JoeBiden i @KamalaHarris for your recent election, "tweeted Vizcarra.
The President of the Republic of Ghana, Nana Akufo-Addo
The Prime Minister of New Zealand, Jacinda Ardern
Prime Minister of Japan Yoshihide Suga