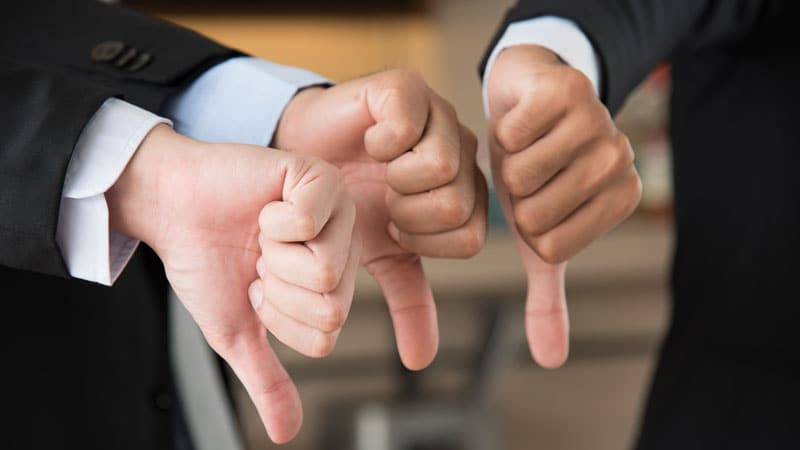 Three members of an advisory committee to the U.S. Food and Drug Administration (FDA) explain why they do not support the approval of the drug adducanumab (Biogen, Eisai) for the treatment of Alzheimer's disease (AD).
G. Caleb Alexander, MD, Scott Emerson, MD, PhD, and Aaron Kesselheim, MD, JD, MPH, are all on the FDA's Peripheral and Central Nervous System Advisory Committee and participated in the November 2020 meeting in which they were asked to consider whether current trial data support drug approval.
Only one panelist supported aducanumab approval. Eight members of the group, including Alexander, Emerson and Kesselheim, voted no, while two others were unsure whether it justified FDA approval.
At the time, committee members noted that the results of a large positive trial of the drug did not provide sufficiently strong evidence of efficacy for the treatment of the disease.
Although the first trials of the drug were promising, two phase 3 trials were discontinued for futility after a provisional analysis. However, the researchers later reported that a subsequent analysis of the EMERGE trial showed that, in fact, the drug met its primary goal of significantly reducing clinical cognitive decline.
However, most panel members did not believe that these trial data were sufficient to support drug approval, and Alexander, Emerson, and Kesselheim point out that nothing has changed in the meantime.
"There is no convincing evidence to support the adoption of aducanumab at this time," they write in a statement. published online March 30 al Journal of the American Medical Association.
During the ongoing controversy, proponents of AD, such as the Alzheimer's Association and the U.S. Against Alzheimer's, have given their support behind aducanumab, although it has mostly failed in clinical trials.
In addition, the FDA openly helped Biogen and Eisai adapt the trials for drug approval, highlighting collaboration in informational documents submitted jointly by the agency and manufacturers.
Some groups have criticized the association, including the Public Citizens Health Research Group. Its members wrote to US Secretary of Health and Human Services Xavier Becerra in the past April 1st seek a number of immediate changes in the way the agency handles the ongoing review of aducanumab, including the temporary expulsion of Billy Dunn, MD, head of neuroscience at the FDA.
The FDA is scheduled to make an approval decision before June 7.
Unacceptable post-hoc analyzes
Alexander, Emerson, and Kesselheim document the history of the drug, noting that Biogen and Eisai stopped trials with adducanumab in March 2019 because "the planned interim analysis met pre-specified futility criteria."
When subsequent analysis indicated that aducanumab may have been shown to be effective in one of two trials, Study 302 (EMERGE), the FDA worked with companies to analyze and shape the data, according to the agency and manufacturers.
Companies used a variety of post hoc analyzes to try to show that at least some patients in study 302 had a true treatment effect, the current authors note. The companies requested that this trial be used as a basis for approval.
However, Alexander, Emerson, and Kesselheim warn against post-hoc studies in general, noting that they "introduce what may be considered unacceptable threats to statistical validity and scientific rigor."
In addition, "any treatment will appear to be more effective if the people in whom you work least are removed from the analysis," they write.
Post-hoc analyzes of aducanumab "provided little useful information to decide the benefit of this new drug," they add. This information "should not be the basis for FDA approval."
Instead, "randomized trials should continue to be the primary means that regulators use to evaluate product efficacy" so that the public, physicians, and policymakers have confidence in the safety and efficacy of new drugs. , as the authors write.
A "black eye" for the FDA
In the letter to Becerra, Michael Carome, MD, director of the Public Citizen Health Research Group, writes that the FDA's collaboration with Biogen is a "black eye for the agency, which further undermines trust. public at the agency and demands your immediate attention. "
The surveillance organization had already asked the HHS inspector general's office to investigate the collaboration in December. He now wants HHS to press for an immediate investigation.
The FDA should also eliminate Dunn, Carome writes, for his role in overseeing the collaboration with Biogen and Eisai, at least until the investigation is completed. In addition, Public Citizen seeks to have the FDA review of Aducanumab completed by staff from agencies that were not previously involved with the two companies.
In general, aducanumab should not be approved, Carome said, noting that testing does not support its effectiveness.
"Premature approval of aducanumab could prevent the development of other experimental treatments for Alzheimer's disease for many years, which could slow progress on drugs that may actually be beneficial," he writes.
Medscape Medical News he contacted Biogen and Eisai several times to comment, but received no response.
Alexander is a former chairman and current member of the FDA's Peripheral and Central Nervous System Advisory Committee, is a co-founder and owner of Monument Analytics' own resources, and a former member of OptumRx's National P&T Committee.
Emerson reports that he has been a paid member of independent data control committees for AstraZeneca, Bayer, BioAtla, Boehringer Ingelheim, Bristol-Myers Squibb, Daiichi Sankyo, Denovo, Esteve, Inovio, Mirati, Novartis, Pfizer, Principia, Roche and Takeda. He also provided paid statistical consultations for Acadia, Alkermes, Arbor, Avenue, GlaxoSmithKline, Insmed, Merck, and Novo Nordisk, none of which are related to indications of Alzheimer's disease.
Kesselheim is a member of the FDA's Peripheral and Central Nervous System Advisory Committee and reports on Arnold Ventures grants.
JAMA. Published online March 30, 2021. Viewpoint
Alicia Ault is a freelance journalist based in Lutherville, Maryland, whose work has appeared in publications such as Smithsonian.com, the New York News, and the Washington Post. You can find her on Twitter @aliciaault.
For more Medscape Psychiatry news, join us Facebook i Twitter