Beyond the previous article on tips for integrating healthcare CRM with the Contacts module, we now analyze in detail the Physicians List module and related issues that a qualified business analyst should consider.
List of doctors: what is it for?
From BA's point of view, Doctors List is one of the modules that drive the profits and success of the website. Analysts have conducted dozens of studies on user requirements management and the behavior of consumers of medical services in the online environment. According to the results, almost half of consumers who are engaged in the search for medical information are very interested in the list of medical staff or in the possibility of making an appointment with a particular specialist.
This phenomenon is easy to explain. A medical professional represents the quality, safety, and efficiency of one or another medical service about which consumers can search for relevant information on medical websites. This makes the Physician List module an essential business element.
How to organize the list of doctors?
Tip 1: Place the list of doctors in the top menu of the website.
Analyzing the online behavior of website visitors revealed 2 main patterns of online consumer behavior. Half of the users focus on finding a specific specialist, while the other half make their choice based on the area of ​​medicine (dental services, surgery, neurology, etc.) and checking the availability of a specialist in a particular health center. .
To meet the needs of consumers who have adopted the first pattern of behavior, a website should enable certain features. The search function of the website should allow users to find a specialist through search strings and scrolling through a catalog of physician profiles where all medical professionals are sorted according to their medical specialty and type of medical practice (general practice , clinical study, medical consultation, etc.). manipulation, etc.). Very often, users type a doctor's name incorrectly and the search fails because of embedded spell checkers that use predefined dictionaries and do not respond to incorrect spelling of the name. To fix this, you will need one business intelligence software solution.
Tip 2: Insert doctor search options into your website search.
Another important part of your website strategy is to make it easier to search the catalog. Your website requires a convenient navigation system and dynamic filters that allow users to easily browse related catalog sections. Current and potential clients at your health-related center are more likely to meet the doctors in person, so add distinctive photos to the web list.
Tip 3: Make the photos of your medical staff look nice and clear.
You can improve profiles by listing doctors' working hours. Also, add an easy-to-use appointment form that will also help turn a potential customer into a loyal customer.
Is "Ask a Doctor" a really useful feature?
Sometimes customers ask to embed the "Ask a Doctor" feature in order to allow online visitors to contact a particular specialist with a question and get the answer. Sounds like a great customer-oriented approach, right? But, as our practice demonstrates, this characteristic does more harm than good. It is critical to consider the specific nature of the needs of visitors to health websites. They have already encountered the problem and are looking for an effective solution. All your queries can be divided into three main categories:
Questions that are taboo for doctors. A professional's response may be interpreted by a restless patient as a prescribed medical diagnosis or treatment. In fact, any doctor's online comment is in no way a trigger for action unless a patient already has a real prescription. A common online answer to an online question, which falls into this category, is to make an appointment with a doctor.
Doctors are usually busy and do not have much time to solve organizational problems, that is, work schedules, emergency appointments, and so on. There are managers who help online visitors deal with these issues. It is best to use live chat to contact managers, not doctors.
Patient personal data can be discussed with anyone other than the patient. In fact, clients can use the "Ask a Doctor" feature to take advantage of getting a free medical consultation, which does not comply with medical center policy.
Therefore, "Ask a Doctor" is a minor feature that is used for visitors to online websites in a limited number of cases.
How to make the list of doctors work for you?
A well-organized and easy-to-use list of doctors can increase online visitor loyalty and dramatically improve lead conversion. To get the most out of your website, provide your online visitors with the information they really want.
Prove that you have a great medical staff. The physician profile catalog should provide an improved picture of how many highly qualified specialists in different medical fields you have.
Indicate the years of experience, educational level, academic and professional awards and qualifications of your medical professionals. It's a lot of information, in fact. Create intuitive infographics to organize and visualize it.
Add the Introduction to Physicians section where your online visitors can learn more about a medical specialist and their practices.
Integrates the list of physicians with trusted review platforms.
To mark the line, your primary goal is the warmth of human communication that your online visitors really expect. Don't turn your website into an Amazon catalog and make sure your visitors don't feel like choosing a purchase item. You need to carefully develop the UX strategy in cooperation with website development and design specialists.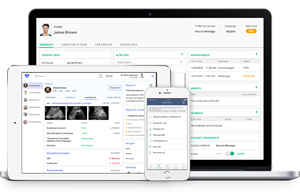 Are you looking for a solution to your healthcare IT challenge? Our experienced healthcare consultants are here to help.