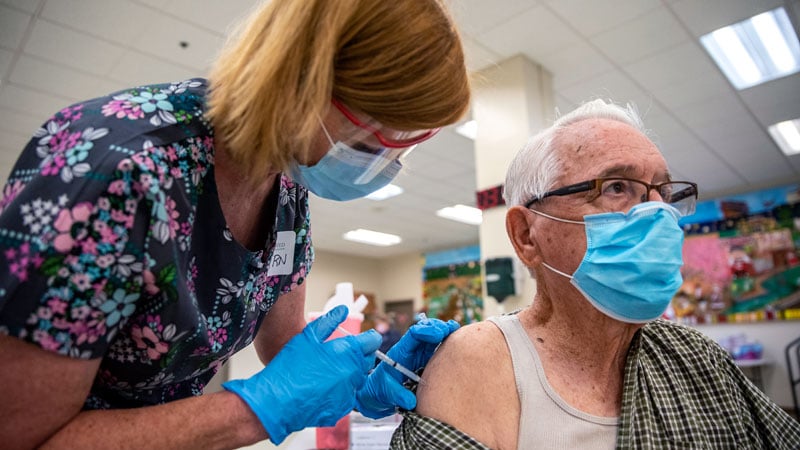 Editor's Note: Find the latest news and guidance on COVID-19 in Medscape Coronavirus Resource Center.
People over the age of 65 who were completely vaccinated with Pfizer / BioNTech or Moderna coronavirus vaccines were 94% less likely to be hospitalized than unvaccinated people in the same age group, according to the CDC.
Partially vaccinated people were 64% less likely to be hospitalized CDC's Morbidity and Mortality Weekly Reportsays t.
The real-world study examined 417 hospitalized adults from 14 states between January and March. The study only examined the two-dose Moderna and Pfizer vaccines, not the single-dose Johnson & Johnson vaccine. About half of the patients were 75 years of age or older.
The findings demonstrate what clinical trials demonstrated and what health experts have said: The COVID vaccine protects people, especially vulnerable groups such as the elderly.
"Vaccination is a key tool to reduce severe COVID-19 in high-risk groups," the CDC said.
In a press release, CDC director Rochelle Walensky, MD, described the report as "encouraging and welcome news."
"The results are promising for our communities and hospitals," he said. "As our vaccination efforts continue to expand, COVID-19 patients will not overflow health care systems, leaving hospital staff, beds and services available to people who need them to to other medical conditions ".
The U.S. vaccination effort has prioritized older adults. The CDC says that 82.1% of adults over the age of 65 have received at least one vaccine against COVID and 68.4% are fully vaccinated. In comparison, 43% of the entire American population has received at least one shot and 30% of the population is completely vaccinated.
The study noted that research in Israel also showed real-world efficacy of vaccines, but only with the Pfizer-BioNTech vaccine.
The CDC said the study confirmed that the vaccines offer no protection until 14 days after the first shot.
Sources:
CDC: "Efficacy of Pfizer-BioNTech and Modern Vaccines Against COVID-19 Among Hospitalized Adults 65 Years and Over – United States, January-March 2021." "Fully vaccinated adults age 65 and older are 94% less likely to be hospitalized with COVID-19."
CDC vaccine follower.