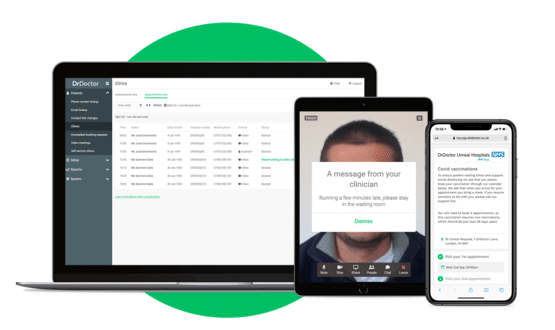 University Hospitals Birmingham NHS Foundation Trust has launched a set of digital patient participation tools in collaboration with DrDoctor.
The trust is looking for new ways to deliver outpatient care and hopes the technology will save time for staff and patients and reduce face-to-face hospital visits.
Using DrDoctor's tools, patients can now view hospital letters online and participate in video consultations from their smartphone, tablets, or laptops.
Hospital staff can also use the tools to reduce the time spent managing the booking process, with appointment reminders automatically sent to patients.
Since the new solutions were introduced, trusted staff has sent nearly 55,000 appointment notifications to patients via text and email. The number of people who do not attend is expected to fall by 35%.
The same percentage was observed in neighboring specialists who rely on the Royal Orthopedic Hospital NHS Foundation Trust, which has also implemented DrDoctor technology.
In addition to appointment reminders, more than 24,000 digital letters have been sent, and about 60% of patients choose to view them online. For patients who do not view the letters online, letters are mailed.
The video consultation functionality is integrated with the electronic registration of patients with the confidence that avoids the need for some patients to travel to the hospital.
Nick Barlow, director of digital care applied to the trust, said: "Like all NHS trusts, we have had to transform the way our patients are cared for. By working with DrDoctor, we have been able to advance digital trust plans, which allows us to offer some queries remotely.
"Digital appointment tools should also provide a better choice of patients in the future, as patients can read outpatient correspondence online.
"These tools are an important element in our long-term plans to improve patient care by introducing new technologies and innovations."
DrDoctor technology was deployed to all outpatient services after rapid fire pilots in February and March 2021. University Hospitals Birmingham joins Oxford University hospitals and another 32 NHS trusts using DrDoctor technology.
Wahida Jabarzai, DrDoctor's delivery manager, added: "This program meant many months of reduced work in just a handful of weeks.
"UHB quickly adopted our digital patient participation platform to meet the needs of their local populations. This is a testament to his future-oriented mindset, commendable work ethic, and his collaborative skills.
"UHBs are true leaders in their field and have demonstrated dedication to their patients through great organizational skills and comprehensive testing of technology of all confidence."
The trust intends to introduce new features later in the year, allowing patients to choose the time of the appointment and book an earlier strip if one is available.