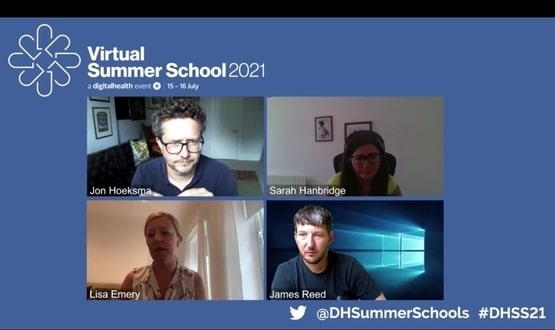 The new chairs of the digital health networks advisory committee have shared their priorities and aspirations for the future.
In a master session on the first day of the Virtual Summer School of Digital Health 2021 (VSS) Network chairs Sarah Hanbridge, Lisa Emery and Dr. James Reed said they were willing to work together to build the voice of networks nationwide.
Emery, who is the new president of the Information Director Network (CIO), told the audience that she wants to leverage the network's strength to be a "benchmark and reliable advisor" in shaping policy. digital health.
"What has come out of me strongly are the issues related to the professionalization of ourselves and the construction and improvement of our influence: so far we have done many things, but how can we keep the networks relevant or make them more important?" , he said.
"We have hugely exciting times ahead, I know we say a lot, but now is the time for digital, we've had huge leaps in the last year or two and I really want to take advantage of that.
"We need to become the ideal place to get reliable advice on this."
Emery, who also participated in the morning round table on diversity with the Shuri Network, he added that it would be "a fault" of her not to include representation in her goals with the Network.
"The CIO Network is not as diverse overall as it could be, and I think for me, looking through the three networks we have a wide range of diverse views to take advantage of and I want to be absolutely sure we work together to ensure "We have representation from all points of view," he added.
Hanbridge, the newly elected president of the Nursing Information Network (CNIO), echoed similar views on unity and leadership.
"For me, it's about getting to know ourselves as a newly developed CNIO network and building those relationships as an advisory panel," he said.
"And to represent the perspective from the front line … working closely with national digital leaders, especially Natasha Phillips [NHSX CNIO] and Jo Dickson [NHS Digital's chief nurse]".
Hanbridge also said he wants to focus on building relationships through the CIO and CCIO networks and learning from them.
"It's about how we can collaborate together and lead as a profession and really change nursing and the AHP [allied health professional] voice, "he said.
Reed, who is the only re-elected president, spoke about his experience as a member of digital health networks and the impact it can have on the direction of local and national policies.
"Now we are at a time when what we do in the coming years will determine the shape of the networks for the next ten years or so, we have made a very intense journey.
"As a group of people and as a body of professionals who work in this area, we are clear that we have things to say and we have the opportunity to say it and people listen.
"This is something that has been difficult to achieve so far, but now we have a chance to really consolidate it."
Returning to Emery's point about the professionalization of the digital health workforce, Reed added that it was important that the technology of organizations not only fall to the IT department.
"We have to promote the message that there is work to be done here [in digital health] and we need good people to do that, "he said.
Emery, Hanbridge and Reed were appointed chairs of the digital health network advisory panels last week after a heavily contested election to Networks.
Its role is to represent and speak on behalf of members nationwide for the next two years.
This year a record number of network members have been registered who have voted who they would like to represent on the network's advisory panels.
Twelve digital NHS leaders have been elected for a two-year term for each advisory panel, with successful candidates comprising a wide range of some of the most important local IT leaders in the NHS from all sides. of the NHS in England, Scotland, Wales and Northern Ireland.
You can see who he was chosen for each advisory panel here.
The 2021 Digital Health Summer School will take place on July 15 and 16. The free virtual event is exclusive only to members of the NHS and the public sector of digital health networks.