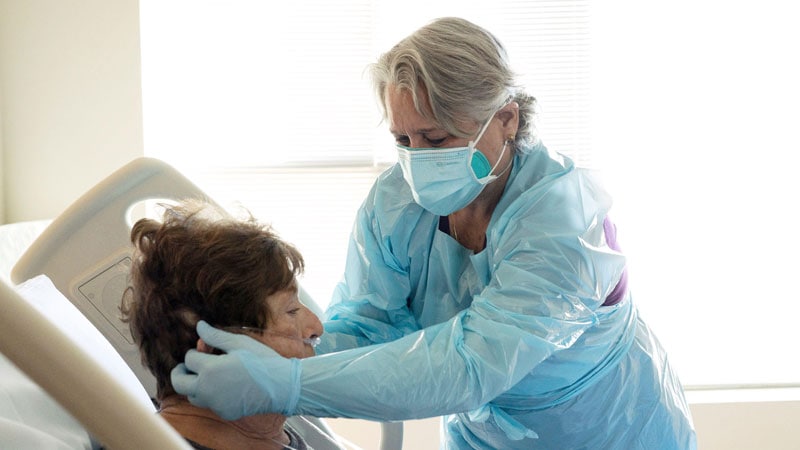 Hospitalized patients with acute respiratory failure may benefit from high-flow nasal oxygen in certain settings, according to a new clinical guideline from the American College of Physicians.
High-flow nasal oxygen (HFNO) has shown benefits, including improved oxygenation and ventilation, wrote Arianne K. Baldomero, MD, of Minneapolis Veterans Affairs Health Care System and the University of Minnesota, Minneapolis, et al. leagues. "However, the comparative benefits and harms of HFNO in clinical outcomes are not known, including mortality, intubation, length of hospital stay, patient comfort, treatment of airway secretions and reduced respiratory work ".
A la pattern, published in the Annals of Internal Medicine, the authors recommend the use of high-flow nasal oxygen in hospitalized patients for the initial control or postextubation of acute respiratory failure. The target population includes those patients treated in hospital wards, ED, intermediate / small units and ICU.
The use of HFNO therapy as a form of non-invasive respiratory support for hospitalized patients has increased in recent years. Treatment involves administering moist, hot oxygen through the nasal cannula at a flow level above the patient's inspiratory flow.
According to the authors, the potential benefits of HFNO include greater patient comfort, improved compliance, and psychological benefits. HFNO can also be used as respiratory support in critically ill patients for various indications, including respiratory failure or support after extubation; however, treatment of patients with COVID-19 and related conditions was not considered in the guide.
The guideline was based on evidence comparing HFNO with conventional oxygen therapy (TOC) and non-invasive ventilation (NIV). The authors reviewed 29 randomized controlled trials that showed clinically significant results in patients with HFNO, as well as similar mortality rates, intubations, and reductions in hospital-acquired pneumonia, and an increase in patient comfort reports. The data also supported HFNO safety with few, if any, contraindications other than nasal cannula adjustment problems.
In several trials comparing HFNO and NIV for the initial treatment of acute respiratory failure, HFNO reduced all-cause mortality, intubation, and hospital-acquired pneumonia, although the authors classified the results as "evidence of low certainty." HFNO was no more effective than NIV for postextubation management. Trials based on the comparison of HFNO and COT for postextubation management, the authors concluded that HFNO can reduce reintubation rates and improve patient comfort, also with evidence of low safety.
Research was limited by the lack of studies comparing HFNO with NIV or TOC for acute respiratory failure in patients. lung transplant, or for those with pulmonary embolism, pulmonary artery hypertension, o asthma, said the authors. Other limitations included variation in study design, study populations, and treatment protocols in the included studies. Additional research is needed to better identify patients most likely to benefit from HFNO, depending on the type of acute respiratory failure.
Despite these limitations, the results support the recommendation of guidelines for HFNO in cases of acute respiratory failure and postextubation control. However, "broad applicability, which includes the necessary physician experience and health system and use of resources, is" unknown, "the authors concluded.
Research is updated with practice
The guidelines are important at this time because "the medical literature of the last 3-4 years is up to date with what clinicians, pulmonologists, and critical care specialists have been doing clinically for the past 6-8 years, with better perceived results." Jacqueline W. Fincher, MD, MACP, The president of the American College of Physicians said in an interview.
"HFNO has been used to varying degrees over the past 6-8 years by physicians with a much better perceived benefit in hypoxemic patients on routine noninvasive therapy or conventional oxygen therapy with the imminent need for intubation or post extubation," Fincher said. . . "During the COVID pandemic, especially with the attack on the respiratory system with COVID pneumonia and ARDS frequently associated [acute respiratory distress syndrome], the use of HFNO has been very helpful in trying to keep patients well oxygenated without having to intubate or re-intubate them.
"We now have the medical literature that supports what has been seen clinically to make recommendations and guidelines based on scientific evidence," Fincher added. "If we can avoid intubation associated with patient sedation, inability to eat, talk, or participate significantly in their care or cause the patient to withdraw from the ventilator earlier for the same reasons, we have significantly improved the quality of their care, we have decreased risk of infection, decreased days in the ICU and hospital, we have managed to provide the best possible care.The availability of HFNO, with much greater comfort for the patient than not being intubated, is a great tool in the respiratory care toolbox ".
Fincher said he was not surprised by any of the recommendations. "We knew that using HFNO helped, but we were surprised by the evidence of the degree to which it is hugely useful to patients.
"The good news is that HFNO is available in most hospitals, but it really requires an intensive care unit and a team of doctors, nurses and respiratory therapists so that they are familiar with its use and work closely to control the patient. if there are significant changes in your respiratory status to assess therapy, "he said.
Looking to the future, some areas that need more research that may affect policy updates include "What are some areas that need more research that may affect future updates to these guidelines? Specifications on whether to start HFNO before the course of the Patient hypoxemia the disease is better or worse, as well as the use of HFNO outside the ICU environment, "Fincher said. "The patient needed follow-up to determine if their respiratory status was deteriorating and how quickly they would be critical along with specific indications for HFNO assessment."
The ACP commissioned and funded the review of the evidence. The data comes from work supported and performed on the Minneapolis VA Health Care System. Lead author Baldomero received support in part from the National Institutes of Health National Center for Advancing Translational Sciences.
This article originally appeared in Breast doctor.