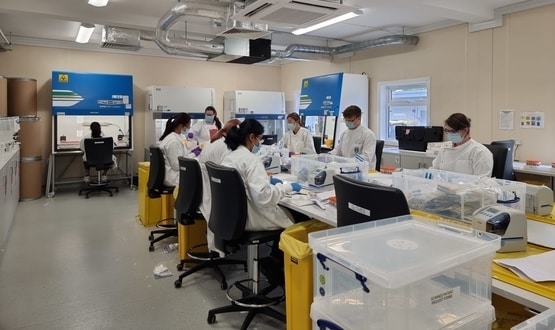 The National Virus Reference Laboratory (NVRL) in Ireland has moved its Covid-19 testing center to a newer laboratory information system.
The lab implemented CliniSys 'WinPath Enterprise in an attempt to reduce response times at the Backweston Satellite Laboratory (NSLB) in Kildare County. During the process, NVRL worked with the Medical Supply Company (MSC), which helps sell CliniSys products in Ireland.
The NVRL was established at University College Dublin in 1963 and is a public-sector non-profit medical virology laboratory funded by diagnostic tests performed on behalf of the Health Service Executive (HSE).
The lab has played an important role in the response to Ireland's national pandemic, as the test results feed back both to the HSE, which uses them to keep the public up to date on the spread of the disease, and to public health experts running Ireland's testing and screening program. .
In order to expand PCR testing capacity within the public sector, the NVRL established a satellite laboratory in the Department of Food and Marine Agriculture (DAFM) on the campus of the Backweston Laboratory in Kildare County.
Dr. Cillian De Gascun, director of NVRL, said: "At the beginning of the pandemic, we were doing about 30 PCR tests a day, and they soon increased to 1,500 a day within the NVRL, and then almost 20,000 as tests. community work in multiple laboratories. .
"It would be difficult to exaggerate the importance of the relationship with MSC, CliniSys and HSE when it comes to managing this workload. In addition, it is important to recognize the vital role that the NVRL Laboratory Information Management System (LIMS) plays in feeding data, including test results from the Associated Laboratories of Hell and Backweston, into the HSE. , to public health teams and the national testing program.
"It was clear that we could not maintain the quality of our service without putting Backweston in WinPath Enterprise. Therefore, it is fantastic to see them go live ".
WinPath Enterprise is designed to support lab networks and offers integration capabilities, a better security architecture, and more up-to-date workflows than its predecessor.
Michael Lawlor, MSC's clinical IT support manager, added: "While they were very busy, we are thrilled to see that they are already reaping the benefits. Switching to WinPath Enterprise has shown that the testing system has been tested for the future and has improved security. It's a movement that is helping in many ways. "