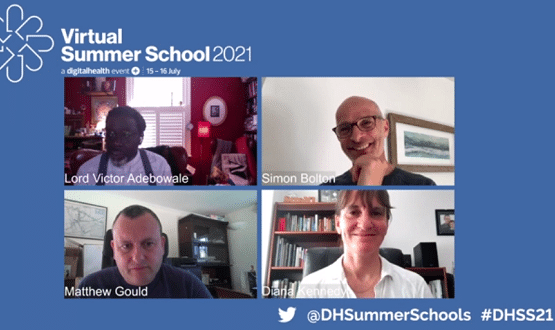 We are here to help you and not get in your way; this was the message from the interim general manager of NHS Digital and general manager of NHSX at Virtual Summer School 2021
Simon Bolton and Matthew Gould spoke on the second and final day of the event about how their two organizations can work together.
Bolton, who joined NHS Digital as interim CEO after Sarah Wilkinson he left the post, saying he felt like a "student introducing teachers," as he had only been in the organization for "six to eight weeks."
Still, the former CIO of Test and Trace had a simple message for the VSS audience: we want to work with you.
"One of the things I want to bring to the role is to make sure we start working collaboratively across the system and I think that's the message I would like to leave you with," he said.
"It's about us understanding what you need in trusts and ICS, but I think it's also about other trusts and ICS and others who understand what we're trying to do at the center because I think it's easy to assume they play at different extremes. from the field and we are there trying to tell you what to do.
"It shouldn't be the case, we're all really on the same team, trying to work together on the same goal of improving health outcomes.
"So a certain empathy between us to make sure we have a common understanding of what we're there to do and that we recognize that we're all trying to achieve the same set of goals, I think that's hugely important."
This argument was echoed by his NHSX counterpart, Gould.
"We're trying to really listen to each other to make sure the digital is integrated into the set and doesn't sit on its own silo and Simon and I, along with others, work hard to make sure the center is easier. to navigate and to support that the first line is not interposed ", he said.
Gould also highlighted how the pandemic had demonstrated the power of collaboration.
"What the last year and a half has shown is that when collectively we (you work on the front line and Simon and I work in the center) have the common determination to do things and there is a sense of shared urgency and things amazing. it can happen, "he said.
The digital heads of the NHS were joined in the morning's main session by Diana Kennedy, Bupa's head of technology, who revealed that the private healthcare organization is looking to "create an open data platform" that will be built on standards. common as FHIR and HL7.
He also said Bupa was here to work with the NHS to help create more advanced and personalized healthcare for patients.