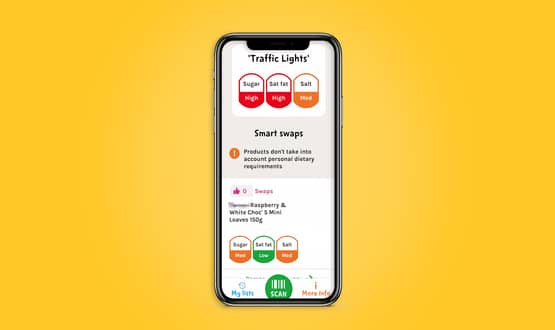 The government has unveiled its new Better Health campaign which includes a new NHS Food Scanner app to help parents choose healthier foods for their children.
The new app works by allowing families to scan product barcodes on food to generate a healthier suggestion as an alternative. It is expected to encourage more families to exchange unhealthy options in their diets and give them the knowledge they need to do so.
In addition, the "Good Choice" badge on the app will highlight those foods that meet current government dietary recommendations for added sugar, saturated fats, and salt.
Once a snack is scanned, the app will display its nutritional information using the family traffic light system, food exchange recommendations and also use augmented reality to bring the sugar, fat or salt content of the scanned food to life.
Public Health Minister Maggie Throup said: "We know that families have felt a lot of pressure during the pandemic which has drastically changed their habits and routines.
"The new year is a good time to make proposals, not only for us, but for our families. Finding ways to improve your health is one of the best decisions any of us could make. By downloading the free NHS Food Scanner app, families can switch from weekly store foods to healthier alternatives and avoid items high in salt, sugar and saturated fats.
The government's campaign has been launched to help curb the growing wave of obesity among young people. The NHS Digital National Child Measurement England 2020/2021 program found that one in four host school-age children is overweight or obese, up to 40% for sixth-year children.
Successive confinements have been blamed on children's poor diets, with a recent Netmums survey finding that 58% of parents feed their children more sugary or fatty snacks now, compared to the pre-pandemic. The same survey also revealed that two-thirds of parents are concerned about the health of their children's snacks, and nearly 90% say they will benefit from an app like the one just launched.
The government's anti-obesity strategy has seen the Department of Health and Social Welfare devote £ 100 million in funding to support children, adults and families in their quest to achieve a healthy weight. Late last year, the government also announced pilot of an application, which uses devices that are worn on the wrist to help encourage people to make positive changes in their lifestyle, in an attempt to improve the health of the country.