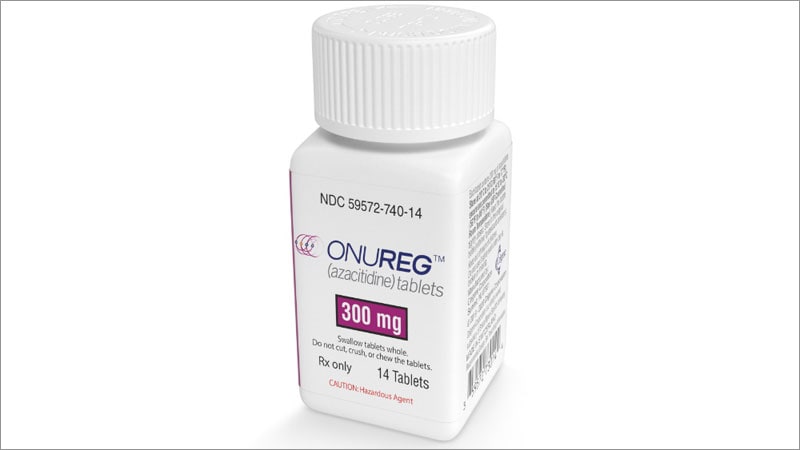 The Committee for Medicinal Products for Human Use (CHMP) of the European Medicines Agency (EMA) adopted a positive opinion of azacitidine (Onureg) for use as maintenance therapy in patients with acute myeloid leukemia (AML) who have achieved a first complete referral.
The recommendation for marketing authorization also includes use in patients who have achieved complete remission with incomplete recovery of blood count after induction chemotherapy (with or without consolidation treatment) and who cannot proceed with hematopoietic stem cell transplantation.
Azacitidine will be available as 200 mg and 300 mg film-coated tablets. The drug exerts its antineoplastic effects through multiple mechanisms, including cytotoxicity on bone marrow cells and DNA hypomethylation, according to the EMA.
"The advantage of Onureg is its ability to improve overall survival," the organization also says about the product, manufactured by Bristol-Myers Squibb Pharma EEIG.
Azacitidine significantly improved overall survival compared with placebo in the QUAZAR AML-001 trial, which was the basis of the US Food and Drug Administration. approval of the drug last year.
In the phase 3 trial of 472 patients, with a mean follow-up of 41.2 months, the mean overall survival of patients receiving oral azacitidine was 24.7 months versus 14.8 months for those receiving placebo. (Pg <.0009; risk ratio, 0.69).
"It's not too hard to get remission from these patients," said Harry Erba, MD, PhD, Duke Cancer Institute, Durham, North Carolina. Medscape Medical News in 2019. "The problem comes from keeping them in remission."
The most common side effects are nausea, vomiting, diarrhea, neutropenia, and thrombocytopenia, according to the EMA.
The new drug represents a first in the treatment of this group of patients.
"Despite several attempts, there has been no success in the last 30 years in defining maintenance treatment for these patients," said Andrew Wei, MBBS, PhD, Alfred Hospital, Melbourne, Australia. in 2019.
"Oral azacitidine represents a new therapeutic standard for patients with AML in remission," he commented.
Nick Mulcahy is an award-winning senior Medscape oncology journalist who can be contacted [email protected] and Twitter @MulcahyNick.
For more news, follow Medscape at Facebook, Twitter, Instagram, YouTube, i LinkedIn.