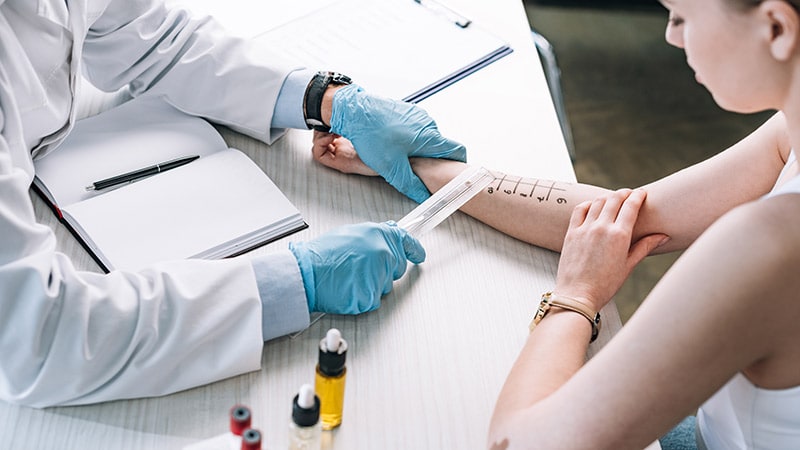 Compensation for allergists and immunologists was more successful in 2020 due to the COVID-19 pandemic than that of other doctors. Some believe that normal levels may not return for two or three years or more, depending on the Medscape 2021 Allergists and Immunologists Compensation Report.
The report, which reflects the responses of nearly 18,000 doctors in 29 specialties, showed little variation in overall medical admissions from 2019 to 2020, despite the pandemic.
However, for allergists, average income decreased from $ 301,000 in 2019 to $ 274,000 in 2020, and 55% of allergists reported a decrease in compensation.
This income places allergists at the lower end of the compensation scale for specialists, in seventh place at the bottom of the list of 29 specialties.
The specialties that topped the list in 2020 were plastic surgery (average earnings in 2020, $ 526,000), orthopedics ($ 511,000) and cardiology ($ 459,000). The top three specialties were public health and preventive medicine ($ 237,000), family medicine ($ 236,000), and pediatrics ($ 221,000).
COVID-19 Fallout
For most allergists, the decline in compensation in 2020 was attributed to the obvious factor: the consequences of the COVID-19 pandemic (96%), which led to job losses, fewer hours and fewer patients. . However, 15% reported that causes other than the pandemic contributed to the decline in their income (respondents were able to choose more than one answer).
While about 4 out of ten allergists who experienced a decrease in COVID-19-related income in 2020 expect income to return to normal this year, 45% believe the recovery will take 2 to 3 years. years.
It should be noted that 45% of doctors in the specialties in general reported that they did not experience any financial or practice-related damage resulting from the pandemic.
Fair compensation?
Only about 55% of allergists reported feeling quite compensated in 2020, almost the same as in 2019 (56%). This also places them at the lower end of the ladder, at the seventh at the bottom.
Infectious disease specialists had the lowest rate of feeling quite compensated (44%). Oncologists top the list, with 79% feeling pretty compensated.
However, 86% of allergists said they would choose medicine again if given the choice, which is higher than in 2019 (84%).
This rate is higher than 78% of doctors who said they would choose medicine again.
Eighty-seven percent of allergic and immunological doctors said they would choose the same specialty again.
At the top of this list were dermatologists, orthopedists and oncologists, each with 96% saying they would choose the same specialty again.
At the other end of the scale, only 71% of family medicine specialists reported that they would choose the same specialty again. There was even less enthusiasm among specialists in internal medicine (68%) and those in public health and preventive medicine (67%).
Rewards and challenges
As for the most rewarding aspects of the job, the most common response was "be very good at what I do / find answers, diagnose," which was reported by 32% of allergists. After that, there was gratitude / relationships with patients (27%) and knowing that I am making the world a better place (e.g. helping others) (22%).
In contrast, the most challenging aspects reported by allergists were the "difficulties in getting a fair refund or dealing with Medicare and / or other insurers" (26%), followed by rules and regulations (19%) and dealing with difficult patients (16%).
Although for allergists, the average amount of time spent on documentation and administration outside of patient visits increased from 12.7 hours per week in 2019 to 14.6, it is still less than 16 , 3 hours reported by doctors in general.
The average number of patients treated per week reported by allergists fell by around 12%, from 74 per week in 2019 to 65 per week in 2020. The largest decrease was reported by paediatricians, at 18%.
"Definitive Signs of a Bounce"
Commenting on the survey, Stuart Abramson, MD, director of allergy and immunology services at Shannon Clinic / Shannon Medical Center in San Angelo, Texas, said the results reflect the variety of changes that allergists have had to deal with during the pandemic.
"In general, specialists such as allergists are concerned that it may be more difficult to obtain appropriate referrals from primary care providers, given the insurance issues and the desire to continue managing the problems without specialist consultations," Abramson noted. .
"However, it has been considered that specialist care is often more cost-effective in the long run thanks to better prevention of the morbidity of various conditions," he said.
Overall, Abramson added: "There are definite signs of rebounding in our specialist areas.
"Internships are now more open, spirometry it is resumed for immunized patients and outpatient clinical immunotherapy is becoming more manageable and returns to pre-COVID use, "he said.
For more news, follow Medscape at Facebook, Twitter, Instagramand YouTube.