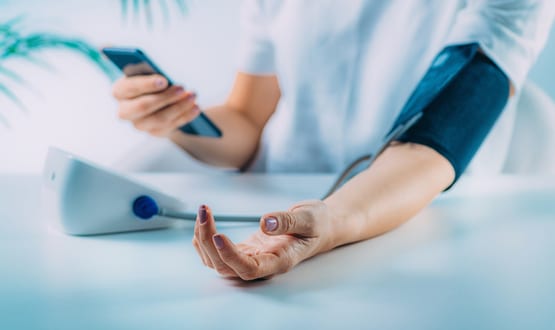 Surrey Heartlands Clinical Commissioning Group has launched a remote monitoring service that allows patients to monitor their blood pressure at home.
The digital service, BP @ Home, has been launched with Inhealthcare and aims to help reduce the need for emergency hospital admission and GP appointments, as well as save clinical staff hours of administration.
Using a device provided by the NHS, patients are asked to record readings of blood pressure and heart rate twice a day. These readings are analyzed by Inhealthcare, which will also calculate averages, load the readings into GP systems, and alert health care workers if any readings are of concern.
Dr Jagjit Rai, a partner at St David's Family Practice at Stanwell, said: "I have been involved in setting up the state's long-term remote control service in north-west Surrey and I am delighted with our pilot's results. .
"We have shown that patients are happy to monitor their condition from home, and when they do, they not only better understand their condition, but feel empowered to manage it better by remembering to take their medications and make decisions. lifestyle.
"This will lead to better preventive care for our patients and will also reduce the burden of GP practices, as we will receive patient results electronically instead of having to see them every time. This should result in to better health for our patients, fewer patients in need of emergency care and freeing up valuable appointments for more acute patients.We are now moving forward with the deployment of the BP @ Home service in a larger number of practices in Surrey Heartlands with the NHSX support ".
Patients have several options on how to send their readings, such as email, SMS, through an app, or by phone, making sure the service is fully inclusive. In addition, the service provides useful feedback and advice to patients, such as re-testing them or contacting NHS 111 or its clinical team if there is any cause for concern.
Automating tasks in this way will save healthcare professionals many hours of administration.
Bryn Sage, CEO of Inhealthcare, added: "This service shows the real benefits of remote monitoring of patients in action: improving patient health outcomes, building capacity within the NHS and enabling preventive care. We are delighted to work with Surrey Heartlands CCG to drive innovation in healthcare and deliver personalized services to people from a large area of ​​the population. "
Surrey Heartlands has worked previously Inhealthcare to deploy oximetry at home Remote monitoring service for patients with Covid-19. Its introduction of the blood pressure monitoring service reflects that of NHSX, which announced it this week buying 220.00 devices for at-risk patients to control their blood pressure at home.