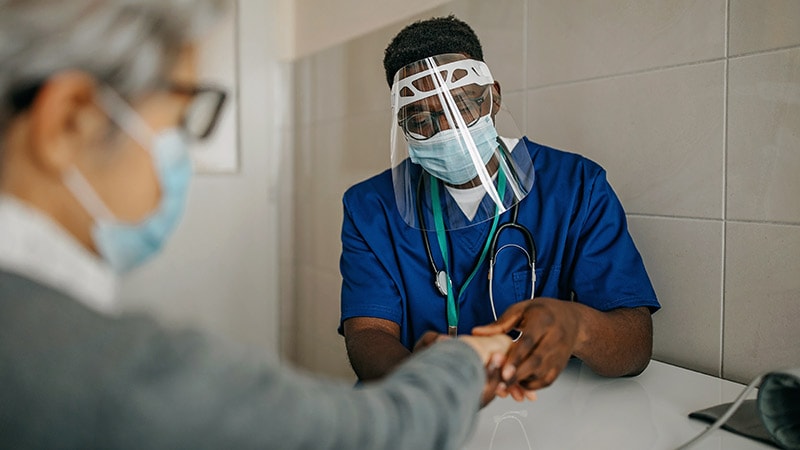 Editor's Note: Find the latest news and guidance on COVID-19 at Medscape's Coronavirus Resource Center.
According to the results of multiple studies, reduced access to health care, mental health problems, poor lifestyle habits, and concern for future care are just some of the patient-reported problems associated with early stages of the COVID-19 pandemic.
Data from the European base REUMAVID study, which surveyed more than 1,800 patients between April and July last year, found that 58% of patients with rheumatic and musculoskeletal disorders (MDRs) had their consultations with their rheumatologists canceled, 42% could not contact primary care physicians and 52% experienced interrupted visits to mental health specialists.
Not surprisingly, this affects the self-perceived health of patients, with nearly two-thirds claiming to be in fair to very poor health and that 47% report that their health has deteriorated. In addition, 57% of respondents reported high levels of anxiety, almost 46% were at risk depression, and 49% reported having poor overall well-being.
"The COVID-19 pandemic has had a huge impact," Marc Garrido-Carener, PhD, from the University of Seville, Spain, said at the annual conference of the British Society for Rheumatology.
Garrido-Cumbrera, who is a key player in the REUMAVID initiative, explained that the project was designed to address the concerns raised by the President of the Spanish Federation of Spondyloarthritis Associations (CEADE) on providing the appropriate information to its members.
"First in Italy and then in Spain, it was very difficult to deal with the pandemic and there was a lot of uncertainty from the patient's point of view," Garrido-Cumbrera said.
Victoria Navarro-Compán, doctor, doctor, from La Paz University Hospital in Madrid, who did not participate in the study, noted: "I think this reflects the importance of collaboration between patient organizations to collect relevant data and do so in a record time ".
The REUMAVID project was the result of the initial collaboration between the Health and Territory Research Group of the University of Seville and CEADE, but it also involved patient organizations from six other European countries: the National Society of Axial Aspondyloarthritis, National Society of Rheumatoid Arthritis, i Action against arthritis in the United Kingdom; the French Association for the Fight against Rheumatism (AFLAR; L'Association Française de Lutte Anti-Rhumatismale); the National Association of People with Rheumatological and Rare Diseases (APMARR; National Association of People with Rheumatological and Rare Diseases) in Italy; Portuguese League against Rheumatic Diseases (LPCDR; Portuguese League against Rheumatic Diseases) in Portugal; the Hellenic League against Rheumatism (ELEANA) in Greece; and the Cyprus League against Rheumatism.
Pandemic presents "Perfect Storm"
"We've never been as well communicated as we are now," he said Helena Març-Ortega, MD, PhD, rheumatologist consultant for the Leeds Teaching Hospitals NHS Trust in England, who took part in the REUMAVID project. The beginning of the pandemic was "the perfect storm" in which everyone jumped to try to do something. This resulted in a myriad of research publications, surveys, and attempts to try to understand and make sense of what was going on.
"The research is being conducted in a more structured way and has provided us with a lot of very intelligent information," Marzo-Ortega added. Viously, obviously, patients are important to consult when investigating how the pandemic has affected them, he added, as they are the ones who have turned their lives upside down.
"A pandemic has no limits, no limits, everyone can be affected equally. But patients with rheumatic conditions had a particular risk because of the treatments," he said. "You can remember how we were all concerned initially and think about the potential impact of immunosuppressants and many other aspects of these conditions."
One of the many positive aspects that came out of the pandemic is the "possibility of doing collaborative research globally, not just European," Marzo-Ortega said, referring to how EULAR COVID-19 records are part of the COVID-19 Global Rheumatology Alliance.
In addition, Marzo-Ortega believes the rheumatology community is now better prepared for any increase in COVID-19 or any potentially pandemic-causing virus.
"What we know now is that we need to be alert and know how to respond. We also know how to communicate effectively in order to improve outcomes, not only for the health of the entire population, but also to protect patients like ours," he said. to say.
Rheumatological practice has changed virtually overnight
The REUMAVID study is not the only one that analyzes the impact that the COVID-19 pandemic has had on the health and well-being of patients with RMD, especially during periods of blockage or in which patients were advised to "protect ".
There were "almost overnight changes in the practice of rheumatology," he said Chris Wincup, MBBS, clinical researcher at University College London (UCL), who presented the findings of another large-scale survey which examined the first effects of the pandemic nationwide in the UK.
"The recovery from these services has taken time and, speaking to patients, this varies from place to place," Wincup noted. "Unfortunately, access to care remains an important area of ​​unmet needs [and] it is something we will have to think about in planning services in the future, "he added.
Between September and October last year, Wincup and other UCL researchers conducted an online survey of 2,054 patients attending UK rheumatology clinics. As in the REUMAVID study, access to care was difficult or very difficult for a substantial proportion of patients. However, medication and control were "generally maintained well" despite the blocking measures.
Many patients (57%) had "extremely high levels of concern that their future care would be adversely affected as a result of the pandemic," Wincup said, with 44% saying their current care was worse than before the pandemic. and 41% dissatisfied. with the services they were able to access.
While 48% of patients welcomed a more hybrid approach to their care, 69% considered face-to-face appointments with their rheumatologists important and 49% only wanted face-to-face appointments. "A possible more hybrid approach, compared to pure face-to-face, will be something that may be needed," he said.
Different approaches taken to the CONTAIN study
Researchers at the University of Aberdeen in Scotland observed a different approach to assessing the impact of the COVID pandemic. Gary Macfarlane, MBChB, Ph.D..
In the COVID-19 and Musculoskeletal Heath During Lockdown (CONTAIN) study, three well-defined patient populations from existing cohort studies were prospectively examined. This included patients with ankylosing spondylitis (AS) and psoriatic arthritis (PsA) participating in two separate British Society for Rheumatology registries and patients at high risk of developing generalized chronic pain who had been part of the MAmMOTH (Maintaining Musculoskeletal Health) study.
"Our goal was to quantify changes from the previous prepandemic assessment, focusing on quality of life, lifestyle changes, and recording what has happened to your musculoskeletal health, including symptoms and measures. disease-specific, "Macfarlane said.
Patients had been invited to participate in June 2020 and were reminded in October 2020 and could respond online or via a postal questionnaire. Some patients were invited to participate in in-depth interviews.
Although the turnout was low at 29%, this was typical of studies conducted at the time due to "survey fatigue," Macfarlane said. The population of the CONTAIN study still included a good number of patients, however, with 596 with SA, 162 PsA, and 296 at risk for generalized chronic pain.
According to Macfarlane, the results of the CONTAIN study were "generally reassuring." Although there was a significant decrease in quality of life as measured by the five-level EQ-5D instrument in general and in all the subgroup populations studied, "the magnitude of the decrease was small." For example, there was no change in disease-specific quality of life in patients with AS.
He reported that levels of pain, anxiety, or depression increased slightly, but factors that influenced quality of life remained the same before and during the pandemic, such as high levels of deprivation, living in an urban location. , low levels of physical activity and sleep problems.
"Surprisingly, sleep problems decreased significantly overall," Macfarlane reported. Again, it was only a small change, but "the benefit in terms of sleep improvement was reinforced with later periods in follow-up."
There was also some evidence of increased low- and high-level physical activity in patients with psoriatic arthritis.
"Mental health is a key issue not only in maintaining musculoskeletal health, but also in terms of the likelihood of responding to therapy," Macfarlane acknowledged. "It's important to focus on addressing anxiety," he added.
"Providing improved support for self-management, including in relation to pain, is likely to be a priority if normal health care is not available," he suggested. It is important to note that, regardless of the circumstances, "all patients may be affected."
The REUMAVID study is carried out by Health & Territory Research of the University of Seville, with the support of Novartis Pharma AG. The CONTAIN study is supported by the British Society for Rheumatology and Versus Arthritis.
No other relevant conflicts of interest were declared.
This article originally appeared on MDedge.com, which is part of the Medscape professional network.