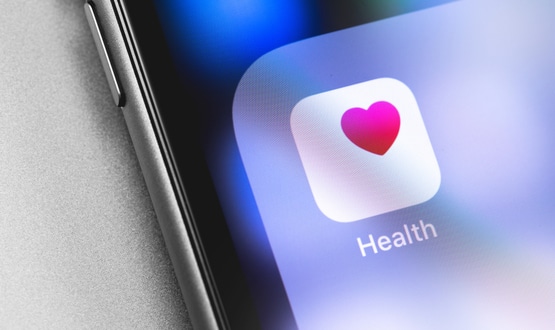 Salford's vulnerable heart patients are now being monitored remotely via a smartphone app and a virtual clinic.
Salford Care Organization is piloting the use of a remote monitoring system that uses an app for smartphones and connected Bluetooth devices.
It encourages patients to self-manage and record weight and blood pressure between appointments, two factors that are related to a high risk of heart disease.
Developed by Norwegian medical technology company Dignio, the system automatically sends patient readings directly to Salford Royal physicians via a special data platform.
Face-to-face appointments are still needed for blood tests and physical exams, but the digital system means patients have to travel to the hospital less often.
All patients participating in the pilot have access to the Dignio app, a set of digital scales and a blood pressure monitor.
The healthcare team can review and monitor the data and set patient alert thresholds. This allows the platform to mark any sign that falls outside the acceptable category for individual patients.
Dr Nehal Hussain, a consultant cardiologist and head of heart failure at the Salford Royal NHS Foundation Trust, said: "We can actually use the system to do a video consultation. Instead of having to wait several weeks to find out- ho, we can pick you up early and give you the right advice.The goal is to avoid hospital admissions for our patients.
"Patients do not want to have to be admitted to the hospital and we want to try to take care of them at home and in the community.
"We often tell people to weigh in, so that's not new, but if there's a way to get that to us and show them visually, I hope it encourages us and helps us get more involved with the our patients.
"There are a large number of patients who don't, so if we wait, the app will help them get more involved with us."
Heart patients can spend up to 11 days in hospital if they feel unwell and cost £ 4,000 for each stay in the NHS.
By using the Dignio Salford Care Organization app, which is part of the Northern Care Alliance Group, it hopes to reduce unnecessary hospital admissions and therefore save money.
Dr Meetali Kakad, Dignio's global chief physician, added: "We focus on empowering patients with more knowledge about their disease and tools for self-management in order to slow the progression of the disease and reduce preventable admissions.
"The municipalities in Norway that have been successfully using our solutions to follow patients with hypertension and heart failure in the community for almost 8 years. We are very excited to work with the Salford Care Heart Failure Team. "