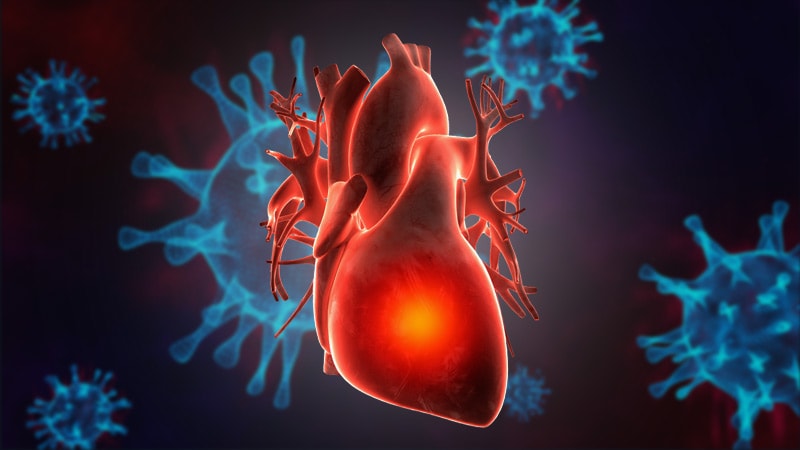 Editor's Note: Find the latest news and guidance on COVID-19 at Medscape's Coronavirus Resource Center.
Six months after mild SARS-CoV-2 infection in a representative healthcare template, no long-term cardiovascular sequelae were detected compared to a SARS-CoV-2 seronegative group.
"Soft COVID-19 left no measurable cardiovascular impact on LV structure, function, scar loading, aortic stiffness, or serum biomarkers," the researchers report in an article published online May 8 JACC: Cardiovascular imaging.
"We provide reassurance and social support for the position that screening in asymptomatic individuals after a mild illness is not indicated," said lead author George Joy, MBBS, University College London, UK, in presenting the results at EuroCMR, the annual CMR congress of the European Cardiovascular Imaging Association (EACVI).
Information co-moderator Leyla Elif Sade, MD, Baskent University, Ankara, Turkey, said: "This is the hot topic of our time for obvious reasons and I think [this] the study is quite important to avoid unnecessary further testing, surveillance testing and to avoid a significant burden of healthcare costs ".
"Alarming" early data
Early cardiac magnetic resonance imaging (MRI) studies in patients recovered from mild COVID-19 were "alarming," Joy said.
How previously reported per theheart.org | Cardiology Medscape, one study showed cardiac abnormalities after mild COVID-19 in up to 78% of patients, with evidence of ongoing myocardial inflammation in 60%. CMR results were correlated with troponin T elevations by high-sensitivity assay (hs-TnT).
To further the research, Joy and colleagues conducted a case-control study nested within the COVIDsortium, a prospective study of 731 health workers at three London hospitals who suffered weekly symptoms, polymerase chain reaction and serological evaluation for 4 months during the first wave of pandemic.
A total of 157 (21.5%) seroconverted participants during the study period.
Six months after infection, 74 HIV-positive (mean age, 39; 62% women) and 75 seronegative controls coinciding with age, sex, and ethnicity underwent cardiovascular phenotyping (complete CMR and phantom-calibrated blood biomarkers). ). The analysis was blinded, using objective artificial intelligence analyzes when available.
The results showed no statistically significant differences between seropositive and seronegative participants in cardiac structure (left ventricular volumes, mass, atrial area), function (ejection fraction, overall longitudinal shortening, aortic distensibility), tissue characterization (T1, T2, mapping of extracellular volume fractions), late gadolinium improvement) or biomarkers (troponin, pro-type B N-terminal natriuretic peptide).
Cardiovascular abnormalities were no more common in seropositive health workers than seronegative health workers, who otherwise were 6 months after mild SARS-CoV-2 infection. The measured anomalies were distributed "evenly between the two groups," Joy said.
Therefore, it is "important to reassure patients with mild SARS-CoV-2 infection regarding their cardiovascular effects," conclude Joy and colleagues.
Limitations and warnings
However, they warn that the study only provides information on the short- and medium-term sequelae of patients aged 18 to 69 years with mild COVID-19 who did not need hospitalization and had a low number of comorbidities.
The study does not address cardiovascular effects after a severe COVID-19 infection that requires hospitalization or in those with multiple comorbid conditions. Nor does it show that the seemingly mild SARS-CoV-2 never causes chronicity myocarditis.
"The design of the study would not distinguish between people who had suffered from completely cured myocarditis and pericarditis and those in which the heart had never been affected, "the researchers note.
They point to a recent one cross-sectional study of one-month post-mild COVID-19 athletes who found significant pericardial involvement (late improvement and / or pericardial effusion), although no pre-baseline COVID imaging was performed. In the current study 6 months after infection, the pericardium was normal.
The co-authors of a linked publisher say this study provides "welcome and reassuring information that, in healthy individuals experiencing mild COVID-19 infection, persistent evidence of cardiovascular complications is very rare. The results do not support cardiovascular screening in people. with mild or asymptomatic infection with COVID-19. "
Colin Berry, PhD, and Kenneth Mangion, PhD, both of the University of Glasgow, Glasgow, Scotland, warn that the population is limited to health workers; therefore, the results are not necessarily generalized to a community population.
"Healthcare workers do not reflect the population of those most clinically affected by COVID-19 disease. The severity of acute COVID-19 infection is greater in the elderly and those with pre-existing health problems. are not representative of countries at risk community population, "they point out.
Cardiovascular risk factors and concomitant health problems (heart and respiratory disease) may be more common in the community than in health care workers, and previous studies have shown its potential impact on the pathogenesis of the disease in COVID-19 .
Berry and Mangion also note that women accounted for nearly two-thirds of the HIV-positive group. This may reflect a selection bias or may naturally reflect the fact that proportionately more women are asymptomatic or have milder forms of disease, while severe SARS-CoV-2 infection requiring hospitalization affects men to a greater extent.
COVIDsortium funding was provided by individuals, charities and corporations, including Goldman Sachs, Citadel and Citadel Securities, The Guy Foundation, GW Pharmaceuticals, Kusuma Trust and Jagclif Charitable Trust, and was enabled by Barts Charity with support from UCLH Charity. The authors have not disclosed any relevant financial relationship.
Cardiovascular image of JACC. Published online May 8, 2021. Summary, Editorial
For more information on theheart.org | Medscape Cardiology, join us Twitter i Facebook