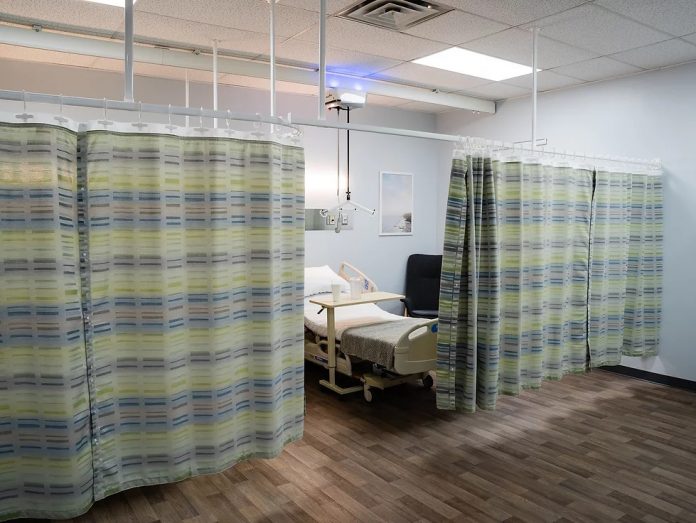 Chicago, IL , 07/01/2022 / PRVC Systems /
PRVC Systems, a reputable supplier and producer of hospital curtains in the United States, has updated its demonstration videos showcasing the operation and functionality of PRVC door, trolley, and gate systems. The company has updated the video presentations of previously manufactured systems and made them available on its website.
PRVC Systems recognizes the significance of high-quality, obstruction-free curtains and is eager to fulfill its responsibility as a healthcare hardware manufacturer. The product videos are a part of that effort. The videos demonstrate how the non-ceiling mounted system is an ideal solution for ordinary cubicle curtain requirements and is the answer to the patient lift and privacy curtain conflicts. The company's door systems are available in two variations: stationary track and swing arm. Both methods guarantee patients complete privacy, whether they need to use the restroom or move about the room. In addition to providing privacy, the accessibility of the tracks is helpful for replacing curtains. The staff can effortlessly remove the curtain from PRVC's innovative hook system without a ladder or step stool, reducing the inconvenience and enhancing privacy.
The video clips illustrate the company's trolley system operating effectively and efficiently in patient rooms with two, three, or four beds. In addition, it can be installed in clinical environments as well as multi-bay spaces, both of which are places where personnel and nurses frequently make use of patient lift systems to move patients between beds, chairs, and restrooms. PRVC Systems has developed patented technology to provide alternatives to ceiling-mounted solutions for problems with cubicle curtains and patient lifts. The company has come up with many options to satisfy the growing demand for patient privacy in single-bed patient rooms, as well as in multi-bed patient rooms, communal spaces, and restrooms. The novel solutions replace the outdated ceiling-mounted curtain track system for cubicles.
PRVC Systems emphasizes the importance of patient privacy for healthcare institutions. The installation of the PRVC gate system is only one of many options for accommodating the growing need for privacy in single and multi-bed patient rooms and communal spaces. The gate system addresses the problems with linear patient lift systems by enabling the patient lift to move freely throughout the room, as intended. The gate system operates efficiently in patient rooms with three or four beds. Additionally, it is also an ideal setup for therapeutic settings and multi-bay environments. Because the gate system is not ceiling-mounted, conventional issues that ceiling-mounted track might cause, such as obstruction of fire sprinkler systems, light fixtures, and air conditioning vents, no longer apply.
The company offers cubicle curtains in a variety of materials and designs, with a consistent length. When combined with a standard track system, this uniformity ensures that each curtain is the same length and that all pieces fit together. This feature helps in reducing the yearly expense of shopping for different curtain sizes. Installing PVRC curtain tracks in the cubicles is the best way for hospitals to improve their services while ensuring patients are comfortable.
Learn more about the PRVC Systems by visiting the company's website at https://www.hospitalcubiclecurtains.com/
About PRVC Systems™
PRVC Systems™ is an American brand best known for its all-new PRVC systems for cubicle and shower curtains. The new systems by the company are designed for easier and faster change-outs. The curtains are designed to not bind on the track, ensuring that they are quieter compared to traditional grommet curtains on the market.
###
Contact:
PRVC Systems
1241 Central Ave Ste 634 Wilmette, IL 60091
(844) 352-5089
https://www.hospitalcubiclecurtains.com/
newsroom: news.38digitalmarket.com
Source: 38 Digital Market News
This content is published on behalf of the above source. Please contact them directly for any concern related to the above.