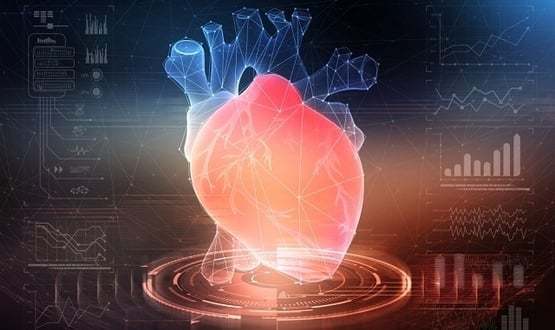 A portable monitoring device that detects heart irregularities is to be deployed across northeastern and northern Cumbria after a successful pilot in an NHS trust.
The KardiaMobile 6L portable ECG device was used to monitor NHS Foundation Tees, Esk and Wear Valleys (TEWV) patients at home during the early stages of the pandemic.
The wireless device produces heart rate readings in 30 seconds and minimized patients who need regular ECGs at home while traveling to the hospital to reduce the spread of Covid-19.
It is placed on the patient's knee and remotely records the ECG via Bluetooth on the professional's smartphone or tablet. The reading can be emailed to the patient's clinical team in PDF format.
The TEWV team acquired 30 devices that were used during routine visits to track the impact of antipsychotic drugs on a patient's heart health over an initial three-month pilot period.
During this time, more than 300 patients were monitored within the trust, saving an average of 17.5 minutes per ECG. Staff and patient feedback was positive, with 100% of patients surveyed saying they preferred the new technology to the old approach.
Dr Mani Santhana Krishnan, a consultant in aging psychiatry and liaison psychiatry at TEWV, said: "It is very important that people taking antipsychotic medicines have an ECG before the start and regularly afterwards. This device has improved. significantly the practical problems we found around the Covid-19 pandemic, specifically around the clinically vulnerable people they protected.
"Monitoring a patient's health at home is a much more comfortable and less intrusive way, and it provides us with reliable data to keep people safe while taking these medications.
"Performing an ECG as part of a routine community visit rather than arranging a separate appointment improved patient efficiency and overall experience."
Following the results, NHSX provided funding for 120 more devices to extend deployment across TEWV and a second trust, Cumbria, Northumberland, Tyne and Wear NHS Foundation Trust (CNTW) with support from the Academic Health Science Network for north Eastern and northern Cumbria.
Tara Donnelly, digital director of NHSX, said: "Through the NHSX pandemic, we have been helping to scale the new technology that allows clinicians to monitor and assess patients' conditions remotely.
"As part of our Innovative Collaborative, NHSX is delighted to work in partnership with innovators and teams that are transforming the care of thousands of people.
"In addition to patients in northeastern and northern Cumbria who need antipsychotic medications, their electrocardiograms will now be recorded at home and clinicians will evaluate them remotely to ensure they can be safely administered."
Once the new monitoring technology is used through trust, it is expected that about 300 hours of clinical time per month will be saved.
It is estimated that about 255 days of clinical time a year will be saved on the 85 teams that will use the devices, which would mean an annual efficiency saving in excess of £ 300,000.
Charlotte Fox, head of digital transformation at the Academic Health Sciences Network for Northeast and North Cumbria, said: "We believe the team is the first in the country, possibly the world, to use and evaluate the device for mental health patients in this way, which ultimately helped keep patients safe and at home during the pandemic ".