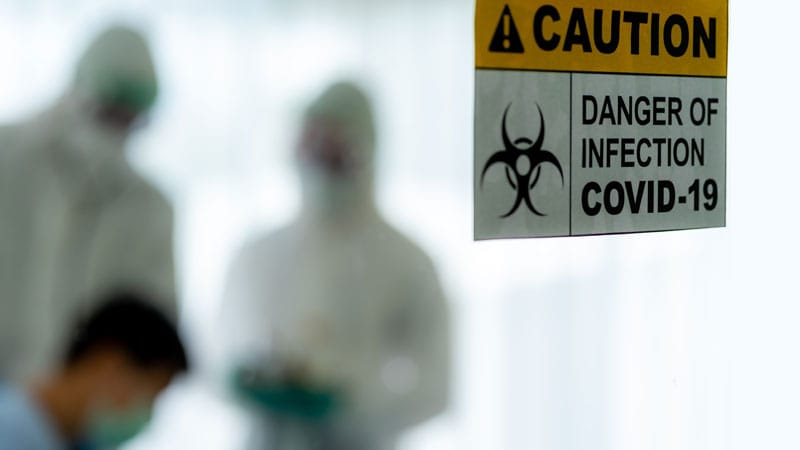 Editor's Note: Find the latest news and guidance on COVID-19 in Medscape Coronavirus Resource Center.
A large meta-analysis of patients with COVID-19 and diabetes "provides the best current evidence" to identify the risk of severe COVID-19 or death from it, based on the characteristics and laboratory values ​​related to patients and diabetes, according to the researcher.
Male sex, old age, pre-existing comorbidities (cardiovascular diseases, chronic kidney disease, i chronic obstructive pulmonary disease [COPD]), use of insulin, and high blood glucose at hospital admission was associated with an increased risk of death from COVID-19, while metformin use was associated with lower risk, based on moderate to strong evidence.
The same characteristics were related to similar risks of having (or not having) severe COVID-19, based on weaker evidence.
"Overall, the risk group we identified for the population with diabetes and COVID-19, that is, elderly people with comorbid conditions and who use insulin, could simply reflect the severity of diabetes or poor health conditions. per se, "the researchers warn.
"However, considering these phenotypes may be useful in identifying people with diabetes and COVID-19 with a high risk of poor outcomes and therefore those who are likely to need early intensified treatment," they conclude.
The meta-analysis of 22 studies and 17,687 people with diabetes and COVID-19 by Sabrina Schlesinger, PhD, Heinrich Heine University, Düsseldorf, Germany, and colleagues was published on April 28 in Diabetology.
Which patients with diabetes are most at risk?
Diabetes increases the risk of dying from COVID-19, but patient characteristics and diabetes-related factors associated with increased risk of severity or death from COVID-19 have not been entirely clear.
To investigate, the researchers identified studies published through October 10, 2020 on patients with type 2, and less frequently type 1, diabetes and COVID-19.
Compared with women, men had a 28% higher risk of dying from COVID-19 and a 36% higher risk of severe COVID-19, in 10 studies and 11 studies with high-quality evidence.
Compared to younger patients, patients older than 65 years had a 3.5-fold higher risk of death from COVID-19 and a 67% higher risk of serious illness, in 6 studies with moderate-level evidence.
However, there were no clear associations between smoking or being overweight or having obesity and death or severity related to COVID-19.
Overall, few studies examined the associations between diabetes-specific risk factors or markers and laboratory results.
Having blood glucose> 11 mmol / L versus <6 mmol / L at admission was associated with an 8.6-fold increase in the risk of death from COVID-19.
Compared to other patients, those who used insulin (and probably had more advanced type 2 diabetes) were 75% more likely to die from COVID-19.
In contrast, patients receiving metformin (probably primarily for first-line therapy for type 2 diabetes) were 50% less likely to die with COVID-19 than other patients.
As in the general population, comorbidities predicted worse outcomes. Having COPD was associated with a 21% increased risk of death from COVID-19 and a 36% increased risk of severe COVID-19.
Having cardiovascular disease or chronic kidney disease was associated with a 56% and 93% higher risk of dying from COVID-19, respectively, according to weaker evidence.
Obesity, high BP did not predict worse results in this analysis
Patients with diabetes had similar risk factors for worse outcomes than those in the general population, "with a few exceptions."
"Old age, male, obesity, hypertension, chronic lung disease, [cardiovascular disease], active cancer, laboratory parameters (e.g., low lymphocyte count and elevations of [C-reactive protein (CRP), alanine aminotransferase (ALT) and aspartate aminotransferase (AST)]) have been linked to a poor prognosis of COVID-19 in the general SARS-CoV-2-infected population, "Schlesinger and colleagues write.
However, "curiously," the meta-analysis did not find that obesity or hypertension was associated with an increased risk of severe COVID-19 or death from COVID-19.
There were no clear associations for PCR (the most frequently measured inflammation biomarker) or for liver enzymes (ALT, AST) and the worst outcomes, but it was based on limited data.
Call for further research
"To strengthen the evidence, more primary studies are needed that investigate diabetes-specific risk factors, such as the type and duration of diabetes or additional comorbidities (such as liver disease and neuropathy) and that take into account important confounding factors, "the researchers urge.
"We will continuously update this report to strengthen the evidence from the associations already examined and investigate other findings, such as long-term complications due to COVID-19 for people with diabetes," they conclude.
Diabetology. Published online April 28, 2021. Article.
The study was funded by Projekt DEAL and a grant from the German Federal Ministry of Education and Research to the German Diabetes Research Center (DZD). Schlesinger did not disclose any relevant financial relationship. The disclosures of the other authors are listed with the article.
For more news on diabetes and endocrinology, follow us Twitter yen Facebook.