Patient participation is regularly perceived as an abstract concept, which can be enhanced in some way through remote care technologies such as patient portals and mHealth applications. However, as long as this concept maintains its abstract nature, it is difficult to obtain useful information about the number of patients involved and whether there is an increase or decrease in their level of involvement over time. It is also difficult to assess the impact of the separate channels used to engage patients.
Of course, this situation cannot satisfy caregivers on their way to value-based care delivery, where patient involvement plays an important role.
Hopefully, there is nothing immeasurable in the world of healthcare data analysis. Caregivers can transform the abstract concept into a measurable value that will help them in fact-based decision making, enabling them to obtain effective channels, understand what activates patient care, and see the real picture of patient involvement. Let's see how it can be done.
Guidelines for measuring patient participation
To equip caregivers with valuable knowledge about patient participation levels, data analysis should leverage the following 4 information flows:
Satisfaction surveys
Scheduled / missed appointments, tests, procedures
Patient behavior with respect to the portal / application
PGHD shared using the mHealth app
By analyzing each flow separately as well as in combination, it is possible to classify patients according to their level of involvement. For example, it can be a ABC classification, where patients with maximum levels of commitment form group "A". Consequently, poorly engaged patients hit "B" and "C". We have raised the following options for patient outreach.
Note: When particular values ​​are not advised in the following examples, measures may vary depending on a particular healthcare organization and its patients.
The frequency of login to the patient portal / launch of the mobile application
Applicable to all patient groups. Here, the estimated values ​​for groups "A" and "B" overlap, as the target frequency may change depending on a provider.
'A': high frequency: a few times a day, daily or weekly
'B': average frequency: daily, weekly, monthly
'C': low or no frequency: rare, up to a few times a year
The scope of the patient portal / mobile application functions used
Applicable to all patient groups. This criterion is useful for highlighting the interests of relatively healthy patients, defining the services from which they can benefit, and contacting them through the application or portal they use. Depending on the functionality available, the scope of the function may include monitoring of vital data and medication, calorie counting, setting treatment goals, support for rehabilitation (physical, pulmonary, post-surgical and more), etc. It is estimated that an application or portal contains several functions. areas, and each is evaluated separately.
'A': high use
'B': medium
'C': low or nothing
The percentage of appointments made
Applicable to all patient groups.
'A': 80 – 100% of appointments completed
'B': 60 – 80% of appointments completed
'C': less than 60% of appointments made
Attendance at recommended follow-up appointments
Applicable to all patient groups. This criterion shows the involvement of a patient according to his attitude towards follow-up appointments, for example, when a doctor recommends that a person return every 6 months for a regular check-up.
'A': 70-100% of the recommended appointments are completed within 1 to 2 months from the planned date
'B': less than 70% are completed in 1-2 months
'C': less than 30% are completed in 1-2 months
Share PGHD
Recommended for chronic and postoperative patients. There is also the possibility of choosing a target measure of PGHD for a particular disease (blood glucose level for diabetes, SpO2 for COPD).
'A': sharing is regular. The target frequency must be set individually for specific patient groups. For example, patients with diabetes may share blood glucose a few times a day, while patients with COPD will share oximetry results once or twice a week.
'B': inconsistent sharing, some gaps in measurements (interrupted measurements, incomplete data, systematic errors, etc.).
'C': The patient makes significant gaps in the measures, which interfere with the proper assessment of health status.
Adherence to the medication plan
Applicable to groups of patients with treatment plans and medication intake schemes delivered via a mobile app or portal. However, it is recommended to monitor medication intake using an application with a preset medication timer.
'A': 80-100% of prescribed medications are taken daily
'B': Between 50 and 80% of medications are taken daily
'C': less than 50% of medications are taken daily
Evaluation of physical activities
Applicable to all patient groups. We suggest setting different and sometimes even individual activity goals for patients with certain conditions. Physical activity can be assessed using data from the default pedometer of a smartphone, as well as wearables connected to the patient's mobile app.
'A': the actual physical activity of a patient is 70-100>% of the target
'B': the actual activity is 50 to 70% of the target
'C': less than 50% of the target
Survey participation ratio
Applicable to all patient groups. People can receive multiple surveys to fill out, and topics can also vary. Therefore, we suggest that you do not focus on specific figures, but opt ​​for the proportion of completed and received surveys.
'A': one patient completes 60-100% of the surveys received in the last 12 months
'B': one patient completes 30-60% of the surveys received in the last 12 months
'C': one patient completes less than 30% of the surveys received in the last 12 months
Dimensions for segmenting patients
We have mentioned that patient involvement is rooted in personal connections, but it is also affected by a number of different events that individuals experience on a daily basis. While it is impossible to track all events, caregivers can draw on the information they already have and relate the level of patient involvement to the health profiles and clinical data of patients. The tying process must also be carried out by health data analysis system.
To facilitate the process of creating patient segments that can be used to correlate with patient involvement, we raised some possible dimensions. In this concept, all dimensions they are equally important. They can be used together, separately or in different combinations, so suppliers could go with wider segments or shrink them.
Installation
Depending on the size of a healthcare organization, patients may receive services at different facilities and locations. It can be helpful to find out areas where patients are not involved and then fix the situation.
Example 1. Outpatient facilities:
Oklahoma City, OK
Stillwater, okay
Edmond, okay and more
Example 2. Hospitalization facilities:
Boston, MA
Worcester, MA
Springfield, MA and more
Example 3. Hospitals, clinics and other facilities:
Louisville, KY
Indianapolis, IN
Fort Wayne, IN and more
Therapeutic departments
Because departments vary among health care organizations, the list will be tailored to a particular caregiver. Patients can be filtered to one department or a few at a time. For example, patients with COPD and heart problems may receive service in both the pulmonology and cardiology departments.
Cardiology
Endocrinology
Gastroenterology
Ophthalmology
Pulmonology
Orthopedics
ENT and more
State of the disease
Providers can combine the "disease status" with the "therapeutic departments" criteria sets or use them separately. In this set there are multiple dimensions that are not sufficient for the clinical purpose, but still help providers to reduce or expand the target group. Again, each set of criteria can and should be adjusted according to the caregiver.
Disease status:
acute
subacute
chronic (each section can be detailed to specific conditions, pathologies, disorders, etc.)
Comorbidities:
yes (can be filtered to a list of particular diseases)
no
Results:
recovery
complications / exacerbations (can be filtered to a particular negative result)
Disabilities:
yes (can be filtered to a specific disability)
no
Need for systematic monitoring:
yes (then the list of exact types of supervision can be provided, for example, regular follow-up appointments or home care)
no
Gender / Age
The following basic demographic structure is constructed by reviewing the stages of Erikson's human development along with the theories of Daniel Levinson and Carl Jung. These multiple sources have slightly different approaches, so our result here aims to add diverse opinions, reflect psychological and physical development, and allow caregivers to narrow down the patient segments they work with.
Adults:
Woman / Man:
Linking patient participation levels to dimensions: opportunities
The possibilities of measuring patient involvement and linking it to different dimensions of the patient's health profile is exciting. Let's review some of them.
For example, if providers want to detect the most effective channel (application versus portal) to engage patients, they can compare equal dimensions from the list above, such as how often to log in to the patient portal and launch applications. mobile phones in their "A" level group. They can also apply these measures to a specific facility or across departments, because this can show preferences among patients with different conditions. Each new set of criteria added makes data analysis more complex and yields new ideas that can be further applied to improve care delivery and improve patient health outcomes.
Speaking of results, when caregivers develop meaningful measures for analysis of health outcomes (such as quality of life, exacerbation rates, blood pressure control, and more) under CMS reporting policy or for internal performance evaluation, multiple dependencies can also be tracked . While it seems logical that greater patient involvement equates to better health outcomes, the results can be amazing and can give a clue as to areas for improvement.
Be king when the kingdom comes
Let's look at the bigger picture. Value-based care is gradually replacing the reality of SBB. Although programs and models that aim to facilitate the transition (such as ACOs) still use FFS payments, their goal is to keep patients healthy, prevent exacerbations, admissions, readmissions, and improve patient health outcomes. . And patient involvement is a strong link in this chain, especially when measured.
Consequently, analyzing patient involvement and integrating it with other dimensions of health data analysis already used by providers means taking the lead and reaping the subsequent benefits ahead of the competition.
Get details here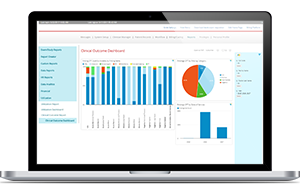 Medical data analytics and consulting for ScienceSoft
Analytics turns medical data into a treasure. Don't miss the opportunity to increase patient satisfaction, optimize costs, and improve internal processes.