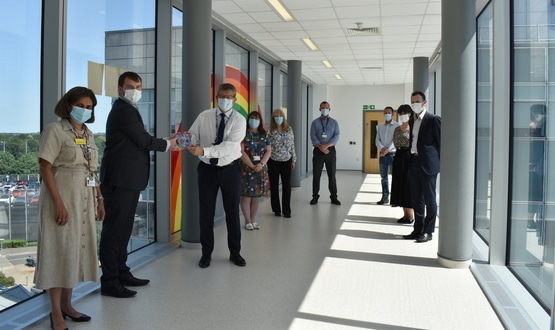 A North West Anglia NHS Foundation Trust lab has received a Philips award for being fully digital.
The histopathology department at Peterborough City Hospital has become the first UK laboratory to win the Philips Fully Digital Award.
With a slowdown in routine pathology work due to Covid, the team took the opportunity to equip itself with new state-of-the-art pathology equipment to go digital. As a result, the pathology team is able to make cancer diagnoses with even greater confidence and confidence.
Dr. David Bailey, a consultant and clinical manager of trusted cell pathology, said: "Five years ago, I could never have imagined that I would find a digital pathology as useful as glass slide microscopy. Now that we have it, I think we see things about digital images that we don't necessarily pick up on glass.
"The process is also more effective and greatly speeds up the patient's path, which subsequently improves their experience, as waiting can add to the stress and upset of an already worrying time."
As a result of the pandemic, more cancer meetings are organized remotely and the new system means the six pathologists can access digital imaging and results from anywhere with a secure internet connection. Cases can also be shared with pathologists from other hospitals to ask for a second opinion in complex cases, which also helps speed up the time patients have to wait for their results.
Jodie Bridge, Philips UKI's leader in precision marketing and business sales diagnostics, added: "Philips has supported the digitization of approximately 2.5 million slides in the UK by 2020. However, Northern England -west has stood out globally as a place that has fully embraced technology and made changes to its process to maximize system usage.It has been an honor to present them with this award, the first in the UK, and celebrate its success ".
Follow the news One Dorset reveals its collaboration with Fujifilm Digital Pathology Solutions and ambitions to create a fully digital workflow for cellular pathology in all its places.