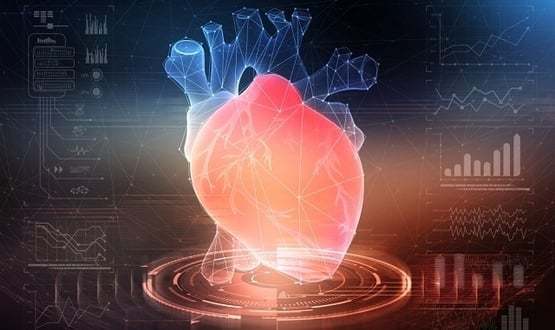 Patients suspected of suffering from heart disease could be diagnosed five times faster using an artificial intelligence-powered tool that provides a 3D scan of a patient's heart.
NHS England launches HeartFlow to diagnose and treat heart disease. The tool converts regular computed tomography scans of the heart into a 3D image to allow clinicians to diagnose dangerous coronary heart disease in 20 minutes.
About 100,000 people are eligible to use HeartFlow over the next three years, with more than 35,000 people benefiting each year.
HeartFlow uses data from a coronary CT angiography and creates a customized, digital 3D model of the patient's coronary arteries.
Their algorithms then simulate blood flow to the patient's arteries to help doctors assess the functional impact of any blockage.
The technology has been shown to have a "significant impact" on clinical trials and has the potential to eliminate invasive diagnostic procedures and help ensure that those who need the procedures are seen more quickly.
Stephen Powis, NHS medical director, said: "The NHS long-term plan is committed to cutting strokes, heart attacks and other major killers, as well as ensuring that patients benefit from therapies and cutting-edge techniques and HeartFlow is just the latest example of this.
"By rapidly improving the rate at which we diagnose and treat those with heart disease, we will save thousands of lives and ensure, in addition to delivering the most successful vaccination program in the history of health services, the NHS is able to provide routine services even faster than before pandemic. "
Once patients are diagnosed with HeartFlow, they will be referred to the most appropriate treatment, including surgery, medication, or stent installation.
Less severe cases would be recommended to change the lifestyle to resolve the risk of illness before it endangers life.
Dr Derek Connolly, cardiologist intervention consultant at Sandwell & West Birmingham Hospitals NHS Trust, said: "For every five patients who have a heart CT scan and a HeartFlow test, four patients go home knowing they don't need anything else.
"Half of these patients take cholesterol tablets because they have early disease and the other half will have normal coronary arteries.
"The incorporation of HeartFlow analysis has had a significant impact on our hospitals, improving the diagnosis and treatment of the leading cause of death."
HeartFlow was launched as part of the program MedTech Funding Policy, a commitment to the NHS long-term plan that supports the implementation of proven medical devices, diagnostics and digital products.
The warrant was first consulted in December 2019, but its launch was delayed due to the coronavirus. It went into effect on April 1, 2021, with the option to extend funding to three years until March 2024.
The policy mandate is expected to cost £ 20 million over the first three years, with savings of £ 25 million in patient care, based on modeling by the National Institute for Health and Safety. Care Excellence (NICE).
Four healthcare technology companies were included in MedTech funding in 2021/22, aiming to provide innovative medical devices and digital products to NHS patients more quickly.
NHS England has also launched GammaCore, a handheld device that relieves the symptoms of severe headaches, and SecurAcath, to secure percutaneous catheters.