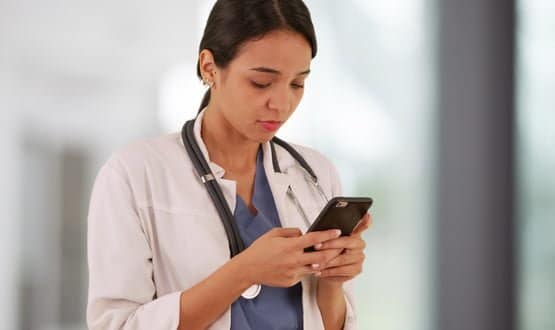 Staff digital passports will be made available to "substantially more staff" under the NHS England and Improvement plans to increase the program.
Digital passports are designed to allow NHS staff to work in different organizations without adding bureaucracy.
Passport routes began in March last year to facilitate the relocation of staff during the Covid-19 pandemic.
A prior information notice published on 6 May 2021, revealed that NHS England and Improvement want to expand the program "as soon as possible".
"The ambition now, as expressed in the Secretary of State's' Busting Bureaucracy 'and with the support of the NHS Director of People and the NHSX Director General, is to make digital staff passports available for to a substantial number of staff who attend to different types of staff movements as soon as practicable, "he states.
"To support this ambition, NHS England and NHS Improvement and NHSX want to better understand what digital passport technology providers can offer and establish a new line of service for digital staff passport providers under the support system. an open market is created in the health system ".
The new service under the health system support system is valued at £ 1.25 million.
The contract notice is expected to be published on May 21, and early tenders are expected to design and develop an alpha version of the staff's digital passports, as well as expanding the use of the Covid staff digital passport that allow staff to move between organizations during the pandemic.
Digital staff passports were part of the staff training toolkit launched in July 2019, but the the initiative was accelerated to facilitate the NHS assigning personnel to pressure points during the pandemic.
Temporary passports, which are stored on staff members' smartphones, contain a "minimum set of verified credentials" that allow them to be deployed to different NHS locations "quickly and without unnecessary bureaucracy".
Following the use of staff digital passports during the Covid-19 crisis, NHS England and Improvement plan to launch an alpha version that will be used permanently throughout the healthcare system.
Digital passport systems were already in use in some NHS trusts before the pandemic. Kings Health Partners has had a system in place since 2010 that allows staff at King's College London; King's College Hospital NHS Foundation Trust; Guy's and St Thomas 'NHS Foundation Trust; and South London and Maudsley NHS Foundation Trust move between member organizations.
The wider NHS England and Improvement program aims to extend it to all NHS organizations to facilitate staff rotation between trusts, while reducing incorporation processes and human resources.