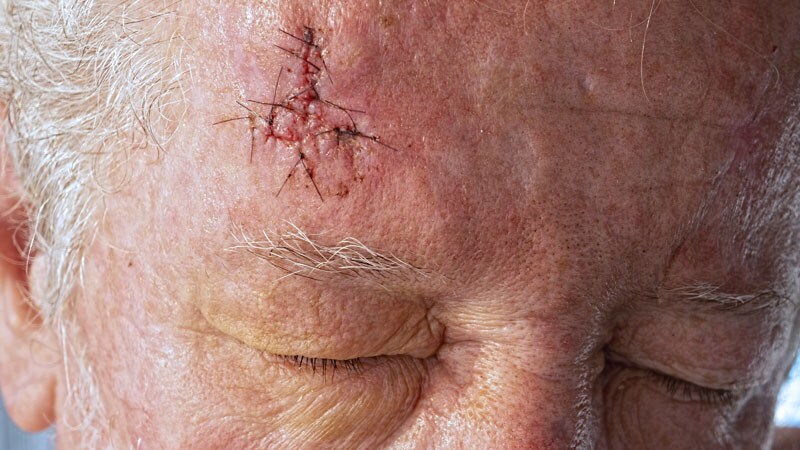 You have successfully resected a skin cancer lesion, leaving clean margins. Now what?
This is the question that the authors of an evidence-based guideline on reconstruction after skin cancer resection set out to answer.
The guideline: a joint effort of the American Society of Plastic Surgeons, American Society of Dermatological Surgery, American Academy of Dermatology, American Academy of Plastic and Facial Reconstructive Surgery, American Academy of Otorhinolaryngology – American Head and Neck Surgery Foundation College of Mohs surgery, American Society of Mohs Surgery and American Society of Plastic and Reconstructive Ophthalmic Surgery – published online in the Journal of the American Academy of Dermatology.
From the outset, panel members realized that in order to keep the guideline manageable they had to limit the recommendations to the practice of reconstruction defined as "skin closure that requires a flap, graft, or tissue rearrangement".
Others wound closure methods, such as secondary intention healing; simple closures; and complex closures that do not involve flaps, grafts, muscles, or bones were not included in the recommendations.
As with similar guidelines, the developers selected seven clinical questions to address and attempted to find consensus through literature searches, evidence assessment, classification of recommendations, peer review, and public comment.
"We had a very heterogeneous set of things that we were trying to comment on, so we had to keep things a little generic," the lead author said. Andrew Chen, MD, head of the plastic surgery division, at the University of Connecticut Health Center, Farmington, said in an interview.
"Skin cancer and reconstruction affect different body areas and areas of different sizes. When we created the guidelines, we had to tailor the questions we could ask based on the things that would make sense to answer, because obviously we couldn't ask any questions. such as: "What is better, a skin graft or a flap? Well, there are some things that a skin graft can't be put on: it won't last, so we couldn't ask those kinds of questions, "Chen said.
Curtis Cetrulo, MD, a plastic and reconstructive surgeon at Massachusetts General Hospital, Boston, who was not involved in the prescribing process, said in an interview that the general recommendations match his practice and experience. However, he also acknowledged the difficulty of creating a guideline that covers the complexity and heterogeneity of reconstructive surgery.
"They're usually good recommendations, but they're just recommendations, with generally weak levels of evidence. What we really need are clinical trials that can give us definitive answers to some of these questions," he said.
Recommendations
The seven key recommendations, based on the clinical issues raised, are summarized below:
Delayed (asynchronous) reconstruction is acceptable. Although the quality of the evidence is low and the recommendations are listed as an option, the authors of the guide said that, depending on the situation, reconstruction can be done immediately after resection or delay it days, weeks or even months.

Systemic antibiotics should not be routinely prescribed between resection and reconstruction in adults. Here, too, the evidence is low and the strength of the recommendation is weak, but in the "absence of data showing convincing benefits, systemic antibiotic therapy does not seem necessary or desirable in most cases when there is an interval between cancer resection and reconstruction, "a working group wrote.

Physicians may administer perioperative systemic antibiotics in a facility-based facility for adults in the process of reconstruction (3a), but antibiotics should not be routinely prescribed in an office center (3b). The rationale for these recommendations, supported by a moderate level of evidence, is that the risk of infection at the surgical site is generally higher on the premises, compared to an office-based environment. Patients who are rebuilt in hospitals or surgical centers are more likely to have complex reconstructions or have risks that make them suitable candidates for antibiotics, but often in-office patients can be saved from additional costs, side effects, and possible drug interactions from the use of antibiotics. "There is no evidence in either scenario that long-term antibiotic prophylaxis provides reduced risk of infection, compared with short-term prophylaxis," the working group wrote on the guidelines.

Continue anticoagulant, antithrombotic and antiplatelet drugs for adult patients in the process of reconstruction after skin cancer resection in the office (4th) and, in the field of facilities, should coordinate with the physician managing anticoagulation before modifying medication prior to surgery (4b). The quality of the evidence and the strength of the recommendations are moderate.

The authors of the guidelines recommend the routine prescription of narcotics as a first-line treatment for pain in adults in skin reconstruction (5a), favoring acetaminophen and NSAIDs as first-line therapy (5b). The quality of the evidence and the strength of the recommendations are moderate.

In the absence of standardized protocols for the treatment of pain medications, oral antibiotics, and / or anticoagulants during the perioperative period, physicians should discuss possible approaches with adult patients. "Educating patients about their perioperative treatment by discussing treatment strategies can help relieve anxiety, improve communication, increase patient satisfaction, and maximize patient compliance with postoperative orders," the authors wrote. of the guide.

The authors suggest that follow-up evaluations may be offered to adult patients to discuss functional and cosmetic outcomes. "Patient return for follow-up visits is an excellent opportunity to better understand and measure these outcomes, improve patient-physician communication, and foster quality improvement. Postoperative follow-up can lead to greater patient communication. and the doctor, thus allowing patients to comment on satisfaction and other important outcome measures, "they wrote.
What's Next
Guideline developers acknowledged that data are limited on reconstructive surgery after skin cancer resection and that higher-quality studies would help improve future guidelines. Chen said greater use of possible surgical databases and a more systematic compilation of patient-reported outcomes could inform subsequent efforts.
The different groups represented supported the pattern development process. Chen and Cetrulo did not report any relevant disclosures.
This article originally appeared on MDedge.com, which is part of the Medscape professional network.