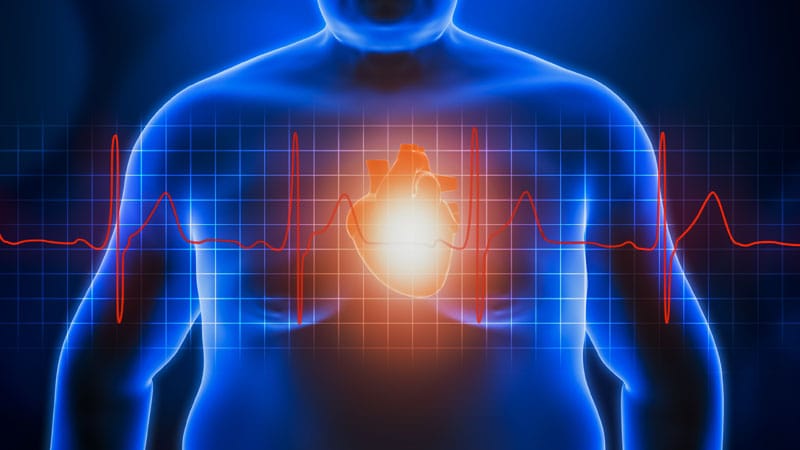 An updated scientific statement from the American Heart Association on the role of obesity in cardiovascular disease provides the first new guide in 15 years, based on evidence that emerged at the time to clarify the potential for new pharmaceutical therapies and interventions such as bariatric surgery and lifestyle modifications to reduce the risk of cardiovascular disease.
"The timing of this information is important because the obesity epidemic contributes significantly to the overall burden of cardiovascular disease and to numerous chronic health conditions that also affect heart disease," he said. Tiffany Powell-Wiley, MD, MPH, Chair of the Volunteer Statement Drafting Group.
"One of the great takeaways I hope to get from the statement is to make it clear that obesity is a complex disease and that it is multifactorial," Powell-Wiley said in an interview. "Not only are there biological reasons why individuals are obese, but there are environmental, psychosocial, and truly multilevel factors that contribute to the development and course of obesity."
Most significantly, Powell-Wiley said, "we want to emphasize that we really want cardiologists to think and focus especially on abdominal obesity."
A metric for cardiovascular risk what seems to gain credibility to the statement is the ratio of waist circumference to height regardless of total weight. "This is a very important finding that we can now really think of at waist circumference as an important measure in our clinical practice," said Powell-Wiley, head of the Laboratory of Social Determinants of Obesity and Cardiovascular Risk at the intramural research division at the National Heart, Lung, and Blood Institute. "We want to communicate to suppliers that this should be measured and should be followed over time, based on data from the last 15 years that waist circumference and abdominal obesity are associated with increased cardiovascular risk regardless of body mass index ".
The statement provides potentially innovative tips on atrial fibrillation as a result of the weight, Powell-Wiley noted. "Until recently, we hadn't really thought about weight management as part of Afib management [atrial fibrillation]"This statement highlights the need to think about weight management, in addition to anticoagulation, as part of the pieces to manage Afib."
Evidence of interventions
The statement, published in Circulation, also delves into the evidence surrounding the various interventions to control weight.
"The biggest area where there's a lot more data is bariatric surgery," Powell-Wiley said. "There is clear evidence that bariatric surgery reduces cardiovascular mortality and all-cause mortality in patients, but we have also seen data on lifestyle interventions, with the Look AHEAD trial, which showed that, although there were improvements in the CV [cardiovascular] risk factors, we didn't see the reduction in CV mortality we wanted to see. "
The statement notes that the Look at the trial beforehand (Action for health in diabetes) of people with type 2 diabetes did not show a significant reduction in major adverse cardiac events or CV mortality after nearly 10 years of intensive weight loss intervention. Powell-Wiley added that the result appeared to be more related to lack of weight loss with lifestyle interventions compared to bariatric surgery.
The statement also addressed the effectiveness of pharmacological treatments for weight control in CV risk management and, although evidence supporting specific pharmacotherapy for weight loss has been mixed, emerging treatments have proved to be promising, Powell-Wiley said. "I think we now have some bright spots with new therapies that have been developed for diabetes and heart attack, such as SGLT2 inhibitors as well as GLP-1 agonists, and how they may also appear to improve weight and are likely to improve CV mortality in obese patients. "
The "obesity paradox," which Powell-Wiley noted is "definitely a controversial issue," is also addressed in the statement. "We try to explain what it is and what we know about it now," he said. "We know, for example, that obese patients, particularly those with class 1 obesity or overweight patients, appear to have better short-term outcomes relative to coronary artery disease and heart failure, but the reasons are not necessarily clear. "
The statement also provides evidence-based information on the use of diagnostic tools, including stress echocardiography i cardiac MRI as well as coronary angiography and the clinical significance of specific echocardiographic changes in obese patients.
The drafting committee also identified areas that need future research. "It's really important to highlight what we've learned about the complexity of obesity over this period of time," Powell-Wiley said. "But again, we don't have all the answers; there is a lot more work to be done to understand what kind of lifestyle intervention can be most beneficial, especially for tackling abdominal obesity, and how these new therapies around heart failure and diabetes may be helpful in obese patients.
Adolescent obesity is another area that needs more research, Powell-Wiley said. "How do we prevent obesity in these populations when we know they are at risk during aging? Once you are obese, it is difficult to change that trajectory."
The scientific statement was prepared by the Volunteer Writing Group on behalf of the AHA Council on Lifestyle and Cardiometabolic Health, the Council on Stroke Nursing, the Clinical Cardiology Council, the Epidemiology and Prevention Council and the Stroke Council. Committee Vice President Paul Poirier, MD, reported financial relations with Abbott, Amgen, AstraZeneca, Bausch Health, Bayer, Boehringer Ingelheim, Eli Lilly, Janssen, Novartis, Novo Nordisk, Sanofi, Servier and HLS Therapeutics. A committee member revealed a financial relationship with AstraZeneca. Powell-Wiley and the other committee members have no relationship to reveal.
This article originally appeared on MDedge.com, which is part of the Medscape professional network.