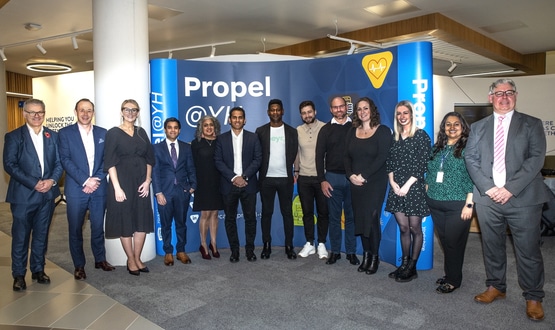 Ten SMEs have been selected to participate in the Yorkshire and Humber Academic Health Science Network (AHSN) digital health acceleration program, Propel @ YH.
Now in its third year, Propel @ YH will work with SMEs that have digital innovations to help the healthcare and social sector recover from the Covid-19 pandemic.
Each of the 10 SMEs has been selected because they have an innovation designed to help the NHS and social care organizations address health inequalities; support the workforce; allow patients to manage their conditions in the long term; and support the NHS priorities outlined in its operational planning guide.
Program companies will receive a six-month course of structured support and advice to help them accelerate growth and increase market presence.
A number of partners will help offer advice, they are:
Hill Dickinson (legal advice)
Nexus (networking opportunities)
University of Leeds (networking opportunities)
Barclays Eagle Labs (funding guidance)
Leeds City Council (networking opportunities).
Thrive by Design (formerly mHabitat) will once again curate and direct the master class program alongside the network. In addition, the Yorkshire & Humber Academic Health Sciences Network (AHSN) will offer mentoring support in the form of 1-2-1 and group sessions.
Dr Neville Young, Director of Business and Innovation at Yorkshire & Humber's AHSN, said: "We are delighted to be launching this program for the third year in a row. All the innovative companies that have been selected have innovations that can support the NHS. after the pandemic.We can't wait to start working with them.
"This is a fantastic opportunity for selected SMEs to receive expert advice and guidance from AHSN and our key partners, so that they can navigate the NHS market, increase their presence in the region and disseminate their innovations in Yorkshire and Humber Our work with innovative companies is central to our role as we seek to foster innovation in health and stimulate the growth of life sciences and industry throughout the world. our region ".
The inaugural Propel @ YH was launched in January 2019, with the six selected cohorts announced in May of that year.
The latest cohorts are:
Chatterbug: a social enterprise that supports children and young people with speech and language difficulties.
Genome: A digital healthcare company that develops advanced software enhancement and quality assurance solutions.
BookYourGP: A Hummingbird Medical tool for GPs to organize complex medical care for patients.
Heyr: A mental health chatbot app.
PhysioBuddie: an online therapy service that offers users progressive step-by-step rehabilitation at a distance.
Promatica's SocialRx: a complete digital management system for social prescription.
SORA: Syrona Health application that supports women with chronic gynecological conditions.
Vitacam: A tool that transforms routine clinical observations from contact-based manual methods to contactless measurements from video.
YourMeds: A smart medication management system to help people take their medications at the right time.
Rewire: A system that uses data and clinical best practices to deliver personalized stroke therapy.