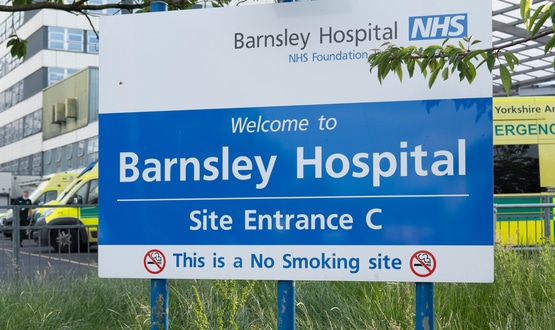 More clinical staff at Barnsley Hospital NHS Foundation Trust are now conducting digital transfers through a healthcare coordination application.
Since trust began using System C's CareFlow Connect app, usage has increased month by month, with nearly 30,000 deliveries completed in November.
The technology integrates with Barnsley's CareFlow EPR to provide staff with complete patient information on mobile devices, with notes updated in real time by multiprofessional teams and date and time stamped to create an audit trail robust. It allows a patient's vital information to move with them across departments, ensuring a safer and faster transfer of care between teams.
The Chief Clinical Information Provider (CCIO) of the trust and gastroenterologist consultant Dr. Dominic Bullas said: "We are very pleased with how the staff of the trust has adopted Connect. The maternity department came into operation. in June, and midwives have fully accepted it.
"We are now working to deploy the system beyond the hospital to midwives in our community and introduce more full-featured functionality with alerts, task management and communications."
The last areas of operation of the system in November 2021 included the acute response team, two operating rooms and the emergency care department (medical and surgical) on the same day.
Barnsley Hospital Nursing Information Director (CNIO) Stacey Hatton said: "Once we are live with CareFlow Medicines Management, we will also use Connect to manage internal referrals, with the goal of put it to the test with our speech and language therapists as it will help increase efficiency and improve outcomes.
"In terms of digitizing work practices, Connect is a big step forward for several reasons. We have streamlined our delivery process and standardized the format, it has helped us move away from trust and is contributing to our information government. "
Before moving to the collaboration system, staff printed delivery documents that were made with Word and stored on a shared drive. If a staff member is added to the transfer, it was not always clear who had entered the information and a new transfer would have to be created each time a patient moved to a different area of ​​the hospital.
The deployment of System C Careflow Connect is the latest implementation of the comprehensive digital trust transformation program in collaboration with System C. Last year, Barnsley left Lorenzo's EPR and replaced it with the C-System EPR, becoming the first trust in the country to move away from Lorenzo, which was purchased under the centralized National Computer Program.
Markus Bolton, Joint CEO of System C, added: "Barnsley is making great strides towards its digital goals to benefit patients and improve work practices. It is a great confidence to work and we look forward to introducing Connect to other workflows." .