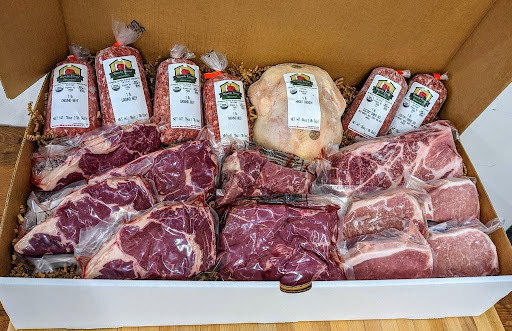 Baileys Harbor, WI , United States, 11/25/2021 / Waseda Farms /
Waseda Farms monthly meat box is now one of the most popular services offered by the company. The brand's grass-fed meat subscription boxes have been so popular that the company has had to expand the service further, offering buyers more options. Figures published by Waseda Farms show that meat box subscriptions were on a steady rise. It suggests that people found the monthly meat subscription easier and more convenient compared to purchasing meat again and again.
However, Waseda Farms is at a distinct advantage. The company is known for selling some of the best grass-fed beef out there, and that's even before the monthly butcher box meats were introduced. The USDA boxed beef meat subscription box, for instance, brings grass-fed organic chicken and pork in addition to grass-fed beef to buyers' doorsteps. The company promises 100% organic and natural meat that's humanely raised and cultivated.
The grass-fed and grass-finished beef are sourced from the farm's own Black Angus cattle, which are raised organically and humanely in Door County, Wisconsin. The Heritage Berkshire pork is also organically and humanely raised on the same farms in Door County. The turkey and chicken, too, are organically raised, treated humanely, and roam free on the brand's 500-acre organic farm.
The grass-fed beef subscription boxes are available in small, medium, and large sizes. Buyers will find a selection of the very best organic beef products curated monthly by the brand's butchers to ensure the best selection of cuts. Also, people get to look forward to something new each month.
Readers can learn more about Waseda Farms Monthly meat subscription by visiting the company's official website: https://wasedafarms.com/meat-subscription.html.
"At Waseda Farms, we are all about quality. Whether it is our grass-fed beef, turkey, chicken, or pork, you can expect the very best; it is also one of the reasons why this family farm is one of the leading farms in the state. Since the introduction of our meat subscription program, we've seen demand for it growing exponentially. Almost every one of our six high-quality subscription boxes is in demand from people across the country. It shows that people love our meat and trust us to deliver the very best on time each month." Said a representative for Waseda Farms.
He added, "It is important that you trust where your food comes from, and we make sure that you get the best seasonal selections that we have to offer, which is right for you and at a frequency that best suited to your needs. Now you can enjoy essentials, steaks, treats, and our butcher favorites right at your doorstep."
About Waseda Farms
USDA Certified organic farm which is locally owned and family-run by the Lutsey family.
Located in Baileys Harbor on Door County's quiet side, the farm spans over 500 acres and has over 1000 acres of managed farmland. Producing organic grass-fed beef, organic pork, chicken & turkey.
You can buy grass-fed beef online 24/7 at https://shopwasedafarms.com/collections/ or you can shop locally in Wisconsin at the farms' two organic butcher shops.
Waseda Farms Market (Organic Meat Market) De Pere WI.
330 Reid St, De Pere, WI 54115
Phone: 920-632-7271
Open Mon-Friday 8 a.m. to 2 p.m.
Visit the Farm
The farm trails are open to the public all year round, you can walk the farm and visit the farm market store where a warm welcome awaits all visitors.
Waseda Farms & Country Market
7281 Logerquist Rd
Baileys Harbor, WI 54202
Every Day 10 a.m.–5 p.m.
Phone: 920–839–2222
Source: 38 Digital Market News
There is no offer to sell, no solicitation of an offer to buy, and no recommendation of any security or any other product or service in this article. Moreover, nothing contained in this PR should be construed as a recommendation to buy, sell, or hold any investment or security, or to engage in any investment strategy or transaction. It is your responsibility to determine whether any investment, investment strategy, security, or related transaction is appropriate for you based on your investment objectives, financial circumstances, and risk tolerance. Consult your business advisor, attorney, or tax advisor regarding your specific business, legal, or tax situation.