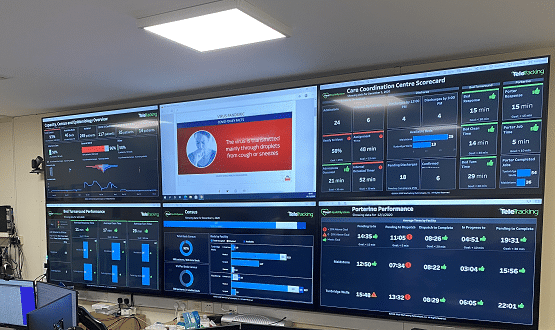 The NHS Trust in Maidstone and Tunbridge Wells has halved bed reporting time through a centrally managed patient monitoring solution.
The trust implemented a care coordination center last year to better monitor where patients moved to the hospital, which beds are free and which beds need cleaning before a patient can be admitted.
The center operates through the trust's two locations: Maidstone Hospital and Tunbridge Wells Hospital and provides real-time visibility of the beds. Since it went into operation on November 24, 2020, the center has halved bed reporting times, from 150 to 60 minutes on average.
It has also reduced the number of hours patients wait in the emergency department by 110 hours a day due to the reduced time it takes for a patient in the emergency department to go to bed clean, of an hour and a half. about 30 minutes. to each hospital.
Nick Sinclair, the trust's chief operating officer, said the solution allowed the trust to move away from a "pencil and eraser" form of tracking patients.
Sinclair spent 21 years working in ambulance trusts and said he was "accustomed to the technology of sending ambulances and paramedic equipment to the right place at the right time."
"I thought 'there has to be a better way,' as we digitized bed management. I started my research and came across TeleTracking and we headed in that direction," he told Digital Health News.
The contact for care coordination, driven by TeleTracking's patient flow platform, was signed in June 2020, with a publication scheduled for 20 weeks later.
"What it does is get real-time information from our two hospitals and give our clinic administrators visibility of all our beds and their condition – there's a patient, it's the empty bed and ready to be occupied by the next patient or is it empty and waiting to be cleaned ?, Sinclair said.
"On the other hand, we have a real-time view of the patients waiting for these beds, whether they are from the theater, the emergency services or some of the planned admissions.
"It allows them [clinical managers] to better manage our capacity so that our patients have access to bed as quickly as possible when they need it. "
From the signing of the contract to the live broadcast
Confidence was able to implement the solution in 22 weeks due to the "fairly simple" technical aspects.
When asked what advice he has for other trusts that want to implement similar bed management systems, Sinclair said culture is usually the biggest hurdle.
"What we really need to work on is changing the culture and changing the heart and minds on how the organization will work, because it's a massive change that goes from a manual way of operating to that," he said.
"Getting everyone who needs to be on board and use the system to understand why they do it is what you really need to focus on."
Sinclair added that part of the work to introduce the new system included a "complete redesign" of the way clinic room managers and porters work.
The platform integrates with the Trusted Allscripts Patient Management System (PAS), which makes it easy for systems to share patient information, such as location, with clinical teams.
Carriers are notified that patients have been assigned a bed via the iPhone, and can then update care coordination platform information when the patient is in the appropriate bed.
In addition, the wards have been equipped with large touch screens that allow nurses and clinical staff to upgrade the system once patients move to different areas of the hospital or when beds are available.
By using a first way to operate digitally, hospital staff are given a "complete excess" of patients and beds that "really allows you to choose the right bed for the patient for the first time," he said. Sinclair.
"One of the main advantages is that we have complete supervision. To effectively manage your capacity, you need to know what comes in, what you have and which patients are leaving, "he added.
"The time it saves … and allows our nursing teams to focus on providing care because they don't answer phones that ask them how many beds they have and who goes home, that's marked on the system very quickly by the teams in the room ".
Recently elected
As the NHS recovers from the Covid-19 pandemic, it faces another wave of pressure stemming from the delay in postponed elective surgeries due to the crisis.
Sinclair believes bed management systems like the one at Maidstone and Tunbridge Wells will play an important role in managing the influx of surgeries. According to Sinclair, trust is the highest-performing trust in Kent when it comes to elective surgeries, which he said would not have been possible without the Care Coordination Center.
"The period we are going through right now, with this elective delay of patients who have been waiting for months … the faster we can change it the better," he told Digital Health News.
"Since the introduction of care coordination, we have much better supervision of our elective activity, so it allows us to better balance our beds so that we know what is to come.
"Previously, from the point of view of bed management, you had lost some strange elective case on the lists, but now we have general visibility of everything that goes into trust."
Next steps
Sinclair hopes that confidence can build up from the Care Coordination Center to expand it to more hospital locations. TeleTracking provides a theater module for the system that would allow clinical teams to better manage patients through theater.
The provider has also developed a nursing app, which Sinclair hopes to adopt through confidence in the coming months. The app "will provide nurses with real-time information on the bay area on any device they have," he added.
Finally, Sinclair aims to have the Care Coordination Center as the sole point of contact for trust, providing complete supervision of patients referred from NHS 111 to discharge.
Together with the Care Coordination Center, confidence is in the process of deploying Sunscript of Allscripts Electronic Patient Record (EPR), which operates alongside the PAS.
It aims for a publication date in October, before starting work on an electronic prescription and medication administration (EPMA) module.