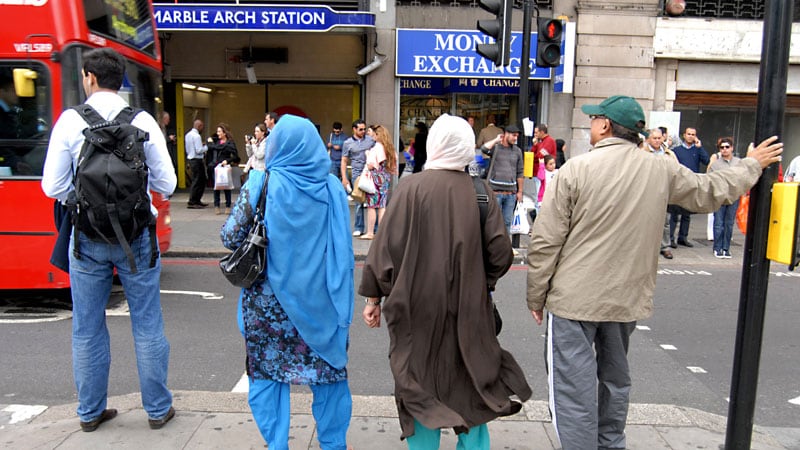 Body mass index (BMI) limits for obesity in people of black or Asian descent should be redefined below current thresholds for whites based on the risk of type 2 diabetes, according to the results of the first threshold study of BMI in these ethnic groups.
Presented at this year's European Obesity Congress (ECO) online meeting, and published simultaneously inside The Lancet Diabetes & Endocrinology, the analysis determined the BMI limit for obesity based on the risk of developing type 2 diabetes in adults of various minority ethnic groups in England, equivalent to the BMI limit for obesity of 30 kg / m2 for whites.
Specifically, the study suggests age- and sex-adjusted BMI thresholds of 23.9 kg / m² for those of South Asian descent; 28.1 kg / m² for black people in general (26 kg / m² for black Caribbean); 26.9 kg / m² for those of Chinese heritage; and 26.6 kg / m² for Arab populations.
"We need to refine BMI thresholds for ethnic minorities to prevent people in these communities from slipping through the net and missing opportunities for early diagnosis and prevention of type 2 diabetes," the lead author said. , Rishi Caleyachetty, MD, University of Warwick. , UK.
The current obesity threshold ≥ 30 kg / m², used by the World Health Organization (WHO) and the UK National Institute for Excellence in Health and Care (NICE), is based on the relationship between BMI and mortality in exclusively white populations from research conducted back in the mid-1990s. In 2004, the WHO (and NICE) changed the limit to 27 kg / m² for Chinese and South Asian populations, but this decision was based only on data from East Asia and did not include Indians, Pakistanis. , Bangladeshis, black Africans, black Caribbean, or Arab populations.
Caleyachetty noted that "a large number of people from ethnically diverse backgrounds miss blood tests for type 2 diabetes or referrals for weight control services due to obsolete BMI thresholds for obesity in groups. ethnic minorities ".
In the United States, the American Diabetes Association (ADA) already has them orientation that recognizes the altered risk in Asians and has reduced the BMI threshold of overweight to 23 kg / m2 for the population.
But there are currently no different recommendations for blacks or other racial groups. Asked why, an ADA spokesman said the situation with Asian Americans is unique. "In terms of a lower BMI, Asian Americans store more visceral or abdominal fat at a lower BMI and therefore have an increased risk of diabetes without the usual definitions of overweight at a BMI> 25 kg / m2 [or of having] obesity at a BMI> 30 kg / m2. "
An accompaniment editorial welcomes the new analysis, but notes: "These ethnic-specific BMI limits apply only to the risk of developing type 2 diabetes and may not apply to other obesity-related comorbidities. [such as] risk factors for cardiovascular disease, cancer or mortality ".
David E. Cummings, MD, of the UW Medicine Diabetes Institute, University of Washington, Seattle, and Francesco Rubino, MD, president of metabolic and bariatric surgery, Kings College London, UK, also point out that the proposed thresholds could be limited by geography and environmental scope.
"Because diabetes and obesity are influenced by genetic and environmental determinants, the BMI limits of obesity related to the risk of diabetes among various ethnic groups living in England could reflect the interactions between genetics and obesity. local environments. Therefore, the BMI boundaries identified in this study may not be extrapolable to the same ethnic groups living in other countries, "they observe.
The analysis includes the Indian, Pakistani, Bangladeshi and Nepalese populations
The new analysis included 1,472,819 people aged 18 and over registered for a GP consultation in England. The spread of the ethnic groups was 1,333,816 whites, 75,956 from South Asia (Indian, Bangladeshi, Pakistani or Nepalese), 49,349 blacks, 10,934 Chinese and 2,764 Arabs.
Data have been extracted from the electronic health records of Primary Care (Clinical Practice Research Datalink) and Hospital Care (Hospital Episode Statistics).
In total, 97,823 people were diagnosed with type 2 diabetes during a mean follow-up of 6.5 years. Models were then used to determine whether adults from different ethnic subgroups had an equivalent risk of type 2 diabetes with a lower BMI than the European white population.
Asked if he believed type 2 diabetes was the optimal "measure" to define an obesity threshold to control the disease, Caleyachetty said, first, type 2 diabetes is the most specific obesity-related complication. and, secondly, it is a serious chronic disease that can cause serious health complications. "
"Mortality [the basis for prior thresholds] "It's not a specific complication of obesity," he noted. "However, of course, there are many other obesity-related complications, such as cardiovascular disease and cancer, etc., and we will have to post that as well," he added. .
"In theory, these limits should not be limited to use in the treatment of type 2 diabetes, as type 2 diabetes is also an important risk factor for cardiovascular disease and mortality. There is a clear justification for applying them [the thresholds] to other given cardiometabolic conditions often precedes them ".
Roadmap for refining BMI thresholds for minority populations
NICE recently considered revising thresholds, but noted that more evidence is needed.
"We did this work to provide that evidence, so it would seem logical that they could rethink it now," Caleyachetty noted.
He would like to see a roadmap for perfecting the BMI thresholds of ethnic minority communities. "NICE got its current WHO threshold, so we will start talks with the Department of Health and Social Care and with NICE here in the UK, and [at] WHO. "
This review should ensure the provision of adequate clinical surveillance for patients from ethnic populations, proportional to their increased risk of type 2 diabetes. This would help prevent future onset and therefore facilitate early treatment and effective type 2 diabetes, say Caleyachetty and co-authors.
And given the COVID-19 pandemic and the rapid pace of change in health policies, Caleyachetty believes now is a good time to look for change.
"The file [UK] The Prime Minister talks about tackling obesity because we know it [those with] obesity [and] type 2 diabetes and people belonging to ethnic minorities were disproportionately affected by COVID-19 in both the UK and the US, "he noted.
"We would expect there to be a faster movement to redefine these new BMI thresholds in these ethnic groups." Any new threshold should be incorporated into the recommendations so that healthcare professionals are fully aware of the reduced BMI thresholds for these groups, "he added.
It should be noted that the adjustment for socioeconomic status and smoking did not alter the limits of BMI, underline Caleyachetty and colleagues.
In the end, the editorialists say that the study "has important implications. Differences in BMI limits related to the risk of diabetes for obesity between different ethnic groups … support the notion that the limits Strict BMI should not be used as independent criteria to define the indications for obesity. therapies, especially bariatric and metabolic surgery. "
Caleyachetty has not reported any relevant financial relationships. The article details the disclosures for the other authors.
ECO 2021. Poster EP4-02. May 10-13, 2021.
Lancet Diabetes Endocrinol. Published online May 11, 2021. Full text
For more news on diabetes and endocrinology, follow us Twitter i Facebook.