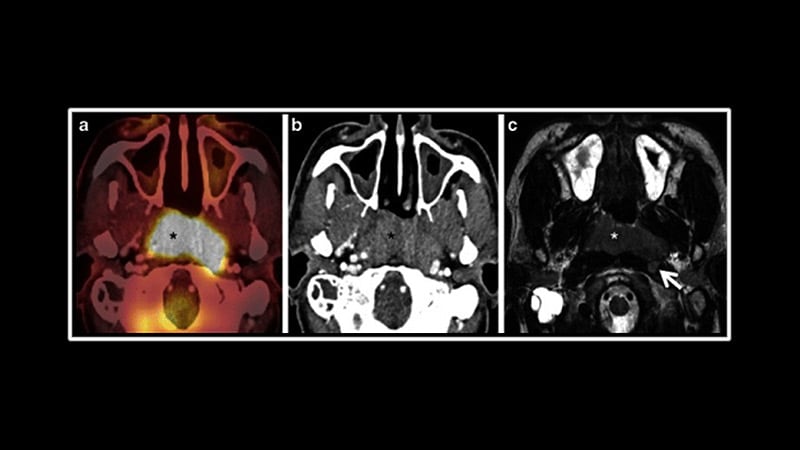 Lobaplatin-based induction plus chemoradiation was as effective as it was safer than a cisplatin-based regimen in a phase 3 trial with more than 500 patients with advanced nasopharyngeal carcinoma.
The lobaplatin regimen proved to be a "promising alternative regimen to cisplatin-based treatment," Xing Lv, MD, of Sun Yat-sen University Cancer Center in Guangzhou, China, and colleagues wrote in The Lancet Oncology.
A platinum-based regimen can be particularly attractive when cisplatin is contraindicated, according to the authors of a related editorial.
Given the encouraging results of this trial, lobaplatin may even "advance" carboplatin"In patients not eligible for cisplatin," wrote the editorialists, Stefano Cavalieri, MD, and Lisa Licitra, MD, both of the Fondazione IRCCS Istituto Nazionale dei Tumori di Milano in Italy.
"In addition, optimal treatment compliance in patients receiving lobaplatin [in the trial] suggests that this agent could be a good candidate for research on climbing strategies, "the editorialists wrote.
Justification of the study
Cisplatin-based induction followed by concurrent chemoradiotherapy is a standard treatment option in the United States, recommended by National Comprehensive Cancer Network guidelines for stage II-IVB nasopharyngeal carcinoma.
However, cisplatin is associated with poor treatment compliance due to significant hematologic and non-hematologic side effects. Cisplatin also requires increased hydration for kidney protection, increasing the risk of fluid overload.
"Safer and more effective platinum drugs are needed for the treatment of nasopharyngeal carcinoma," the researchers wrote.
Carboplatin is an alternative available in the United States, but "the evidence supporting the equivalence between cisplatin and carboplatin is still controversial" by nasopharyngeal cancer, wrote the editorialists.
Details of the study
The phase 3 study included 502 patients from five hospitals in China. Patients had previously untreated non-keratinizing stage III – IVB nasopharyngeal carcinoma and a Karnofsky performance status score of at least 70. The study excluded patients older than 60 years and required renal, hematologic function. and adequate hepatic.
Half of the patients (n = 252) were randomized to induction with lobaplatin and fluorouracil for two consecutive cycles of simultaneous therapy with lobaplatin for two cycles plus intensity-modulated radiotherapy. The other half of patients (n = 250) were randomized to cisplatin-fluorouracil induction for two cycles, followed by intensity-modulated radiotherapy plus two cycles of cisplatin.
The researchers opted for two-cycle chemotherapy instead of three-cycle after observing good activity and safety with two cycles in one. phase 2 test.
Treatment performance was better in the lobaplatin arm, with 91% of patients completing two cycles of simultaneous chemotherapy, compared with 84% of cisplatin arm patients.
The 5-year progression-free survival rate was 75% in the lobaplatin arm and 75.5% in the cisplatin arm in the population intending to treat (Pg no inferiority = .007).
In the protocol population, 5-year progression-free survival rates were 74.8% with lobaplatin and 76.4% with cisplatin (Pg no inferiority = .016).
The most common grade 3-4 adverse events were mucositis (41% in the lobaplatin arm and 40% in the cisplatin arm), leukopenia (16% and 23%, respectively), and neutropenia (10% and 24%, respectively).
Grade 1-2 nephrotoxicity, nausea, vomiting, and weight loss were significantly less common with loblatinum (Pg <.0001 for all).
Questions about generalization
The editorialists urged caution to generalize the results of the study to a wider population.
The subjects in the study were younger and did not show significant comorbidities as well as good renal function, which is not always the case with nasopharyngeal carcinoma. In addition, although emission prophylaxis was the standard of care during the study period (2013-2015), guidelines have since been updated to include more intense premedication, which is likely to be would have reduced nausea, vomiting, weight loss, and possibly nephrotoxicity, especially in the cisplatin group.
Induction chemotherapy consisted of cisplatin and fluorouracil, while current standards for induction chemotherapy are the most common cisplatin. gemcitabine or docetaxel more cisplatin and fluorouracil, the editorialists noted.
Regarding the two-cycle approach, it is known that chemoradiotherapy concomitant with two cycles of cisplatin in head and neck cancer "provides results similar to chemoradiotherapy concomitant with three cycles, but only in cases of accelerated intensity-modulated radiotherapy," not with the standard fractionation used in the study (30-32 fractions, 5 days a week), wrote the editorialists.
The study was funded by the National Science and Technology Pillar Program, the Guangdong Province Science and Technology Program International Cooperation Project, the Guangdong Province Planned Science and Technology Project, and the Cultivation for Foundation. the Junior Teachers of Sun Yat-sen University. The researchers and Cavalieri did not declare competitive interests. Licitra revealed relationships with AstraZeneca, Bristol Myers Squibb and Hoffmann-La Roche.
This article originally appeared on MDedge.com, which is part of the Medscape professional network.