Editor's note: Alena explains why healthcare providers should consider implementing a healthcare LMS. If you need help choosing and implementing an LMS solution to provide cost-effective quality training to your healthcare workers, feel free to contact our LMS consulting team.
In 2021, 79% of companies expect to spend more on online training than last year. Learning management systems (LMS), used by 84% of organizations, currently remain the dominant segment of the eLearning market.
The healthcare industry can benefit from LMS applications in terms of scalability of learning and reduced training costs per healthcare worker. However, as healthcare training becomes increasingly complex and must be highly customizable for each care function, a general-purpose LMS may not be the perfect choice. A custom LMS designed specifically for healthcare providers or a prepared hospital LMS is more likely to offer the right functionality to meet your unique training needs.
Health learning management systems are E-learning software tailored specifically to the needs of the healthcare sector. Healthcare LMSs are designed to provide personalized and engaging e-learning for healthcare professionals, including physicians, surgeons, pharmacists, nurses, dentists, and others. LMS healthcare solutions enable healthcare organizations to provide relevant and cost-effective training to their employees to ensure they remain qualified and comply with up-to-date healthcare standards and regulations (e.g., HIPAA, OSHA), as well as continuously improve patient care.
Flexibility. It is often a challenge for busy health professionals to engage in training. Healthcare LMS provides access to training materials 24 hours a day, 7 days a week, allowing healthcare employees to study at their own pace, without being distracted from their core responsibilities.
Improved knowledge retention. Healthcare LMS allows health students to rewind and repeat training courses. It is crucial to memorize complex medical and pharmaceutical topics and terminology and contributes to increasing knowledge retention.
Combined learning support. LMS for healthcare supports blended learning, which combines offline and web-based training, as eLearning alone cannot provide a hands-on experience, necessary for most healthcare professionals.
Easy content creation. You can easily create and update healthcare courses directly in the LMS to ensure consistency with up-to-date healthcare trends and regulatory demands, or upload third-party training content.
Confidentiality. By supporting compliance with HIPAA and other regulatory standards, healthcare LMSs ensure the security of sensitive data from patients and medical professionals by providing data encryption in transit and at rest, permission-based access, and multifactor authentication.
Reduction of employee training costs. Due to the automation of eLearning and the availability of remote training, you can eliminate or substantially reduce the costs of learning administration, the costs of offline instructors, and physical classrooms. Reusable learning content also helps reduce the cost of educational materials.
Along with common LMS functions, such as learning scheduling and assignment, tracking and reporting, gamification, mobile learning, health LMSs offer specific capabilities relevant to the healthcare industry:
Multimedia and interactive content, including 3D, AR and VR graphics, to enhance visualization, especially in anatomy, genetics and X-ray modules.
Telemedicine training for distance health care providers.
Simulation training, including virtual reality simulation, to help healthcare professionals improve their skills in a risk-free environment.
Ability to share compliance training records between LMS in case of transfer of a health professional from one health institution to another.
Next steps to improve corporate health training
Healthcare LMS may be appropriate for healthcare organizations to enable cost-effective and compatible training. It can help healthcare workers update their knowledge, improve performance, and improve the quality of patient care.
If you are considering taking advantage of healthcare LMS and need expert help to implement a bespoke LMS solution, feel free to contact ScienceSoft LMS consulting team.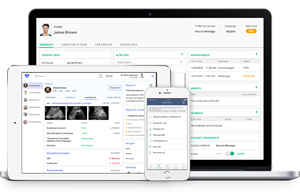 Are you looking for a solution to your healthcare IT challenge? Our experienced healthcare consultants are here to help.