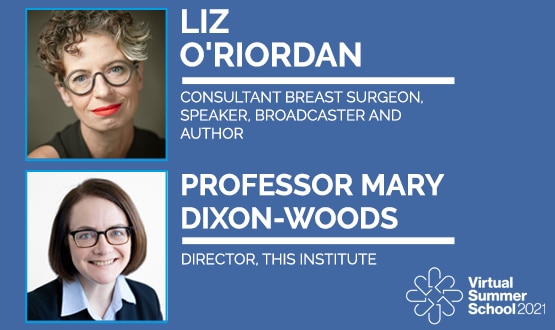 Liz O'Riordan, a patient advocate and survivor of breast cancer, has been announced as the keynote speaker for the 2021 Digital Health Virtual Summer School.
In July 2015, Liz, who is a breast surgery consultant, was diagnosed with third-stage breast cancer at the age of 40 and started a blog to help her understand the diagnosis. The blog turned out to be popular and soon Liz talked about her experiences at different events and co-authored "The Complete Guide to Breast Cancer: How to Feel Empowered and Take Control" with Professor Trisha Greenhalgh.
Professor Mary Dixon-Wood, director of this institute at the University of Cambridge, will be the second inaugural lecture of the second virtual summer school, which will take place on 15 and 16 July 2021.
Following their keywords, Liz and Mary will be asking live questions from the online audience of NHS digital leaders.
They will focus on how digital tools can radically redesign health and care services, putting patients in control of their treatment and care.
Mary's achievements include being part of the National Advisory Group on Patient Safety in England, which produced the 2013 Berwick report. She was also involved in the 2016 review of information technologies in the NHS led by Professor Bob Wachter.
The overall theme of the 2021 Summer School is to explore the evolving challenges of being an effective digital leader in the NHS and the different dimensions of leadership roles. All sessions will be accredited by CPD.
Jon Hoeksma, CEO of Digital Health, said that "Virtual Summer School promises the most interesting agenda in history. It's great to confirm Liz and Mary as key players with upcoming exciting program announcements.
"Come and join us for two days full of round tables, workshops, case studies and a great networking and social work program. Whether you are coming for the first time or you are a regular, you are very welcome and you will learn a lot from your classmates. "