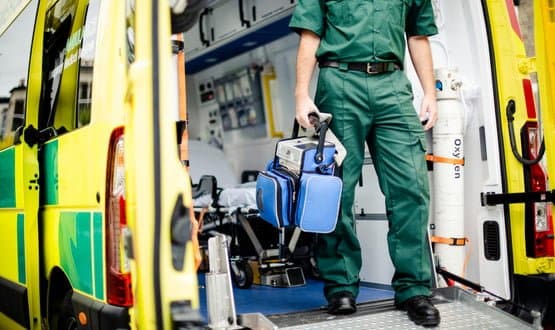 Ambulance crews across England will need to have access to tens of thousands of iPads in order to provide patients with proper care more quickly.
The 30,000 devices will allow ambulance crews to send photographs from the scene of an accident so stroke specialists and other doctors waiting in the emergency services can work directly when the patient arrives at the hospital.
Health workers will also be able to access health records so they can assess patients 'injuries and decide whether to take them to the hospital or treat them on the spot. Patient information can also be sent in advance to expedite transfers and release the ambulance to attend another call.
The initiative will have to be announced by NHS chief executive Sir Simon Stevens at the Ambulance Leadership Forum on 18 May.
Stevens said: "Ambulance teams have been at the forefront of the pandemic, routinely dealing with life and death situations and often first on the scene to treat and diagnose critically ill patients.
"These devices are another tool for our highly qualified paramedics and ambulance technicians as they continue to respond to the most serious and injured patients in the country.
"It is another example of the healthcare service innovating and leveraging technology to improve patient care as part of the NHS long-term plan."
He NHS long-term plan is committed to providing mobile devices and digital services to staff working in the community.
The initiative is funded by NHSX and while the proportion of iPads and staff will vary depending on needs, in some areas, including London, all ambulance workers will have access to it.
Matthew Gould, NHSX's chief executive, added: "At NHSX we work to help front-line staff use digital technology to transform the service they provide, and these tablets will give paramedics an added advantage."
The use of iPads has been piloted by ambulance crews in London and the South East, with early results showing the effectiveness of having access to vital information or specialist medical advice on emergency calls.
Southeast Coast Ambulance has been using tablets to make video calls to consultants when assisting stroke patients, to provide faster and more specialized care until they arrive at the hospital.
Paramedics treating those suspected of having a stroke can call senior doctors who, through a video, can assess a patient's condition and advise them on how best to act.
While in the London Ambulance Service, paramedics use digitized patient records to benefit their clinical decision-making, helping to ensure that patients receive the most effective treatment tailored to their medical history.
The ambulance services that will receive tablets are:
East Midlands Ambulance Service
London Ambulance Service
Northwest Ambulance Service
Central Ambulance Service South
Southeast Coast Ambulance Service
Southwest ambulance service
West Midlands Ambulance Service
Yorkshire Ambulance Service
Isle of Wight NHS Trust