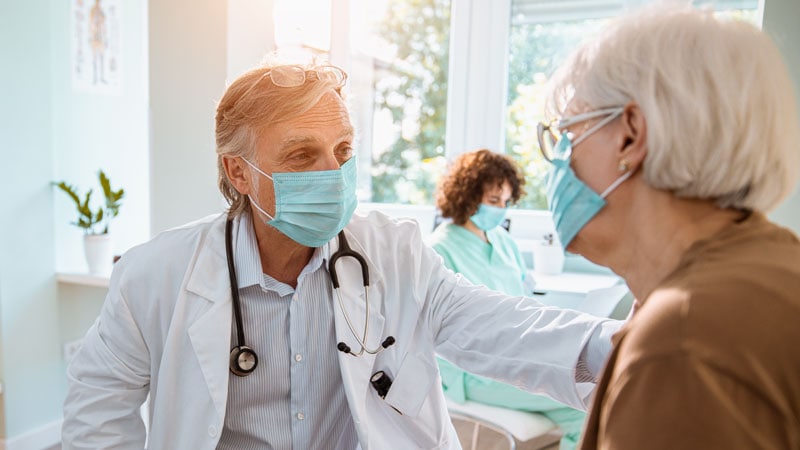 Doctors in various specialties continue to see sharp declines in patient visits, but for internists, the numbers have risen since the beginning of the pandemic.
Internists see only 3% fewer patients than before the COVID-19 pandemic (72 per week, on average, compared to 74 before the pandemic). In comparison, for pediatricians, patients continue to fall by 18%. Dermatologists, otolaryngologists and orthopedists report that visits have dropped by approximately 15%.
The number of hours worked also rose for interns. In fact, some report that they now work a little longer than before the pandemic (52 hours a week, more than 50).
Remuneration for internists continues to fluctuate near the bottom of the scale between specialties. This year Medscape 2021 Internal Compensation Report, internists averaged $ 248,000, up from $ 251,000 last year. Pediatricians were the ones who paid the least, with $ 221,000, followed by family doctors, with $ 236,000. Plastic surgeons won the top game, with $ 526,000, followed by orthopedists, with $ 511,000.
He helped work on his own. These interns earned an average of $ 276,000, compared to $ 238,000 for their employed counterparts.
Half Say Pay is fair
Internists are also close to the bottom among specialists who feel fairly compensated. As in last year's survey, just over half of internists (52%) said they felt they were well paid this year. In comparison, 79% of oncologists reported that they were fairly compensated, which is at the highest point of satisfaction, but only 44% of infectious disease specialists felt this way.
Some indicators of survey responses may help explain dissatisfaction.
Internists are close to the maximum in the time spent on documentation. On average, they spent 19.7 hours on paperwork and administration this year, just over 18.5 last year. Infectious disease physicians spent more time on these tasks (24.2 hours per week) and anesthesiologists spent less on them, with 10.1 hours per week.
Administrative work was one of the frustrations reported by internists. According to respondents, the five most difficult aspects of the job are:
Have so many rules and regulations (24%)

Having to work long hours (16%)

Treatment of difficult patients (16%)

Working with electronic health record systems (11%)

Danger / risk associated with treatment of patients with COVID-19 (10%)
In contrast, the most rewarding aspects were "gratitude / patient relationships" (31%); "Knowing I'm making the world a better place" (26%); and "being very good at what I do" (20%).
More than a third of lost revenue
More than a third of internists (36%) reported losing some income over the past year.
Among those who lost income, 81% said they expect income to return to pre-pandemic levels within three years. Half of this group expected the bounce to come the following year.
Just over a third of interns said they would participate in the merit-based incentive system (MIPS) and 12% said they would participate in advanced alternative payment models. The rest said they would not participate in either or had not decided.
"Bets on the Quality Payment Program (the program that incorporates MIPS) are high, with a 9% penalty applied to all Medicare reimbursements for non-participation," says Elizabeth Woodcock, MBA, CPC, president of the medical consultant Woodcock and Associates, Atlanta, Georgia.
"With margins already thin," he said Medscape Medical News, "most doctors can't afford this massive fine."
If they could choose again, the majority of internists (76%) said they would choose medicine, which was almost the same number of doctors they would choose again. Oncologists (88%) and ophthalmologists (87%) were the specialists most likely to choose medicine again. Those in physical medicine and rehabilitation were less likely to choose medicine again, with 67%.
But when asked about his specialty, the enthusiasm of the internists diminished. Only 68% said they would make the same choice again.
This, however, increased considerably with respect to the 2015 poll: for that year, only 25% said they would choose internal medicine again.
Marcia Frellick is a Chicago-based freelance journalist. She has previously written for the Chicago Tribune and Nurse.com and was editor of the Chicago Sun-Times, the Cincinnati Enquirer and the St. Cloud (Minnesota) Times. Follow her on Twitter at @mfrellick.