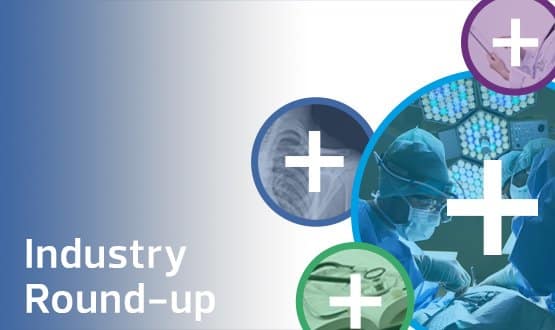 The latest summary of the digital health news industry includes news about an online booking tool for flu vaccines and how AI is improving the NHS blood supply chain.
Recognition to the team behind innovative imaging technology
The Greater Manchester Collaborative Image Recruitment Program team has been named a finalist for the Go Awards.
The collaboration is a partnership between the NHS Northern Care Alliance group and the NHS Foundation of the University of Manchester, who worked together to acquire a new NHS image sharing platform for Greater Manchester.
The platform, the Greater Manchester Communication and Imaging System (PACS), allows doctors to instantly share high-quality clinical images and scans across multiple medical sites. Its use means that patients receive better treatment through more informed care decisions. PACS is currently used in eight NHS providers in Greater Manchester.
Chris Sleight, chairman of the Collaborative Imaging Board, said: "I am very proud of everyone involved in the recruitment of PACS, which is a game-changing technology for image sharing in the NHS and already has a very positive impact on the Patient Care Worldwide Greater Manchester.
"This is helping the recovery and management of the pandemic. The new system will also facilitate the future use of future developments in imaging. Very well done and good luck in the finals ".
The nomination for the finalist is in the category Best hiring delivery: health and social care. The awards recognize the best achievements in procurement in public, private and third sector organizations in the UK.
Thriva launches a new application
Thriva allows more people to monitor their health anywhere with the launch of their first mobile app.
In addition to providing users with hands-on support; the possibility of recording daily workouts or meditations; explore recipes built into the app; and to monitor health improvements, new users can also request blood tests that will be delivered quickly to their home.
The results are delivered through the app and are easy to understand with GP advice and personalized health recommendations.
The app provides better efficiency and access to Thriva services and is totally secure. It uses the latest encryption technologies and fully complies with the UK Data Protection Act 2018.
Hamish Grierson, CEO and co-founder of Thriva, said: "We hope to manage every element of our lives at the touch of a button, from our money to the way we travel and now our health. Thriva's new app provides better health at your fingertips with the support you need to understand and improve your health, on the go. This is another step forward in our journey to increase the health of millions of people. "
AI saves waste for the NHS blood supply chain
Artificial intelligence company Kortical has leveraged its technology in partnership with NHS Blood and Transplant.
The aim of the partnership was to see if AI was able to help the NHS be more effective with its predictions about supply and demand to reduce ad hoc transport costs and reduce the volume of expired platelets.
The existing process used a machine learning tool combined with manual statistical modeling. Using Kortical means that the process is now fully automated machine learning and eliminates the need to rely on complex spreadsheet systems.
The Kortical platform was able to quickly absorb data sets to create algorithms that deliver strategic information. According to the company, its artificial intelligence technology already exceeds the Google Vertex offer, with an average performance of 2.47% better in all data sets and 10.75% through data of real customers. It also claims to be seven times faster than Vertex in creating results.
Within the NHS blood supply chain, the AI ​​solution was able to optimize the supply chain of short-lived blood products. Its use led to a 54% reduction in expired platelets and a 100% reduction in costly ad hoc transport needs. It also achieved a "total" delivery rate of the same high level while reducing maturities.
Kortical expects to increase a round of investments in 2021, as its year-on-year growth reaches 300%.
ViewMind and HP collaborate for cognitive diagnosis
Medical device and AI company ViewMind has announced a new development agreement with HP Inc., which will see how quickly it can scale its diagnostic technology.
The partnership will see how the company uses HP's new Reverb G2 Omnicept VR headphones along with its methodology for detecting cognitive impairments in the preclinical stages. ViewMind can capture more than 10,000 data points through eye movements in response to the visual stimulus that is delivered through the headphones. It then uses AI to provide a diagnosis and monitor conditions.
Currently, tests for cognitive disorders, such as Alzheimer's, do not occur until symptoms appear, delaying treatment to the point that it cannot have a significant impact. By enabling previous testing, ViewMind can help treat the disease decades earlier by suggesting lifestyle changes and treatment when needed.
Jay Fraser, head of relations with HP's XR developers, said: "ViewMind chooses the HP Omnicept SDK to address some of the key challenges in cognitive health diagnosis highlights HP's commitment to solutions that can have a significant global and social impact on digital health ".
The ViewMind test is not only cheap, fast, and easy to deliver, but it's also 97% accurate, according to the company.
myGP web booking tool to launch before flu season
A new myGP web booking tool will allow primary care to offer multi-site booking options to their users.
Medical practices can now set up myGP to allow some patients to book their flu appointments directly into the app. The new tool will also allow you to book directly online, as well as through the app.
The release is ahead of myGP statistics which show the barriers many patients face when booking their flu shots. It was found that one in five patients surveyed do not know who is eligible for an NHS flu vaccine in England. Two out of five do not know how to book an appointment.
For those who don't know how to book an appointment, 61% say they will call their surgery for guidance. The use of online bookings and text reminders through the myGP application could be part of the strain on reception phone lines.
The research also revealed that 95% of patients eligible for a vaccine will wait to receive a direct text reminder before booking an appointment. In addition, 76.6% say a text message is the form of communication that is most likely to encourage them to book. The myGP Population Health Service can also send a call-to-action text message to specific groups, which has been shown to help increase vaccine uptake.
Tobias Alpsten, CEO of iPLATO Healthcare, who developed the app, said: "With a solution that covers more use cases, we can not only deploy large-scale messages to patients and make a vaccination appointment reservation at the consultation of doctors, but we can also indicate to guide patients to the new online booking tool to access vaccination in the community.
"Beyond traditional invitations and reservations, we can offer a chatbot solution developed by a partner to help educate patients about the benefits of vaccination and dispel some of the misconceptions that prevent people from having a fist. This, combined with our existing supply, will ultimately reduce the winter burden of our already hard-working and tired NHS colleagues. "