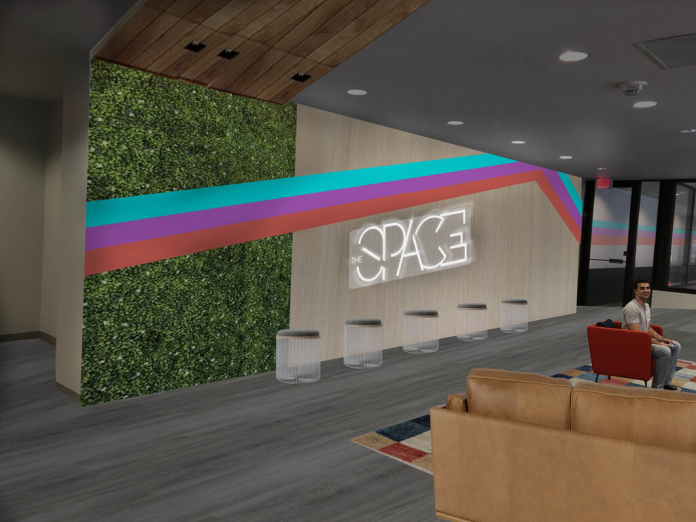 Chicago, IL, United States, 09/14/2020 / Story.KISSPR.com /
FOR IMMEDIATE RELEASE
CHICAGO & Columbia, South Carolina. Hub on Campus, the flagship brand of Core Spaces offering best-in-class lifestyle student housing across the country, announced today that their Columbia location, Hub at Columbia, is welcoming its newest tenant Collective & Co, opening "The Space" on Monday, September 14, 2020.
The Space, located in the Hub in Columbia at 1426 Main Street, in Downtown Columbia, is a brand-new office concept designed to provide professional, personal, and emotional growth tools to students and young professionals. The Space will regularly host events, such as mentorships, workshops, and networking opportunities, to help them stand out in an increasingly competitive work environment.
Both Core Spaces and Collective & Co. believe that for today's students and young professionals to thrive, student-focused services must commit to a holistic approach, which includes health, wellness, and community. More than just a place to live, Hub is a Lifestyle. Hub Lifestyle is the next step in our hospitality-driven approach with an emphasis on experiences and services that aim to inspire residents. One of Hub Lifestyle's pillars is "Development," which focuses on the health and wellness of residents in addition to unlocking their entrepreneurial potential. "As Core becomes increasingly hyper-focused on the needs of our residents, we see their passion to explore," says Marc Lifshin, Founder and CEO of Core Spaces. "We're making college better than the real world by bringing the opportunities they're searching for right to their front door."
As part of Core Spaces initiative to offer more resources to better support residents across the country manage their day-to-day challenges and stress, Collective & Co. will also be piloting student-centered mindfulness programs at two brand-new Core Spaces properties in Gainesville – Hub Gainesville at Third Avenue and Hub Gainesville – University. Offerings will include events and workshops that help members develop personal growth skills often overlooked in traditional higher education, such as creative problem-solving workshops, leadership seminars, and the opportunity to participate in an in-house micro-influencer marketing agency.
The Space will also provide tools for emotional growth and well-being, such as yoga, meditation workshops, mental health awareness, and self-management events designed to help students and young professionals stay grounded in a fast-paced, distracting world. "At Collective & Co., we believe in the power of human creativity and our ability to grow continually. Now, more than ever, it's imperative that the college experience be a time that students build and grow their future. That's why we've partnered with Core Spaces to meet students where they are. The Space is for them," says Aaron Dixon, CEO and Founding Partner, Collective & Co.
On Launch Day, to be held Monday, September 14, The Space will host events offering a sneak peek into the types of opportunities that will be regularly available to members. Highlights include two one-hour LinkedIn workshops, hosted by The Space partner Kennected, presentations on student startups by The Space partner Grifin, as well as a live virtual mindfulness event hosted by Payal Khurana of Collective & Co. Columbia Mayor Steve Benjamin will also be in attendance. The Space closing event will include a giveaway from GreekHouse, a giveaway raffle from The Space, as well as the opportunity for attendees to sign their name or brief message on The Space columns (i.e., Leave Your Mark @TheSpace).
"By holistically combining professional, entrepreneurial and career related practices with health, wellness and community centered growth tools, The Space has the potential to fully prepare students and early career professionals for the changing and newly emerging dynamic of the evolving work place landscape adjusted by the pandemic," said Mayor Steve Benjamin. "To succeed in the new professional environment that will be permanently shaped by COVID-19, young people today must meet and collaborate in environments emphasizing both personal and community wellness, and the mutual dependency of business and ensured public health. We are hopeful The Space will provide this framework."
The events held on September 14 are open to the public that is designed specifically for social distancing and compliance with public health standards for safe gatherings. In continued efforts to stop the spread of COVID-19, masks will be required as a mandatory precaution. Food and drinks will be available.
About Core Spaces
Core Spaces is a vertically integrated company focused on acquiring, developing, and managing the best real estate in educational markets. From world-class amenities and progressive design to client service with a community focus, Core creates spaces where people want to be. Its projects are thoughtfully designed, customized, developed, and managed to create extraordinary lifestyle experiences that are as unique as their respective cities. Since its founding in 2010, Core has consistently delivered award-winning developments in top-tier university markets across the country. It currently owns and/or manages 31 properties nationwide–totaling more than 15,000 beds–and has a pipeline of over 25,000 beds in various stages of development. Its values focus on cooperation, drive, resilience, compassion, and curiosity. https://corespaces.com
About Collective & Co
Collective & Co was established in Gainesville, FL, and offers services on human development: personal, professional, and health & wellness. Collective has created a unique end-to-end learning, content, and experiential platform that plugs right into existing and future student housing. Their Health & Wellness program was designed specifically for students at this stage of life. https://collectiveand.co/
Social Media Tags:students, entrepreneurs, professional networking, college, growth, student housing, personal growth
Source: Story.KISSPR.com
Release ID: 14295