An average person spends more 1.5 hours a day on social media. Even when they are at work, people are likely to surf their social media quickly. That is why there are great advantages in using social media to promote businesses.
The combination of social media and healthcare is a good example of how an online presence can have a positive effect on real-life efforts. Whether you're a single doctor, part of a larger hospital system, or a health marketing manager, social media isn't an opportunity to be overlooked.
What does "online reputation" mean in the healthcare industry
Years ago, doctors relied on word-of-mouth and patient referrals to keep their business going. These days, people tend to do that rely on the information they find online as much or even more than personal recommendations, so online reputation is a crucial point for any healthcare practice.
Your online reputation is essentially the culmination of anything and everything anyone can find about you when looking for your name or "doctors / hospitals near me". It consists of many elements, including:
Your scores on review websites.
Comments from your customers.
Activity and quality of your social media profiles.
Ease of use of your website.
To ensure the success of your business, you need to monitor the information that people can find on popular business review websites (such as Google My Business, CareDash, or ZocDoc) and manage your professional social media pages. These two aspects of your online presence go hand in hand, as people are likely to first stumble upon your professional profiles on review sites and then visit your medical website and social media accounts.
How Social Media Affects Your Online Reputation
Every time someone finds your profile on social media platforms, they make an impression of you as a professional. Since any visitor could be your potential customer, it's important to regularly manage your profiles and make them a solid representation of your practice or hospital.
If a visitor sees an abandoned, poorly maintained, or unprofessional-looking profile, it can be both a deterrent and a bad online review. On the contrary, when a potential patient sees that your profiles are active and up to date, your online reputation gets a well-deserved boost.
Here are four tips to follow to create an effective social media presence for a healthcare practice.
1. Choose a social media platform that is right for your practice
First, define a site that becomes effective in promoting your practice. It's not worth your time to profile on every social media platform; instead, focus on the ones that would benefit you. Snapchat, for example, is not likely to be a very productive platform for medical practices. Facebook, Instagram and Twitter, on the other hand, are great places to regularly reach potential patients.
2. View competitor profiles
Before you start building your own strategy, take a look at your competitors 'profiles. Whether it's another orthopedic surgeon working at the same hospital as you, a competing doctor from across the city, or the best hospital system in the country, look at what they're doing right and wrong in their profiles.
Write down your most popular posts, how often they update their profiles, and the type of content they share. The more information you can gather about what potential patients tend to relate to existing successful healthcare profiles, the better.
After learning and understanding how your competitors make social media and healthcare work together, you'll be able to model your own successful social media strategy. Just make sure you keep things fresh and unique for your practice.
3. Create informative and engaging content
You've probably been past a pixelated photo with a weird motivational quote plastered at least once. This is exactly the type of post do not do it you want to share on the social media profiles of your practice. The reason is simple: it is unprofessional and not useful. In addition, people are already accustomed to seeing higher levels of engagement from accounts managed by yoga instructors and other "health gurus" to platforms like Instagram.
To promote a healthy lifestyle by educating the patient without boring and disappointing your audience, make sure everything you post is of high quality and has a purpose. If you want to post an image with text on it, opt for a fantastic stock image and a statistic, a fact or "Did you know" instead of a motivational quote. If you want to publish a graphic, feel free to turn to freelance designers to help get your attention.
Be diverse in the types of content you offer. Both doctors and hospitals can post videos or share content from major health accounts, such as Humana. Your social media profile is also a great place to get involved in social campaigns, like #patientsfirst, and trends like #icebucketchallenge for MLS.
4. Collect patient reviews on social media profiles whenever possible
If you have, for example, a Facebook profile for your office, hospital system, or for yourself as a health care specialist, have a habit of asking your patients to visit you and leave their reviews. This way, when a new potential customer comes across your Facebook profile, they will be able to see not only your great content, but also the comments from real patients, which in many cases can be a turning point.
5. Manage your social media marketing from one place
If you manage all of your marketing activities separately, consider incorporating a comprehensive marketing platform. From our experience, we suggest you take a look Salesforce Marketing Cloud. Among all the benefits, such as good chances of marketing automation, content management, personalized email campaigns and more, includes Social Studio, a tool to create a presence on social media. With Social Studio, you will monitor your company's profiles from one place, generate relevant content, and therefore relate to people more effectively, monitor social conversations, and understand what you expect, fear, or welcome. your target audience.
Conclusion
Whether you choose one or more platforms to establish your presence on social media, make sure you do so with a goal in mind. As a healthcare professional, you should have a profile that represents your experience and leaves an impression of trust. Make sure your clients are involved by letting them share their experience of dealing with your healthcare business.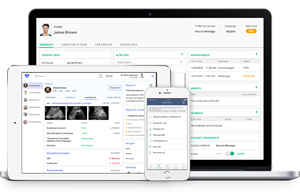 Are you looking for a solution to your healthcare IT challenge? Our experienced healthcare consultants are here to help.