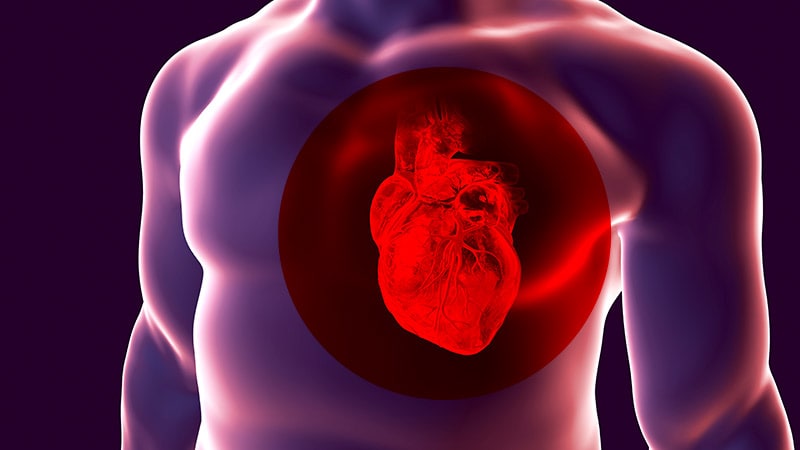 Patients hospitalized with COVID-19 may be at risk of developing heart attack (IC), even in the absence of a history of cardiovascular disease (CVD) or cardiovascular risk factors (CVRF), suggests new research.
The researchers retrospectively analyzed electronic medical records of about 1,600 hospitalized patients with confirmed COVID-19, 37 of whom developed HF. Of these, eight patients had no history of CVD or CVRF.
"New diagnoses of acute heart failure were relatively uncommon among hospitalized patients with COVID-19," said Anuradha Lala, MD, Icahn School of Medicine in Mount Sinai, New York. theheart.org | Cardiology Medscape.
However, since "the symptoms of heart failure (especially shortness of breath) may mimic the symptoms associated with COVID-19, being alerted to the results of this study may cause doctors to see if there are any signs of congestion. consistent with heart failure than COVID-19 alone. "he said in a press release.
The letter was published online April 26 al Journal of the American College of Cardiology.
"Elusive" mechanisms
Although there have been reports of HF precipitation in the context of COVID-19, population-based studies are needed to provide a context within which the frequency of HF related to severe acute respiratory syndrome (coronavirus-2 (SARS-CoV2)) are appreciated, "the authors write.
To further examine the problem, the researchers analyzed the medical records of 6439 patients with COVID-19 (mean age, 64 years; 45% women) who had been admitted to Mount Sinai hospitals between February 27 and on June 26, 2020. Patients were then followed up until October 7, 2020.
Of the patients, 6.6% had a history of HF and 0.6% developed new HF during their hospitalization: 13 presented shock (four cardiogenic, six septic and three mixed) and five presented acute coronary syndrome (ACS).
"Surprisingly, 8 patients (22%) had no CVRF or CVD, while 14 (38%) had a history of CVD and 15 (40%) had at least 1 CVRF," the authors report.
They observed that patients who had neither CVRF nor CVD were younger than those with these conditions (mean age, 43 years, and 73 years, respectively). They were also mostly male, had lower body mass, and had fewer comorbidities (such as respiratory or kidney disease), compared to other new HF patients.
The risk of admission to the intensive care unit was higher in patients with new HF than in those without HF (32% vs. 17%), as was the risk of intubation (24% vs. 12%). However, the risk of mortality was similar in the two groups (27% vs. 25%).
And patients with new HF had higher troponin concentrations and higher levels of natriuretic peptide (BNP) levels than patients without CVRF and CVD.
Cardiac biomarkers with and without a history of CVD or risk factors
Patients with HF
Troponin, ng / mL
BNP, pg / ml
History of the CVRF
0.03
163
History of the MCV
0.18
356
There is no history of CVRF or CVD
221.45
588
Despite the higher frequency of cardiogenic shock and ACS in the eight new patients with HF without CVRF or CVD, the length of hospital stay was similar to that of the other patients with new HF.
"The mechanisms by which a new HF can be developed in the context of COVID-19 remain elusive, but may include indirect effects of acute disease or direct viral injury," Lala commented.
"Interesting imaging studies of post-COVID-19 patients have demonstrated heart fibrosis cardiac MRI, so following patients longitudinally will be important to understand the mechanisms and time, "he said.
Close tracking
Comment on the study by theheart.org | Cardiology Medscape, Biykem Bozkurt, MD, PhD, president of Mary and Gordon Cain and professor of medicine, Baylor College of Medicine, Houston, said the findings are "in line with previous reports that COVID-19 infection can affect the heart and causing myocardial injury, myocardial dysfunction and heart failure ".
"It is important to recognize heart involvement in patients with COVID-19 infection and it is critical to choose patients appropriately," said Bozkurt, who is the immediate president of the American Heart Failure Society and senior associate editor. of Circulation.
Patients with mild to moderate symptoms of COVID-19 with evidence of cardiac involvement by biomarkers or imaging "should be closely monitored to determine resolution of symptoms, signs, and cardiac involvement," stressed Bozkurt, who did not participate in the study. .
Lala encouraged doctors to "be alert for signs and symptoms of heart failure beyond shortness of breath, which may be present in acute COVID-19 diseases."
Lala recommended looking at congestion markers, measuring biomarkers and getting one echocardiogram in certain cases where the symptoms of heart failure seem more evident, "especially in those patients with manifest risk factors or cardiovascular disease who may predispose to the risk of heart failure."
The authors conclude that "understanding the specific mechanisms underlying the manifestation of COVID-19 as the new HF justifies a deeper study."
No source of funding for the study appears. Lala has received personal fees from Zoll outside of the work presented. The disclosures of the other authors are detailed in the original document. Bozkurt does not declare relevant financial relations.
J Am Coll Cardiol. Published online April 26, 2020. Letter