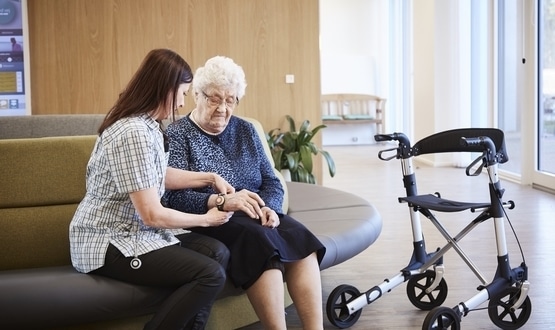 A nursing home in Halifax has accredited its innovative nursing calling technology to keep it free of Covid since the virus first hit the UK.
Tunstall Carecom's wireless care system installed by Park View Care Home was installed in 2019 and allowed the care home to offer its care in exclusive bubbles to reduce the risk of cross-infection.
Unlike traditional systems, Tunstall Carecom does not rely on fixed call points and allows attention to be focused on the person, rather than focusing on the room. Each resident has their own sensors based on their individual needs and the sensors can be activated from anywhere in the home, making care more flexible, sensitive and efficient.
It has also helped manage risk, thanks to its less restrictive approach which means residents 'movements should not be limited by safety.
Speaking of the new system, Park View operations manager Jason Sharpe said: "It has allowed us to effectively have our own Track and Trace systems, and having sensors in residents' rooms meant we knew they were safe among our controls. ".
During the pandemic, the technology was used so effectively that 10 staff members were able to move into the house full-time to provide ongoing monitoring of residents throughout the day.
Divided into three teams, the technology allowed them to assign care to specific residents and then receive automatic notifications if assistance was needed.
Sharpe continued: "By investing in cutting-edge healthcare technology, we were able to keep things as normal as possible for residents, even during the time of lockdown when they could not see their families … we can give the "Our residents have even higher levels of care and provide their families with a higher level of peace of mind. We have been able to raise morale and make staff feel happier at work."