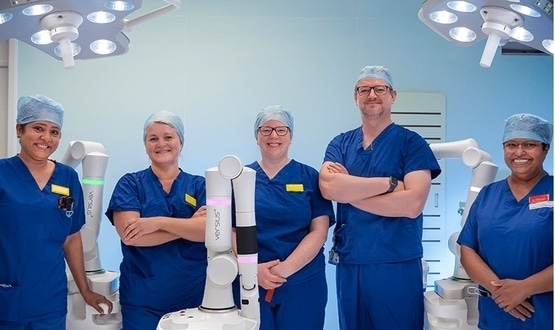 Gloucestershire Royal Hospital has become the latest hospital to acquire a Versius surgical robot.
To try to leverage its center of excellence, the hospital will use CMR Surgical's next-generation robot as part of its commitment to high-quality care. The purchase marks the first time the upper GI [gastrointestinal] Gloucestershire Hospitals NHS Foundation Trust patients will benefit from robotic surgery.
The Gloucestershire program has started with higher GI, with plans to expand to become multi-specialty once colorectal surgery surgeons are trained in the new system. The initial introduction of the technology has already shown significant value to the hospital. His surgeons have already used Versius to successfully perform the UK's first nissen fundoplication (a laparoscopic procedure for gastroesophageal reflux disease), as well as a hiatus hernia repair.
Simon Higgs, general consultant and senior IG surgeon at Gloucestershire Royal Hospital, said: "It was important for us to take Versius to the hospital so that patients who have routine surgeries such as cholecystectomies and more complex procedures could benefit from precision and precision provided by robotic surgery.
"Superior GI is a very busy department and the adoption of Versius means a new era for the specialty, as many more patients will receive minimal access surgery and will be treated with this high quality technology."
The use of minimally invasive surgery such as robotic surgery can mean that patients experience less pain, have shorter hospital stays, and recover procedures more quickly. It can also be moved to departments to open up for use to more patients.
The adoption of Versius robots is expanding as hospitals look for technological solutions to improve patient care. The Versius robot was used for the first time for minimal access surgery to the NHS in February 2020. It has since been introduced to other hospitals, including the Frimley Health Foundation Trust, where it became the first in the UK to use it in urology and colorectal surgery – and more recently adopted by Surrey and Sussex Healthcare NHS Trust.
Mark Slack, chief physician at CMR Surgical, added: "It's great to be able to introduce Versius to Gloucestershire Royal Hospital. In designing Versius, our goal was to provide a versatile and cost-effective surgical robotic system that could transform the field of minimally invasive surgery, allowing more patients to benefit than today. This multi-specialty program with Gloucestershire Royal will do just that and we are thrilled to be working with them on this exciting new era for the hospital. "