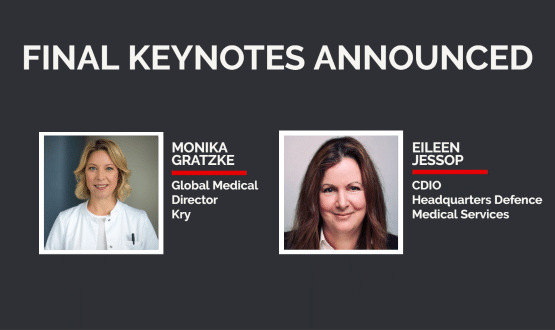 The global medical director for an online primary care company and the chief digital information officer (CDIO) for the Defense Medical Services are among the final keynotes announced for Digital Health Rewired 2022.
Dr. Monika Gratzkeglobal medical director at Kry, will deliver a keynote over on the National Policy Stage, sharing her views on how digital healthcare in Europe is now going deeper and broader- connecting more patients, healthcare professionals and systems to secondary and specialized care.
She will also discuss how digital health is now going beyond primary care to offer better patient choice and convenience, as well as highlighting future trends to drive low cost, high value care.
Following Dr. Gratzke's, delegates will hear exclusively about a multi-million-pound ambitious program to modernize primary care for the Defense Medical Services and modernize digital health solutions for the Defense's operational base.
Jessop, CDIO for Defense Medical Services will share insights from her impressive career in digital health transformation spanning 30 years, as part of her keynote address on 'what does transformation look like when everything is transforming around you?'.
Her achievements include leading a multi-million-pound transformation program in one of the largest teaching hospitals in Europe, and shaping and leading the development of an integrated Health and Social Care record (Leeds Care Record), a genomic record for Yorkshire and an Electronic Health Record for the hospital.
She also delivered an extensive modernization program for Christie Foundation NHS Trust, Europe's largest single site cancer center, where to meet their ambition of becoming a digital cancer center.
The full line-up of keynotes is available on our conference programwhich also includes:
Tim Ferris, Director of Transformation, NHS England and Improvement

Ruth May, Chief Nurse, NHS England

Simon Bolton, Interim CEO, NHS Digital

Saffron Cordrey, Deputy CEO, NHS Providers

Dr Nicola Byrne, National Data Guardian, Health and Adult Social Care in England

Matthew Taylor, CEO, NHS Confederation
Digital Health Rewired 2022 is a conference and exhibition which brings together all parts of the digital health community to celebrate the best of digital, data and innovation in health and care.
Health and care professionals will be able to network, collaborate and learn in person during two days of educational conference sessions, exhibitions and meetings, all focused on sharing best practice and innovation.
All the conference sessions will be CPD accredited.
You can register here to secure your place at Rewired 2022.