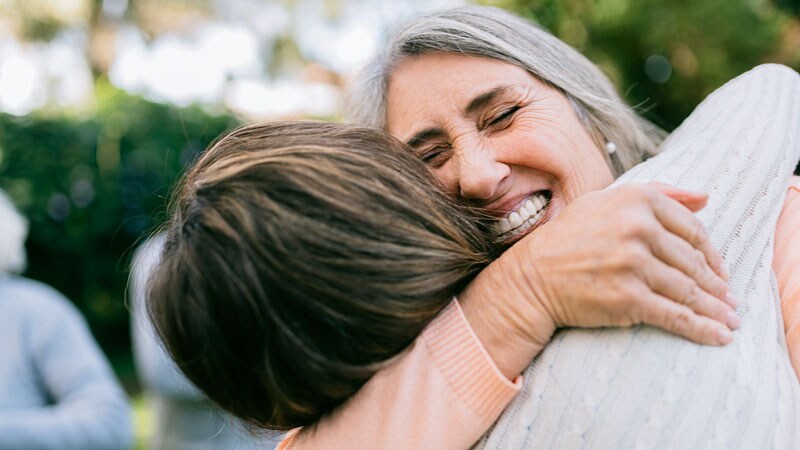 Editor's Note: Find the latest news and guidance on COVID-19 in Medscape Coronavirus Resource Center.
The night before Lisa Hardesty's post-vaccination reunion with her 101-year-old grandmother she felt like the night before she went to an amusement park when she was a little girl.
"I can't wait to hug her," Hardesty, 54, said a few days earlier. "The level of excitement is like you're planning an exciting and stressful vacation until the night before and then you're so excited you can't sleep. We haven't had it in the last year."
On the day of the meeting, Hardesty and her 17-year-old daughter, Payton, were waiting in front of a restaurant in the city of Holloway, MN, a 97-year-old population, dizzy with anticipation. When the mother and daughter finally spotted 101-year-old Elaine through the car window, they started running toward her "like a celebrity," Hardesty says.
"They couldn't even stop the car before we hugged it," says Hardesty, who is a licensed clinical psychologist at the Mayo Clinic in Rochester, MN. "Everyone was talking about everyone. We couldn't get our stories out fast enough. It was such a great joy."
With vaccinations at a much faster rate than expected, families and friends are reunited safely after a year or more of separation. Most meetings are full of joy, hugs and laughter that describe the Hardestys. But there is also worry and anxiety, especially before the events, and this is also normal, say psychologists and doctors.
"The social isolation and increased loneliness that people experience as a result of COVID-19 is one of the most devastating aspects of the pandemic," says Scott Kaiser, MD, director of the Institute's Geriatric Cognitive Health of Pacific Neuroscience at Providence Saint John's. Health Center in Santa Monica, CA. Now that the vaccines have paved the way for safe meetings, "there's a wide range of emotions. For the most part, it's relief and exuberance and the joy of being together again. But that contains a lot of emotions."
Imagine a new mother bringing a baby home for the first time, Kaiser says. "Of course, other people want to know so much about the baby," she says. "And that can be great for mom and baby, but it can also be a double-edged sword." The new mother, who has just gone through a massive change, wants to protect the vulnerable newborn and, moreover, has probably run out. Now that we've all undergone massive changes, "we're still vulnerable," Kaiser says. "We don't know why people live physically and emotionally."
Russian mountains
Prior to their meeting, Hardesty had seen his grandmother only a couple of times during the pandemic through the plexiglass or a window, once conversing with the help of AirPods. "He said that was the best day of his life," Hardesty recalls. But a fully face-to-face post-vaccination visit seemed to double or triple the level of arousal.
From a clinical standpoint, that makes sense, she says. The importance of the social connection is well established. In fact, hugging someone can produce the same chemicals: dopamine i oxytocin – that we experience on top of a roller coaster, says Hardesty. It's not known if we produce these hormones when we connect online, she says, but it could explain why FaceTime can't replace seeing people in person.
Of course, getting to the top of the roller coaster can also cause a lot of anxiety, and not everyone experiences this buildup in the same way, Kaiser says.
"I've seen him go through the whole range," he says. "There are people who are extroverted and come together with a reckless abandon, and then there are delicate situations where someone is struggling."
In one case, a woman she works with and who had gone through the pandemic caring for her elderly mother became restless when newly vaccinated relatives came down there. After a quiet year of reading and spending quality time with her mother, it seemed like people were stepping on the space they had created.
"It was very hard for her because she felt like people were invading her space and she didn't feel like they were washing their hands and wearing masks when they should be," Kaiser says.
"And it was very hard because he loved family members."
Setting boundaries before meetings can help, he says, and can also give people a lot of leeway. "You might think it's crazy for a new mom to ask you to wash your hands 20,000 times, but do it," she says. "For the most part, I've always seen it work when people communicate and listen."
Sarah Breyette, 32, was relieved to hear that others were also anxious to get together. She plans to drive a 5-hour round trip from Minneapolis to Duluth, MN on Mother's Day to see her 55-year-old mother, who is in a care center for a health disorder. mental.
"I'm nervous and excited," she says. "If you don't understand exactly what COVID is and gravity, I'll get 3-5 calls a day to ask me when I'm visiting and why I haven't been."
Breyette helped her mother move to a new care center in February 2020 and is anxious to see what her mother's room is like as she has been unable to help with daily chores. And even though her mother has gotten two COVID-19 outbreaks at the facility and is now fully vaccinated, Breyette is still concerned about the variants that make the vaccine less effective. But she's planning a day full of her mom's favorites: driving by Lake Superior, pizza and ice cream, and hoping for the best.
Lessons from the "COVID cave"
Most people drastically reduced the group of friends they saw during the pandemic, Hardesty says, creating a "COVID cave" with "friends who bring out the best in you and make you feel amazing." According to her, that forced redesign of relations was a negative point of the pandemic.
"A lot of people have thought about what's important to them," he says. "And most realize it's the family. What mattered was the part of the people, not how nice you have with a car, a bag or shoes."
This narrowing of social media occurs naturally as people age and past research has shown that traumatic events such as the 9/11 attacks can also cause a similar phenomenon.
"The pandemic has led to a reorientation of things and a relief from social obligations and even the uptake, nesting and ownership of your space," says Kaiser, including the elimination of relationships that are not meaningful and satisfying. each other.
"It's done less about a lot of relationships and more about close and meaningful relationships," he says.
Leaving that "COVID cave" that only included close friends and family can be stressful, especially for introverts who thrive alone and for people with some type of anxiety who enjoyed the peace and lack of competition.
Even Kaiser, who describes himself as an extrovert, hesitated when he recently received a text from a friend saying, "Dinner next week?" He had two competing thoughts: how much he would enjoy having dinner with his friend and how much he enjoyed the consistency of being home with his wife and children every night.
"It's been a year of something completely different and, with a single swipe of our fingers, we can't move into a totally different mode," he says. "We should be able to accommodate during a transition period. We should be able to dive."
And that means different things to different people. The extrovert who wants to go should understand his most introverted friend who may doubt, he says.
For those who are nervous about re-branching, visualize yourself doing well in the situation, Hardesty suggests. And he acknowledges that it will not be easy.
"Anticipating our anxiety and discomfort and labeling it is one of the most important interventions," he says. "So you know we're going to be messed up with little talks, for example. I went to my daughter's dance contest, I turned my head and stayed with my only friend … but then I looked around. and no one else was socializing. "
Whether you feel like it or you feel like going out, it's important to reflect on what you've learned. Pause, Kaiser advises, before returning to what is familiar. Then you can move forward only with your "big hits."
And Hardesty gives you a way to handle the things you're afraid to get out again – write down what bothers you and tell a few trusted friends who will remind you when needed.
After all, the issue shouldn't be how to immediately get back to the way we were before, Kaiser says. The question should be, "How do we absorb everything we've learned during the year and get back to something even better?"
For more news, follow Medscape at Facebook, Twitter, Instagram, YouTube, i LinkedIn