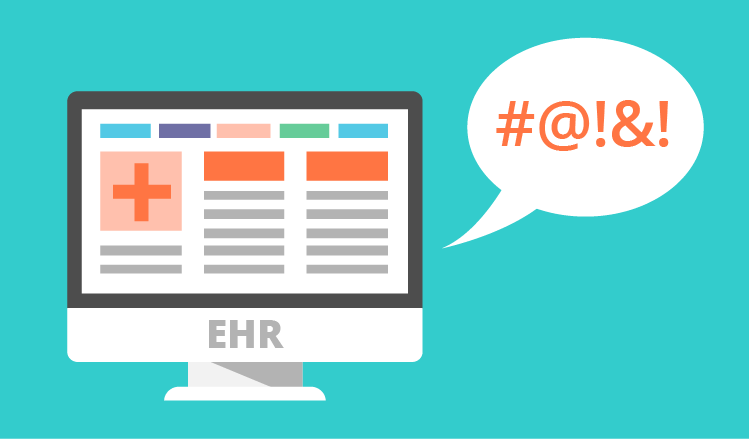 While caregivers anticipated the eventual emergence of the post-EHR era in the hope that new systems would reach levels of usability and functionality that could not previously be achieved, the change was not planned soon. However, some recent news and opinions may indicate that the transition will begin much faster than expected and that the EHR will be dethroned.
Practically, what happens is that the big players in the healthcare software game are starting to weaken their ties to the EHR, claiming that there are more things. Healthcare IT News has done so recently published an article about Cerner representatives, athenahealth, and eClinicalWorks, who seem to speak in a similar tone and reposition their products to take it away from the three-letter concept.
Possible reasons for the change
While CMS considers EHR to be a basic point of contact in providing technology-supported care, stakeholders and decision makers in the healthcare IT market appear to strongly disagree with this statement. We were presented with some ideas about the reasons for vendors to avoid association with EHRs.
eClinicalWorks announces 10th
On October 16, 2015, eClinicalWorks announced its new hardware-independent cloud services platform: 10e. The founder and CEO of the company, Girish Navani, does not want anyone to say the solution as EHR, as, according to him, the typical set of EHR functions only fills about 5 percent of the 10th capabilities. In fact, the new system introduces functionality outside the scope of the usual EHR, which includes:
Telehealth visits from the solution
PGHD synchronization from portable devices and monitors via Healow Hub
Population health functions and patient involvement
Electronic references and more
Practically, the solution combines a basic EMR with a series of disparate applications, which partially resemble Healthcare CRM, under the same HTML5 roof, which allows caregivers to manage their workflows and care for patients in a more comfortable and connected way. In this case, getting out of the three-letter acronym may just be a public relations trick, because existing eClinicalWorks customers wouldn't need yet another EHR when they had already invested. But a cloud-based shift into the post-EHR era: this could work. Meanwhile, the seller can also attract new customers who had a negative experience with EHR in the past and now perceive it as a dirty word. For them, this will be an escape from the rigid and complex solution in the ever-accessible cloud.
The needs of ACOs
Before any caregiver can become an ACO or its member, they must implement a full-cycle computer system to support the coordination of care, reporting, and workflow synchronization, including solutions such as now:
EHR
clinical decision support
HIE system
revenue cycle management
electronic prescription
data center storage and security
BI and more
Of course, future ACOs shouldn't be interested in exclusive EHR vendors, because it's much more convenient and time-saving to sign a contract with a company and let them take care of everything healthcare IT requires.
Cerner President Zane Burke says Cerner aims to become a population health company. If they do, they can certainly find a common ground with the ACOs, the goal is, among other things, to improve the health of the population. Burke also recalls the difficulties in consolidating, accessing, and exchanging patient information, saying all data must be available, but "you can't do it within the confines of an EHR."
Jonathan Bush, CEO of athenahealth, also moves on to the three-letter concept, primarily because the company offers more solutions, such as patient communication, care coordination, and the revenue cycle management service. in the cloud. And ACOs need that "more" part. However, that's not all, athenahealth is also prepared to share responsibilities, revenue and loss with responsible care organizations.
In particular, if caregivers choose to use athenaOne's integrated services in conjunction with the athenahealth population health service, the company shares 100% of the risks with them. But is that so?
In fact, athenahealth takes the risk for its own Population health service, as payment for this service by organizations will be based on the quality of caregivers 'performance. 100% quality is equivalent to paying a 100% rate, and anything below automatically reduces the rate respectively. As a result, healthcare organizations will still pay the full fee for athenaOne's integrated services.
Election time
It is election time with worries, new hopes and a desire to win. The person in charge is expected to make changes. Healthcare may also experience major changes, and some vendors are already taking the place. Because? The reasons may be different. Some companies may want to show that they can adapt to any situation, some may be eager to express their loyalty to some of the candidates (with their contribution to presidential campaigns), others may want to emphasize the need for reforms.
In particular, Jonathan Bush, CEO of Athenahealth, speaks boldly of Barack Obama, rivals, EHR and CMS initiatives. His courage could be another public relations trick or an announcement of a position taken: "Even if Ed McMahon gave you an EHR, your problems would not be solved. That did happen, unless it was called Barack. Obama, and no one believes their problems have been solved. " Bush also criticizes competitors, claiming that "Allscripts and Epic were dead in the water before significant use."
Since athenahealth seems to have little faith in EHRs and the CEO of the company also believes that pushing organizations towards EHR products is a mistake, it is not uncommon for them to want to rename their own services into something other than big bad wolf of three letters.
What about caregivers?
Sellers are in a better position than those who will use their products, no matter the name. While companies blame the government, the president and the whole world for a wrong positioning of the EHR and a poor elaboration of good ideas, what is left for caregivers?
They are not in a position to take a position because any workflow organization is better than nothing. If the country's new leader reverses health care to 180 °, caregivers will adapt. If a new technology becomes the center of care delivery, they will adopt it. Currently, the trend of personalization of EHR seems to be developing in the direction of cloud-based and CRM-like systems that offer a full view of the patient's profile, real-time updates and independent use of the platform.
But until the new era forms and emerges, EHR wears a crown and costs a penny a force. So what do the sellers of these sellers say to their customers? We are no longer the EHR company, are we much more than that? Okay, and what does that mean? You still sell EHR.
With 16 years of healthcare IT experience, we will offer a HIPAA compliant EHR with a set of features designed for physicians 'comfort in 2-4 months.