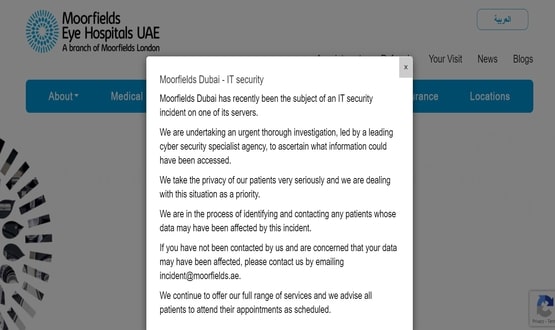 The Dubai branch of Moorfields Eye Hospital has been the subject of a "computer security incident" that affected its servers.
The trust confirmed that it was conducting an "urgent and thorough" investigation to determine the cause of the incident.
A message on the hospital's website, which is understood to have appeared on August 15, confirmed that the incident was related to "cybercriminals."
"We have been doing an urgent and thorough investigation to understand what happened," the message added.
"At this time, we do not believe that patients' health records have been compromised. However, some Dubai patient identification data was accessed.
"We take the privacy of our patients very seriously and have contacted all affected patients to inform them of the incident. Working with a leading cybersecurity agency, we have also taken proactive steps to strengthen the security of our network and website. "
The notice goes on to confirm that the hospital "will continue to offer our full range of services and we advise all patients to attend their appointments as scheduled."
Although the hospital has not confirmed who was behind the attack, ransomware group AvosLocker has claimed responsibility on its website.
The group has claimed to have 60 GB of data and has threatened to leak this information if the rescue demand is not met.
Moorfields Eye Hospital Dubai was established in 2006 to provide eye care in the Middle East. The hospital also aims to "contribute to education and research programs to promote and facilitate world-class teaching in the region."