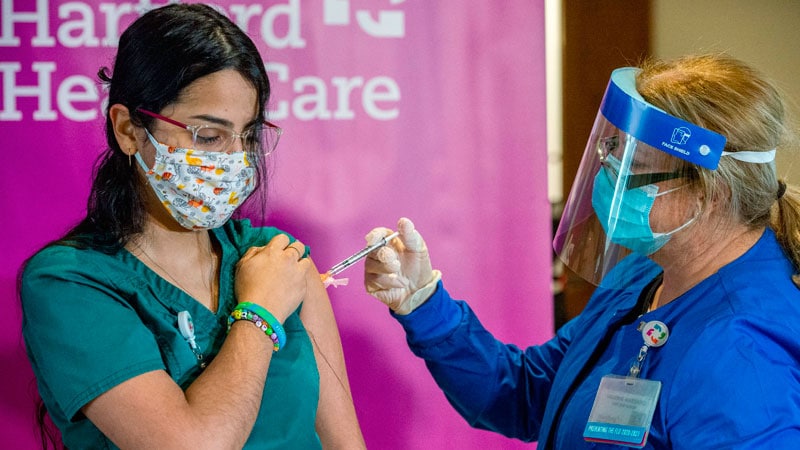 Find the latest news and guidance on COVID-19 at Medscape Coronavirus Resource Center.
Do COVID-19 vaccines need to be given to healthcare providers? Most clinicians surveyed by Medscape said yes, and the same goes for most consumers who respond to a similar WebMD survey.
For example, 69% of 998 physicians believe that employers should require physicians to have COVID-19 vaccines. Within this group, 7 out of 10 said they should be vaccinated immediately, while 30% said the requirement should wait for full FDA approval.
Within the results of the Medscape survey, there were some distinctions by gender, age of provider, and clinical role.
Seventy-five percent of female doctors supported mandatory vaccination requirements, compared with 67% of male doctors. Physicians 65 years of age or older were the strongest advocates of requiring COVID-19 vaccines compared to other age groups.
Too few doctors under the age of 25 responded to be included in the results.
A 50/50 division between nurses
Overall, advanced practice nurses as a group were evenly divided, with 50% of the 3360 respondents supporting the employer's requirements for COVID-19 vaccines and the other half he replied no, never.
Interestingly, 83% of nurses reported being employed compared to 52% of doctors.
Seventy-nine percent of physicians surveyed said they were vaccinated against COVID-19, including 75% who were fully vaccinated. Of the remaining 21%, 5% indicated that they planned to be vaccinated and 16% answered that they would never be vaccinated.
The figures were different among nurses and advanced professional nurses, with 62% reporting being vaccinated, including 59% being fully vaccinated. Thirty-eight percent of this group did not get vaccinated, including 32% who never plan to get vaccinated.
Some cause for concern
The Medscape survey also asked respondents what concerns they had, if any, about COVID-19 vaccines. Respondents could select any or all of a list of options.
Forty-two percent of doctors said they had no concerns, as did 25 percent of nurses.
The rest selected other concerns, such as concerns about adverse effects that outweigh the risk of COVID-19; that vaccines in one company may be better than vaccines in another; and speed of development, for example.
The seven questions Medscape Survey was published online from April 28 to May 4 and generated more than 200 comments from readers.
The consumer's prey
A similar survey was published on WebMD, Medscape's sister website for healthcare consumers. More than 3,000 WebMD readers answered similar questions.
When asked, "Overall, do you think health care workers should be required to receive vaccines against COVID-19," 66% said yes and 34% said no. Among the yes votes, 55% believed that these vaccines should be needed immediately and 11% said they should eventually be mandatory.
Similar to the physician survey, people age 65 and older were the main advocates for the need for COVID-19 vaccines for health care providers. A large majority (87%) of this group supported these requirements.
With the exception of the 25-34 age group, where 48% of respondents were in favor of the necessary vaccines, most people of other ages considered mandatory vaccinations a good idea for health care workers. . Nearly three-quarters (73%) of people aged 55 to 64 supported this requirement, for example.
When asked how likely they could be to have a medical appointment with a doctor they know is not vaccinated, 24% answered "most likely". Another 9% said it was likely, 20% were neutral about it and 17% said it was unlikely.
Nearly a third (31%) indicated that they were "very unlikely" to take this appointment.
Responses did not vary much by sex. The largest difference was in the "very likely" group, with 4% more men than women choosing this answer.
The proportion of people who reported being vaccinated against COVID-19 was 61%, including 48% who were completely vaccinated. Two-thirds (66%) of men and 63% of women said they were vaccinated.
The WebMD survey also asked people to report their concerns, if any, they have with COVID-19 vaccines. Thirty-seven percent were concerned that the side effects of the vaccine would outweigh the risk of COVID-19. The same percentage reported concerns about effectiveness.
In addition, 28% reported concerns about other side effects, 27% about the speed of development, and 26%, worrying that the vaccines of some companies may be better than others.
WebMD's seven-question survey was published online from April 27 to May 3.
Damian McNamara is a staff Miami-based journalist. It covers a wide range of medical specialties, including infectious diseases, gastroenterology, and critical care. Follow Damian on Twitter: @MedReporter.
For more news, follow Medscape at Facebook, Twitter, Instagram, YouTube, i LinkedIn