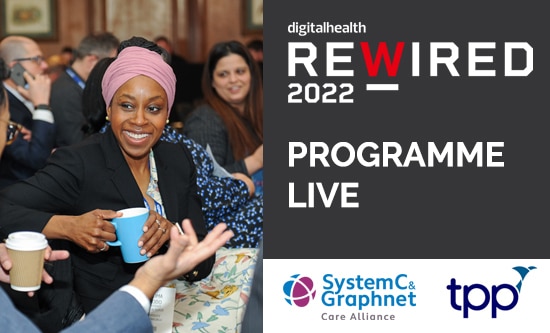 The Digital Health Rewired 2022 conference program has been released, with an exciting and diverse range of speakers exploring the future of digital health and care.
Two years after the pandemic, Wired 2022 will explore how the NHS continues to leverage digital data and respond to unprecedented challenges while moving to integrated care and smart health.
More than any other event, Rewired brings together national and local NHS leaders and their teams, future leaders, as well as many other healthcare professionals interested in how digital can help them better care for patients.
He Wired program 2022 will also include a summit on digital nursing in collaboration with NHSX, with Chief Nurse Ruth May giving the lecture.
At the national policy stage, lectures include Dr Tim Ferris, Director of Transformation and Improvement at NHS England; Simon Bolton, Acting Director General of NHS Digital; Helen Thomas, CEO of Digital Health and Care Wales; and Tom Loosemore, Digital Public Director.
During the digital transformation stage, attendees can see Saffron Cordrey, Deputy Executive Director of NHS Providers and Professor Jonathan Benger, Medical Director of NHS Digital.
Rewired 2022 also offers a unique opportunity to hear some of the most digital NHS trusted CEOs, such as: Professor David Rosser, Managing Director of Birmingham NHS Foundation Trust University Hospitals; Dr. Ian Abbs, CEO of Guy's and St Thomas' NHS Foundation Trust; and Dr Clive Kay, CEO of King's College Hospital NHS Foundation Trust.
Speakers at the Integrated Care Stage include Guy Lucchi, Director of Digital Innovation at Health Innovation Manchester and Sukhmeet Panesar, Deputy Director, Strategy and Development, Data and Analysis, NHS E&I
Dr. Nicola Byrne, National Data Guardian for Adult Health and Social Care in England, will be the keynote speaker on AI and Data Stage, speaking alongside Ayub Bhayat, Director of the Data and Knowledge Platform , NHS E&I
Meanwhile, the smart health stage will explore the revolution in smart grids and the Internet of Things in health. Speakers include national cybersecurity leader Phil Huggins, CISO NHS E&I (to be confirmed); Samantha Robinson, Associate Director of Live Services at NHS Digital and Andy Callow, CDIO University Hospitals Northamptonshire.
Jon Hoeksma, CEO of Digital Health, said: "It's great to be back in person with a fantastic and varied program, which reflects the sheer breadth and diversity of ongoing work in the industry.
"We know how hard everyone has worked over the last two grueling years, and we look forward to Rewired 2022 giving many a chance to breathe, reflect, catch up with peers, and look to the future."
Hoeksma added: "The most important new part of the program is our focus on digital nursing, and in addition to the fantastic CNIO community, we encourage all nurses, midwives and AHPs with an interest in how digital and data are remodeling the infirmary to come and be a part of it. "
And of course, it wouldn't reconnect without it Pitchfest competition returning for the fourth year. The competition will see another 16 emerging digital healthcare companies fight to the final live to win an NHS test site for their idea or solution.
Rewired aims to provide a combination of inspiration, education and networking to enable online healthcare and healthcare professionals to collaborate and learn in person for two days of conference sessions, exhibitions and meetings. , all focused on sharing best practices and innovation.
Digital Health Rewired is free to the NHS, the public sector, non-profit and third-party providers, charities, academics and researchers.
Do not miss it to register for Rewired today.