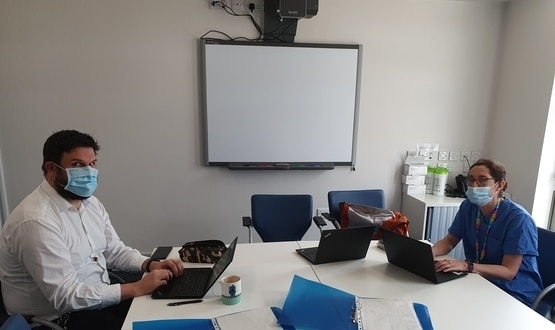 The Cumbria, Northumberland, Tyne and Wear NHS Foundation Trust has been officially recognized as an accredited Global Digital Exemplar by NHS England.
Cumbria's recognition comes after being selected as one of seven digitally advanced UK mental health trusts to be supported by NHS England to transform into a Global Digital Exemplar (GDE) back in 2017.
The trust received £ 5million over a three-year period to support technological transformation and innovation and spread the adoption of digital tools.
As part of the program, the trust developed a range of digital tools which were then made available nationwide as part of a range of 'blueprints'. The blueprints allowed other NHS trusts to implement digital improvements rapidly to improve services for patients and staff.
The trust's time on the Global Digital Exemplar program saw a range of innovations being introduced. This included a project to replace handwritten notes in wards with 'at-a-glance digital displays' which helped improve accuracy of information and the safety and efficacy of treatment by using real-time status pulled from the EPR.
Cumbria also replaced its old paper medication records with an electronic and medicines administration system and underwent extensive work to improve and integrate multiple electronic records, systems and devices to improve how information is recorded, save clinical times and enhance safety through improved access to diagnostic information.
Darren McKenna, director of digital services at the trust said: "Our trust's advanced use of digital technology has transformed the working environment for our staff, and enabled us to provide the best possible standard of care to all our service users.
"The successful delivery of this program and CNTW becoming an Accredited Global Digital Exemplar is a testament to the hard work and expertise of our entire Digital Services team, and the support we have received from the rest of the organization."
The trust also pioneered a 'work from anywhere' approach and provided its staff with laptops and 'cloud' services, which ensured a smooth move to remote working at the start of the pandemic. It had already piloted an online consultation system pre-Covid, which meant it could quickly respond to the needs of the pandemic by scaling the technology quickly and effectively.
McKenna continued: "It is particularly remarkable that the team managed to keep on delivering these improvements throughout both the transfer of Cumbrian services to the Trust in October 2019, and the unexpected crisis of the covid-19 pandemic.
"However, we did not deliver this program in a vacuum, and one of the greatest strengths of the Mental Health Global Digital Exemplar program nationally has been the collaboration between organizations, sharing and learning together with other NHS Trusts.
"We were able to use digital solutions to help keep staff and service users safe whilst ensuring continuity of care during the pandemic. This level of technology would not have been in place without the Global Digital Exemplar program. "
In particular, Cumbria worked collaboratively with other healthcare organizations in the region on the Great North Care Recordwhich brings together information on diagnoses, medication, hospital admissions and treatments, into one securely-held record, accessed only by authorized persons.