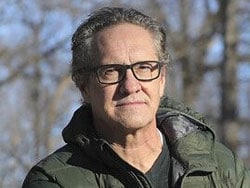 Editor's Note: Find the latest news and guidance on COVID-19 at Medscape's Coronavirus Resource Center.
In its second virtual year, the annual meeting of the American Thoracic Society (ATS) is dominated by the coronavirus: literally, in the form of several sessions, but unintentionally, as the pandemic has forced the organizing committee and staff to think it is difficult to recreate the collegiate atmosphere of a face-to-face meeting within a virtual format.
After holding a virtual meeting in 2020 shortly before, the ATS international conference committee has learned many lessons, said committee chairman Andrew Halayko, PhD. "The ability for registrants and attendees to connect to the network was something that is sorely lacking in a virtual environment and is, in fact, probably the most valued part of a face-to-face meeting. Therefore, many of our efforts to 'this year they have been focused on trying to bridge that gap,' said Halayko, who is a professor of physiology and pathophysiology at the University of Manitoba, Winnipeg, Canada.
Efforts to strengthen networking include the Meet the Expert sessions, which will closely resemble the Sunrise Seminars and Meet the Professor sessions of previous face-to-face meetings. Each is a 1-hour session with one or more speakers with a 20-minute presentation followed by 40 minutes of interaction and a limited audience of 30. "It's really a live component," Halayko said.
The team has also added a networked workroom, where attendees can self-organize based on shared interests and create meeting rooms for Zoom chats, or poster presenters can come together to discuss the work of Zoom. others along with interested attendees. These efforts will be supported by an integrated messaging system.
"We have done this deliberately to be available at any time in an improvised manner. Linked to all abstracts and presentations at the conference, there is the possibility to click on a name and message with this author, "Halayko said.
Some sessions are referred to as "outstanding sessions", indicating that the International Conference Committee considered them to be of great interest, that they were highly rated for peer review and that they were current or cutting-edge. . These sessions can be found using the "browse by topic" feature.
Among the most popular offerings are the Clinical Year in Review sessions, which include expert summaries of advances in clinical care and management. This year's topics include pediatrics and nursing.
Focus on COVID-19
For no one, the science of the meeting will focus on COVID-19. There will be sessions exploring the pathobiology of the virus and focusing more on the molecular and pathophysiological elements of long-term diseases. Other presentations will examine vaccine equity and vaccine hesitation worldwide.
COVID-19 will also appear in a session on new clinical trials. It will include two trials of biological products for the treatment of asthma, one in adults and one in pediatric population, along with a monoclonal antibody assay to treat COVID-19. Other sessions will examine the rehabilitation strategies of the long-term sequelae of COVID-19.
Despite the great influence of COVID over the past year, the conference organizers did not want it to completely dominate the sessions. To address this, they sought input from various programming committees to limit the amount of redundancy in COVID programming and leave plenty of room for other specialties. "We can't get lost (in COVID content)," Halayko said.
Still, you can't move "the elephant in the room," as he called it.
A symposium of the chair developed by Halayko will examine all elements of the COVID-19 vaccine effort, from development and manufacturing, safety and efficacy, to the potential consequences of an inequitable distribution of vaccines worldwide. A talk will highlight the potential of a coronavirus vaccine to prevent future epidemics.
Beyond COVID-19
But the conference is much more than COVID, Halayko said. Sleep medicine will draw a lot of attention. A session will examine the associations between sleep disorders and neurodegenerative diseases and dementia. Another session will examine sleep-related hypoxemia.
Equity in health will also be addressed. "The issue of health disparities, racism and gender equality in the provision and access to health and professional advancement is a strong issue that ATS as an organization is committed to addressing. There are a handful of sessions that address this issue with international leaders ". "You say Halayko." The ATS President's Symposium will directly address the issue by asking whether racial and ethnic disparities in respiratory health can be eliminated. Another session will include discussion of race as a variable in pediatric studies.
There will be presentations on the effects of climate change and pollution on lung health, and there will be talks on the biological and molecular mechanisms of diseases such as asthma and the pathogenesis of chronic obstructive pulmonary disease (COPD).
The Recognition for Scientific Achievements will highlight the abstracts selected by the ACS Awards Committee. "It's highly competitive, so being in the top four on this list is really very impressive. Overall, it's one of the best sessions of every year at ATS, because it's very diverse, and all of them by eminent leaders who they are actively investigating today, "Halayko said.
Meeting offerings will be extensive, including 84 live symposia and another 42 available on demand; 25 mini-symposia, which will feature 3-minute talks and live questions and answers; and 142 themed poster sessions. About 4000 abstracts will be available during the conference.
"I think it's going to be fantastic. But looking back, I realize how naive and stupid we had to think we could really do it. I can't state strongly enough how the top-down ATS staff has allowed that happens ". Halayko said.
Halayko has not reported any relevant financial relationships.
American Thoracic Society (ATS) 2021 International Conference. May 14-19, 2021.